Content posted in September 2016
Generating Revenues From the Smart Home

Broadband World News Video
9/27/2016
3 comments

Ahead of the Broadband World Forum, Michael Philpott, practice leader for consumer services at Ovum, talks about the prospects for generating revenues from the smart, connected home and identifies some of the companies taking the lead with their business plans.
Welcome to the UBB2020 Community!

Broadband World News Video
9/19/2016
1 comment

UBB2020 is on a mission to cover the ultra-broadband market 'end-to-end,' as marketing people would say...
Huawei Opens Up at ONS 2016

Broadband World News Video
9/16/2016
1 comment

At ONS 2016 in Santa Clara, California, Huawei emphasized its cooperation with international partners to introduce a range of open solutions -- POF, ONOS and OPEN-O.
There is no point in building an all-fiber network if it remains empty, says BT. And yet much of it still is.
Driven by economics, the French giant is planning to follow the Chinese model of 'combo cards' for the deployment of 10G PON.
New specs will repack recent additions of DOCSIS 3.1 and tack on new capabilities, including support of services up to 1.8GHz.
The US Department of Agriculture gives high points to those operators providing symmetric, high-speed infrastructure when considering loan and grant applicants.
UK mobile operator will use its 5G spectrum to launch a fixed wireless access (FWA) service in London in August and plans to have that offer, plus mobile 5G services, in 25 UK cities by the end of this year.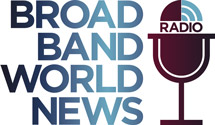 In this insightful Light Reading radio show, Kurt Raaflaub, Head of Strategic Solutions Marketing, will outline the key service provider challenges, deployment considerations, next-gen Gigabit technologies, and service models to win market share in the rapidly growing MDU market.
All resources
Tuesday, May 21, 2019
11:00 a.m. New York / 4:00 p.m London
The MDU market continues to face fierce competition among service providers due to tech-savvy residents (i.e., millennials), demand from building owners and management companies, plus the favorable economics of bulk contracts. However, no MDUs are the same, so service providers must use multiple technologies and inconsistent deployment models, increasing operational complexity and rollout costs.
The MDU market itself is evolving as residents adopt smart-home technologies, generating rising demand for smart apartments with built-in connected thermostats, keyless entryways and doors, and video doorbells. This evolution presents both new challenges and opportunities. In other words, service providers must consider innovative service-delivery strategies to compete and win.
In this Broadband World News and ADTRAN webinar, Kurt Raaflaub, Head of Strategic Solutions Marketing, will highlight emerging MDU broadband Internet trends and challenges. In addition, Kurt will outline the next-generation service creation and delivery platform, built on open standards, that allows service providers to connect millions of underserved MDUs, enables creation of user-driven services, and reduces operational complexity and costs.
Plus, special guest, Alice Lawson, Broadband and Cable Program Manager for the City of Seattle, will discuss Seattle's B4B-Build For Broadband initiative that addresses best practices in planning for MDU telecommunication infrastructure.