Ultra-High Definition Video Will Be Gigabit's Killer App – Poll

Ultra HD video is the "killer application" for gigabit ultra-broadband services, according to the results of a poll conducted on UBB2020.
More than 100 readers responded to the poll -- 'Gigabit's Killer App' -- which asked: Which single application or service will drive the greatest demand for Gigabit broadband services?
Almost half of the respondents (nearly 49%) identified "ultra-high definition video" as the "killer app," while a further 26% selected "virtual reality," which has certainly become a lot more prominent in communications services circles during the past year. (See Broadband Future Looks Like Video, Photos: MBB Forum 2016 Tokyo, Day 1, Google's Dreaming of VR in September – Report and VTAB: Virtual Reality Picture Still Unclear.)
Other voting options in the poll attracted little support, with 5% selecting "real-time gaming" and another 5% choosing "managed smart home packages." A handful of voters opted for our joke option, "Pokemon Come Back (in development...)."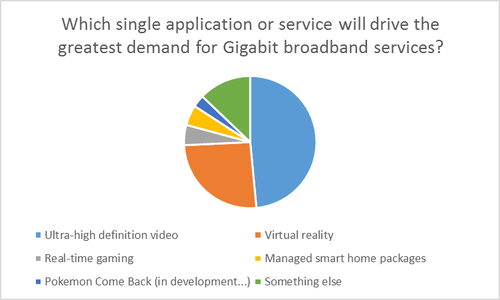 But nearly 13% of respondents opted for "something else" and used the message board to discuss other potential bandwidth-hungry applications, including smart cities and "cloud based personal computing... high quality personal computing, something similar to the VDI [virtual desktop infrastructure] experience."
You can still vote in the poll by clicking here.
And vote in the new poll -- SDN in the Access Network.
— Ray Le Maistre,

, Editor-in-Chief, Light Reading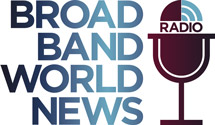 In this insightful Light Reading radio show, Kurt Raaflaub, Head of Strategic Solutions Marketing, will outline the key service provider challenges, deployment considerations, next-gen Gigabit technologies, and service models to win market share in the rapidly growing MDU market.
All resources
Tuesday, May 21, 2019
11:00 a.m. New York / 4:00 p.m London
The MDU market continues to face fierce competition among service providers due to tech-savvy residents (i.e., millennials), demand from building owners and management companies, plus the favorable economics of bulk contracts. However, no MDUs are the same, so service providers must use multiple technologies and inconsistent deployment models, increasing operational complexity and rollout costs.
The MDU market itself is evolving as residents adopt smart-home technologies, generating rising demand for smart apartments with built-in connected thermostats, keyless entryways and doors, and video doorbells. This evolution presents both new challenges and opportunities. In other words, service providers must consider innovative service-delivery strategies to compete and win.
In this Broadband World News and ADTRAN webinar, Kurt Raaflaub, Head of Strategic Solutions Marketing, will highlight emerging MDU broadband Internet trends and challenges. In addition, Kurt will outline the next-generation service creation and delivery platform, built on open standards, that allows service providers to connect millions of underserved MDUs, enables creation of user-driven services, and reduces operational complexity and costs.
Plus, special guest, Alice Lawson, Broadband and Cable Program Manager for the City of Seattle, will discuss Seattle's B4B-Build For Broadband initiative that addresses best practices in planning for MDU telecommunication infrastructure.