Italian fiber broadband new entrant Open Fiber has struck an agreement with utility company Acea to invest €375 million (US$460 million) during the next five years to build a FTTH network in Rome that will reach up to 1.2 million homes.
Open Fiber is stumping up the majority of the capex -- €350 million ($429.8 million) of the total -- during the five-year life of the project, which is set to create at least 1,000 jobs in the Italian capital.
Acea is doing much more than providing just a small portion of the capex, though. In addition to regular communications services, including gigabit broadband connections, the planned network will be used to offer smart city applications, including the remote control of power and water networks. To enable those applications, Acea is making its existing ducts and passive infrastructure available to Open Fiber for fiber optical cable deployment, minimizing construction costs and inconvenience.
In addition, Acea is committing €200 million ($245 million) to smart city and IoT technology research and development with the aim of making its electricity grid "more intelligent" as a result of being able to manage and monitor its street lighting network in real time.
As part of their relationship, Open Fiber and Acea are discussing the formation this year of a new company, to be majority owned by the utility company, for the development and provision of "smart city" value-added services.
Open Fiber CEO Elisabetta Ripa said: "The agreement with Acea, alongside other ongoing projects, will enable the gradual coverage of Rome with an extremely high capacity next-generation communications network, providing a vital contribution to the competitiveness of the town's economy, to the potential attraction of investments and construction of an advanced model of digital services."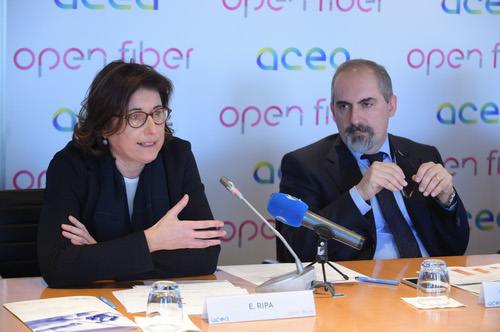 Open Fiber is a joint venture between another utility company, Enel, and Italian state lender CDP Equity SpA (CDPE), that has already built wholesale FTTH networks in Bari, Bologna, Cagliari, Catania, Genoa, Naples, Milan, Padua, Palermo, Perugia, Turin and Venice, with work underway in Florence. It manages and maintains the networks and makes them available on a wholesale basis to retail service providers, which then sell their services to paying end-user customers. (See Eurobites: Italy's Enel in $2.8B FTTH Plan and Open Fiber Expands With Metroweb Acquisition, Uses Huawei's Monitoring Tech.)
— Ray Le Maistre, Editor-in-Chief, Light Reading, for Broadband World News