US: We're on the Road to Gigabit

It's nowhere near gigabit speed, but US Internet is getting faster.
Service providers' investment in ultra-broadband technologies over the past year resulted in a 28% increase in average Internet connection speed in the US, the latest Akamai State of the Internet report found.
The peak average Internet connection speed reached 86.5 Mbit/s, up from 67.7 Mbit/s 12 months ago, the first-quarter 2017 study said.
G.fast to Hit Gigabit Speed in 2017
)
Related posts:
— Alison Diana, Editor, UBB2020. Follow us on Twitter @UBB2020 or @alisoncdiana.



Five years ago, NOS board member Manuel Ramalho Eanes banked big on smart homes and smart cities.




Slovak Telekom and T-Mobile Czech Republic Chief Technology and Information Officer Branimir Maric is using his more than two decades' experience in telco, including 15 years in various ...




Operators cannot protect networks -- their own or their customers -- by building a hard shell around the infrastructure, given the sensitive data dwelling and being sent to and from edge ...




Communications service providers have long talked about improving the day-to-day experience of their customers, but have not always backed up their words with actions and resources.

All Broadband World Forum Perspectives
All resources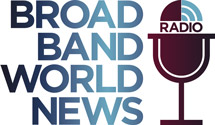 In this insightful Light Reading radio show, Kurt Raaflaub, Head of Strategic Solutions Marketing, will outline the key service provider challenges, deployment considerations, next-gen Gigabit technologies, and service models to win market share in the rapidly growing MDU market.
Wednesday, August 21, 2019
11:00 a.m New York./4:00 p.m.London
The cable industry took a major step in the battle for Gigabit broadband supremacy with the announcement of its 10G Platform vision. The key to realizing this vision hinges on leveraging the right access technologies and network architectures to provide the best balance of benefit versus cost.
One network path has the MSO embracing Next-Generation Hybrid Fiber Coax (NG HFC), which includes:
Distributed Access Architecture (DAA)
Node+0
Full Duplex DOCSIS (FDX)
Virtual Cable Converged Access Platforms (vCCAP)
Fiber-to-the-Home/Business (FTTH/B) is another network option, affording gigabit broadband scalability and 10Gbps service capability. How is an MSO to decide where which option works best and what to do now to prepare its networks for the onslaught of high-bandwidth residential and business applications?
During this webinar, Jack Burton, principal of Broadband Success Partners, outlines current and new access network architectures. Additionally, he will examine the facts and debunk some common misconceptions surrounding both fiber and NG HFC network deployment and maintenance.
Tuesday, September 10, 2019
12:00 p.m. New York / 5:00 p.m. London
Wi-Fi is the foundation of the connected home for consumers; yet, it's often a source of frustration. With the imminent release of the new Wi-Fi 6 standard – combined with a strong Managed Wi-Fi offer – service providers can reverse subscriber frustration while tapping into new revenue streams.
Key topics include:
What's different about Wi-Fi 6 and why it matters to your subscribers
The importance of offering Managed Wi-Fi and its connection to Wi-Fi 6
How you can elevate your brand and gain a strong foothold in the home network.