The fiber-deployment forecast is "strongly positive," with multiple signs pointing to continued growing demand for the high-speed broadband conduit, a new Heavy Reading report concludes.
"The trend for new FTTH homes passed has been 15% to 16% annual growth for the past couple of years," Dan Grossman, contributing analyst at Heavy Reading, told Broadband World News. "I would think deployment [growth] will go a few percentage points higher, possibly 17% to 20%."
While all Tier 1 providers have disclosed large fiber builds, many Tier 2 and smaller operators are also increasing deployments at "an impressive pace," wrote Grossman in "U.S. Converged Fiber Access Infrastructure: 2018-2021 Outlook."
In addition, Verizon and AT&T are starting to construct ubiquitous converged networks and acquiring metro fiber assets to serve mobile and Internet of Things (IoT) businesses, further driving fiber demand.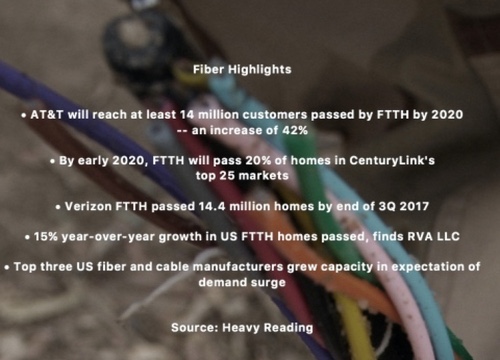 Cable operators also kick up the competition, especially in enterprise and consumer services. And while MSOs typically rely on hybrid fiber-coax (HFC) with fiber-deep upgrades, they're increasingly converging toward fiber-to-the-anything (FTTx), said Grossman. This empowers MSOs to further encroach upon telecoms' market share -- unless telecoms deploy ubiquitous fiber for faster speeds, 5G enablement and service capabilities, Grossman said.
Finally, operators are replacing copper -- especially in regions hard hit by disasters, including hurricanes and wild fires. While providers can, in some cases, patch copper infrastructure together to restore service more rapidly, in many instances repair is not an option and therefore operators deploy fresh fiber instead.
Related posts:
— Alison Diana, Editor, Broadband World News. Follow us on Twitter or @alisoncdiana.