Spectrum Enterprise Survey Points to Better, Broadband-Powered Healthcare

The common theme for network operators in the sea of HIMSS 2019 announcements is really straightforward: advanced health services -- with remote monitoring, AR/VR and other applications -- demand advanced broadband networks. "What all of these patient experience technologies have in common is that they can't be delivered effectively without a foundation of stable, secure, high-capacity connectivity," said Satya Parimi, group vice president of Data Products at Spectrum Enterprise, which recently hired HIMSS Analytics to conduct a study on patient experience.
---
Get your strategic roadmap to the technology trends and business cases shaping the cable industry! Join us for the Cable Next-Gen Technologies & Strategies event in Denver on March 12-14. Don't miss this exclusive opportunity to network with and learn from industry experts -- cable operators and communications service providers get in free!
---
HIMSS Analytics detected five opportunities, many of which health providers had not prioritized, said Parimi. Service providers like Spectrum Enterprise see opportunities among these technologies, especially where they leverage the operator's existing expertise in fiber and video delivery, as well as newer subjects such as mobile, Parimi noted.
These opportunities include:
In-home solutions and apps: Of those patients with access to in-home solutions or apps, 57% found them "extremely" or "very valuable," the HIMSS Analytics survey for Spectrum Enterprise found. Only 26% of healthcare providers had deployed this kind of preferred technology, the same report determined.
Bedside apps and solutions: Transparent and easy access to information (such as viewing test results, the patient's schedule for the day, menu choices and ordering options, requesting help and accessing room controls) is an obvious requirement -- yet one that's rarely easy to get. In the Spectrum-sponsored survey, 58% of respondents with access to bedside applications like this said they were "extremely/very valuable," yet only 28% of providers are deploying or testing these offerings. In other words, the HIMSS Analytics study demonstrated that patients and providers differ in how they value technologies that deliver patient experience, Spectrum Enterprise said in a statement.

Connect via video or webcam: 56% of patients who could connect or follow up with a care team or specialist via video or webcam identified this technology as "extremely" or "very valuable." Fewer than 32% of providers use these systems, the study found.
Streamline the patient discharge process: 32% of providers are working to make this a reality. "Our discharge process] is still a challenge," said the CIO of a 400-plus bed facility. "We still have very complicated discharge instruction packets that can be 25 and 30 pages long, depending on the acuity of the patient… we are working on it."

Facilitate check-in:: Simplifying check-in via kiosks, self-service applications and/or digital signage can pay off. Fifty-three percent of patients with access to self-service applications, kiosks or digital signage used to simplify and ease the check-in process found this technology to be "extremely" or "very valuable." This segment sees more interest, with 41% of providers piloting or using this technology.
Regardless of the patient experience solutions they plan to adopt, healthcare providers -- be they hospitals, clinics or doctor offices -- and service providers have lots of upside and opportunity to work together and use high-speed broadband infrastructure to underpin a better experience, for end-customers and patients.
Related posts:
— Alison Diana, Editor, Broadband World News. Follow us on Twitter or @alisoncdiana.



Five years ago, NOS board member Manuel Ramalho Eanes banked big on smart homes and smart cities.




Slovak Telekom and T-Mobile Czech Republic Chief Technology and Information Officer Branimir Maric is using his more than two decades' experience in telco, including 15 years in various ...




Operators cannot protect networks -- their own or their customers -- by building a hard shell around the infrastructure, given the sensitive data dwelling and being sent to and from edge ...




Communications service providers have long talked about improving the day-to-day experience of their customers, but have not always backed up their words with actions and resources.

All Broadband World Forum Perspectives
All resources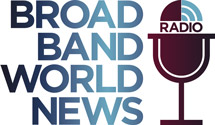 In this insightful Light Reading radio show, Kurt Raaflaub, Head of Strategic Solutions Marketing, will outline the key service provider challenges, deployment considerations, next-gen Gigabit technologies, and service models to win market share in the rapidly growing MDU market.
Tuesday, September 10, 2019
12:00 p.m. New York / 5:00 p.m. London
Wi-Fi is the foundation of the connected home for consumers; yet, it's often a source of frustration. With the imminent release of the new Wi-Fi 6 standard – combined with a strong Managed Wi-Fi offer – service providers can reverse subscriber frustration while tapping into new revenue streams.
Key topics include:
What's different about Wi-Fi 6 and why it matters to your subscribers
The importance of offering Managed Wi-Fi and its connection to Wi-Fi 6
How you can elevate your brand and gain a strong foothold in the home network.