When low-earth orbit (LEO) satellites from the likes of Elon Musk and Jeff Bezos hit the stratosphere, they could generate consumer savings of more than $30 billion per year, a boon for households but a threat for earth-bound operators' business models and profits, according to one analyst's forecasts.
LEO satellites could deliver broadband to rural regions without similar services today, as well as to suburbs and areas with only one fixed-broadband provider, John Busby, managing director of BroadbandNow and author of "LEO Consumer Savings Study 2019" told Broadband World News. As a result, more homes will have at least two providers; based on today's data, that will save the average American subscriber about $9 per month, if LEO service is truly comparable to fiber broadband, Busby said.
BroadbandNow, which collects plan and pricing data from more than 2,000 ISPs, determined the "lowest available monthly price" for the approximately 104 million American residential customers with only one wired broadband provider is $68. The 75 million Americans with two choices pay an average of $59. Those with five or more options pay $47, on average.
The technology should deliver because LEO satellites orbit close to earth -- between 99 miles and 1,200 miles from earth versus 22,000 miles from the earth for current satellite providers. This proximity reduces latency and enhances the quality of service, making it comparable to wired broadband cable and fiber providers, LEO satellite advocates claim.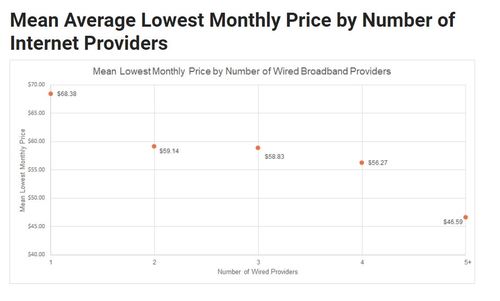 OneWeb, founded by Greg Wyler, in February 2019 launched the first six of a planned 600 LEO satellites for broadband. Musk's SpaceX Starlink could begin launching as early as May 15 -- and certainly this month -- from Cape Canaveral, according to many reports. Bezos' Project Kuiper will consist of 3,236 satellites. Of these, 784 satellites will be at 367 miles, 1,296 will orbit earth at 379 miles and 1,156 will be 391 miles above the world.
Services are expected to begin in 2020, with widespread availability about 2023, said Busby.
"If we assume that just Elon Musk's Starlink launches, then the 263 million Americans with three or fewer wired broadband providers in their area could collectively save over $14 billion through reduced monthly prices," according to BroadbandNow. "The remainder of Americans with four or more providers could save an additional $4 billion, pushing the savings to $18 billion."
As the number of satellite providers increases, the savings rise, too, Busby reckons. So does the competitive environment for service providers, from Tier 1s to regional players.
"I think increased competition will make it more affordable for consumers and more Americans. It's really clear to me that consumers who don't have a choice are paying much more monthly," Busby said.
Service providers are best-placed to compete on services, vertical markets and quality, Busby recommended. Although partnerships between LEO service providers and other operators may form, it is too early to tell, he said.
"I'm really interested to see what the marketing plans will be," he said, "because customer acquisition can be expensive, and I'm really interested to see how these companies' services are marketed."
Related posts:
— Alison Diana, Editor, Broadband World News. Follow us on Twitter or @alisoncdiana.