Defining a next-generation network relies on two implicit yet straightforward questions: What are its requirements and what does it replace? But answering both questions, as many an operator is experiencing, is much more complex.
Let's try to tackle them in order. What are the system requirements of next-generation networks? As discussed in my previous Broadband World News article, The Future of Broadband, these are clearly dependent on use cases. Here are a few -- many of which are being discussed at Broadband World Forum this year -- business cases that make up the Gigabit Society:
Delivery of UHD video
Delivery of low-latency virtual reality
Facilitation of the Internet of Things
Smart cities
Smart homes
Self-driving vehicles
Robotics
The last time I looked at 360/VR delivery, it was 15.5 billion pixels per second at 2k resolution. The network requirement, according to a
2018 Nokia Bell Labs report
, is a smart pipe "of at least 100 Mbit/s" with a latency of 15-20ms.
There are two key takeaways just from this single use case: It must be at least 100 Mbit/s and low-latency.
---
Toast the winners during the annual, highly anticipated Broadband World Forum
People's Choice Award Gala Dinner October 24. Book your awards tickets here.
---
Speeds of 100 Mbit/s are just the start.
"[The Gigabit Society is] one in which every home, business, vehicle and mobile device is capable of tapping into data throughput speeds of up to 1,000 Mbit/s, or 125 MBps with incredibly low latency," said Erik Brenneis, CEO of Vodafone Global Enterprise. "That means data can move between points without any noticeable delay, and over distances up to 1,000 km in mere milliseconds."
While some operators already are convinced, others that have yet to commit to these requirements will struggle to meet the promises made to consumers from providers, third parties such as government and commercial entities and educators.
This graphic from the European Commission illustrates the goal.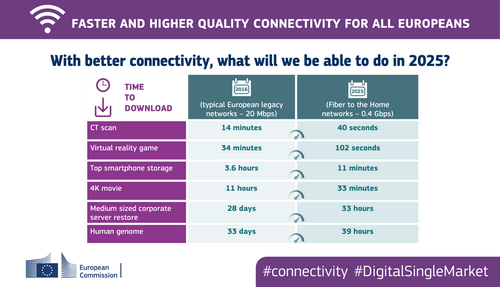 Reflections on replacement
The second part of defining your next-generation network entails understanding what you are replacing -- as well as the cost of doing so. This may involve replacing copper. Elsewhere, the drive is to bring faster speeds to rural areas, trading out aging legacy infrastructure or integrating once disparate, disconnected networks.
For many operators, next-gen means getting fibers as close to customers as possible. However, while there are some great examples of full-fiber installations -- such as in Iceland, where operator Gagnaveita Reykjavik and others brought the country close to having fiber to every home -- many other regions lag. That's not the case in New Zealand, where Chorus -- under the leadership of CEO Kate McKenzie -- already has dropped fiber into 70% of its network, offering customers speeds of up to 130 Mbit/s. (See Reykjavik Fibre CEO: BBWF Star & Iceland's Fiber Fave? and Chorus CEO: In Sync With High-Speed Broadband.)
Where copper can't be immediately replaced, operators and vendors have collaborated well to develop ways of making the metal go faster. In Chorus' case this involves rolling out Nokia's VDSL2; elsewhere such as the UK, technologies such as DOCSIS3.1 have been employed to squeeze every drop of juice from copper. And in other instances, service providers such as Deutsche Telekom use Gfast to empower customers to reach broadband speeds of up to 2 Gbit/s
In many rural areas, the cost of fiber installation is simply too prohibitive. Instead, mobile becomes the only viable option. NBN uses fiber to the node (FTTN), where geography (or, to be more specific in the case of Australia, rainforest) gets in the way. Here, mobile masts are used to cover the last mile or sometimes miles.
Changing out the core technology in, as BT Labs' Trevor Linney describes, "a critical network infrastructure," is not simple. Nor is it getting simpler.
The attractive world of IoT, accompanied by its complex billing and payment demands, requires a new approach from telcos. With an anticipated 31 billion connected devices by 2020, service providers need new micropayment technologies that will likely require blockchain or other share ledger technologies.
For 5G, the use of micro cells Broadband World Forum Webinar discussed, this drive to innovate and collaborate is vital to enable next-generation networks. The result is the rapid growth and application of open source in telco.
All this suggests there is no homogenous next-generation network. Instead, next-gen networks require a gamut of technology to fit local, regional and applicational needs. It is not just about more bandwidth, it is about more bandwidth applied in the right place and, more importantly, at the right time to deal with surges in demand.
There is at least one common thread, and that is versatility. Regardless of technologies or deployment methodologies, the need for flexibility is consistent.
For more information on next-generation networks, look out for Broadband World Forum's Technology of Broadband reports, available here.
Related posts:
— Niall Hunt, Digital Lead, Content & Communities, KNect365. Follow him on Twitter @Niall_Hunt and learn more about Broadband World Forum here.