Fiber Champion Heather Burnett Gold to Retire
Heather Burnett Gold, long-time president and CEO of the Fiber Broadband Association, will start her retirement process at the end of September.
After 30 years in the telecommunications industry and seven years steering the Fiber Broadband Association (formerly the Fiber to the Home Council Americas), Burnett Gold expects the organization to announce her replacement in time for 2018 Fiber Connect, to be held in Nashville from June 4-6.
During her tenure, Burnett Gold oversaw the industry's first gross domestic product study that linked fiber and economic growth, research into fiber and housing, the vital role of fiber in 5G, plus conferences and toolkits, the association said.
"Her commitment to the power of technology to change our communities is a true inspiration to all of us and she has, in my view, accelerated the connected future," said Scott Jackson, chairman of the organization's board.
Related posts:
— Alison Diana, Editor, UBB2020. Follow us on Twitter @UBB2020 or @alisoncdiana.
Multi-media, multi-service access architectures have been maturing, but the time is now, says AT&T, to get this ready for prime time.
FCC Chairman Ajit Pai proposes an additional $500 million in funding for co-ops and small providers to deliver broadband to rural areas, an amount that more than compensates for last year's cuts to federal programs.
Many signs determine why fiber deployment in the US will continue surging over the next five years, a new Heavy Reading report finds.
Open source project claims it's nearly the de facto standard for telcos deploying edge computing, a $300 billion market opportunity.
Funded largely by Talia, start-up Quika expects to debut its consumer satellite service to under- and unserved areas including Africa, Iraq and Afghanistan, supporting the complementary service via ads and its business services, CEO Alan Afrasiab tells BBWN.
Tuesday, January 30, 2018
11am ET
Consumers have always looked to the consumer electronics industry for cutting edge technology. Moving forward, service providers must reverse this pattern and move from defense to offense with the impending wave of IoT devices headed towards their subscribers' homes.
This webinar will focus on how service providers must leverage the hard-won position in the home network to fight off the web-scale competitors intent on relegating them in to wholesalers – wholesalers that would still bear the burden of the support calls.
Webinar speakers will highlight the new approaches that need to be taken in order to reduce the time required to get to market with new services and ensure always-on connectivity, including a managed WiFi offering, which provides a strong foundation and a springboard for the oncoming chaos of IoT.
In addition, the webinar will showcase what elements are required to give service providers an advantage in the in-home device battle to establish and own the strategic point of presence – including:
802.11ax WiFi technology
Leading low-power IoT protocol support (e.g., BlueTooth, Zigbee and Z-Wave)
MU-MIMO
Voice recognition technology
Advanced security

Listen to this archived radio show for a fascinating look into the world of SD-Access and the complementary technologies creating the digital revolution. Bring your questions and your curiosity to be part of the conversation.
All resources
BT's Formula for F1 Success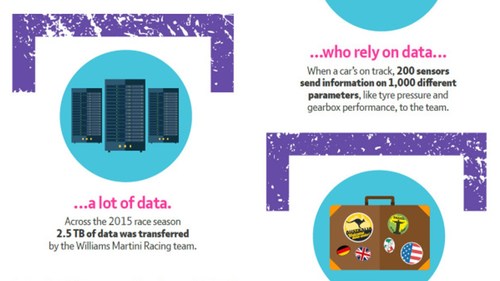 Infographics archive