Verizon Collapses Key Network Elements With SDN
NEW YORK -- Verizon, in partnership with Cisco and Juniper Networks, is using software-defined networking (SDN) technology to combine all existing service edge routers for Ethernet and IP-based services onto one platform, a move designed to improve the operational efficiency of its networks while also adding increased functionality and flexibility.
This new multi-service edge solution features a disaggregated control plane and leverages external compute to enhance the capabilities of that control plane beyond that of a traditional router.
Simplifying the networks' edges allows Verizon to drive process improvements in the deployment and provisioning of infrastructure on its networks, as well as in customer-focused areas such as Ethernet, Internet and VPN-based services. It also enables Verizon to respond to technology changes in the industry more rapidly which, in turn, lets customers adopt changes in their technology at a much faster pace.
"Software defined networking continues to deliver on its promise to improve network management and also enables us to be more nimble in the ways we serve our customers," said Michael Altland, director of Network Infrastructure Planning, at Verizon. "By decoupling the control plane from a carrier-grade provider edge routing platform and moving it to general compute servers, we can serve our consumer and enterprise customers from the same platform, giving them all the functionality they need, while running our networks far more efficiently. This will also allow us to take advantage of future advances in server technology as our networks continue to grow."
"Verizon continues to cross key milestones in transforming its networking practices to maximize performance and simplify operations," said Sumeet Arora, senior vice president of engineering, Service Provider Business, Cisco. "With this new flexibility, Verizon can develop and launch innovative services for its customers faster, with improved efficiency." "Next-generation services that require low latency and real-time response are moving closer to users at the network edge, creating new gains in performance and business agility," said Bikash Koley, chief technology officer at Juniper Networks.
Deployments began on the Verizon IP networks in early 2018 and are slated to continue through the end of 2019. This platform will eventually replace all of the legacy edge router functions within the Verizon networks.
Verizon Communications Inc. (NYSE: VZ)
Jupiter Communications Inc.
Cisco Systems Inc. (Nasdaq: CSCO)
Deutsche Telekom just signed an infrastructure project with the Gigabit Region Stuttgart, home to 174 municipalities and almost 3 million people, one of many partnerships the German operator has inked in its bid to grow revenue and business.
Mobile and cable operators represented half the managed SD-WAN services market share in this fast-growing space, while other broadband providers such as ISPs and satellite operators also appeared on Vertical Systems Group's ranking.
Organization extends popular TR-069 standard for use in smart homes, looking to simplify and standardize market for vendors, operators and end users.
By slashing subscriber pricing by more than $30 billion annually, Low Earth Orbit satellite companies led by Jeff Bezos and Elon Musk as well as OneWeb have the potential to usher in a whole new era of broadband.
While it continues to pull back from the European continent, Liberty Global is rolling out faster broadband speeds and next-gen WiFi and mobile services to beef up its market position.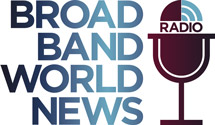 In this insightful Light Reading radio show, Kurt Raaflaub, Head of Strategic Solutions Marketing, will outline the key service provider challenges, deployment considerations, next-gen Gigabit technologies, and service models to win market share in the rapidly growing MDU market.
All resources
Tuesday, May 21, 2019
11:00 a.m. New York / 4:00 p.m London
The MDU market continues to face fierce competition among service providers due to tech-savvy residents (i.e., millennials), demand from building owners and management companies, plus the favorable economics of bulk contracts. However, no MDUs are the same, so service providers must use multiple technologies and inconsistent deployment models, increasing operational complexity and rollout costs.
The MDU market itself is evolving as residents adopt smart-home technologies, generating rising demand for smart apartments with built-in connected thermostats, keyless entryways and doors, and video doorbells. This evolution presents both new challenges and opportunities. In other words, service providers must consider innovative service-delivery strategies to compete and win.
In this Broadband World News and ADTRAN webinar, Kurt Raaflaub, Head of Strategic Solutions Marketing, will highlight emerging MDU broadband Internet trends and challenges. In addition, Kurt will outline the next-generation service creation and delivery platform, built on open standards, that allows service providers to connect millions of underserved MDUs, enables creation of user-driven services, and reduces operational complexity and costs.
Plus, special guest, Alice Lawson, Broadband and Cable Program Manager for the City of Seattle, will discuss Seattle's B4B-Build For Broadband initiative that addresses best practices in planning for MDU telecommunication infrastructure.