Minnesota ISP Uses Calix Mesh, Cloud & WiFi to Connect Remote Users
PETALUMA, Calif. -- Calix, Inc. (NYSE:CALX) today announced Minnesota WiFi, a wireless Internet service provider (WISP) based in southern Minnesota, is leveraging Calix Cloud and Mesh-Enhanced Carrier Class Wi-Fi solutions to bring its managed Wi-Fi service to residential and business subscribers across six counties.
Through the use of Calix GigaCenters, Minnesota WiFi has dramatically improved the broadband speeds and cloud-based services for its subscribers, allowing local businesses to thrive and residents to maintain their rural, teleworking lifestyle. With Calix Cloud in place, Minnesota WiFi has also been able to improve its support for these subscribers as the remote troubleshooting capabilities have resulted in faster call time resolution and fewer costly truck rolls.
"In the 13 communities Minnesota WiFi serves in and around Rochester, our broadband service enables our subscribers to enjoy the comforts of rural living while being able to take advantage of the same level of service they would find in a big city," said Darin Steffl, owner of Minnesota WiFi. "Many of our subscribers rely on Wi-Fi for high-bandwidth applications like VPN connections to the Mayo Clinic to work remotely or for transferring huge satellite images of farmland for agricultural tile drainage. We found phenomenal performance and coverage from the Calix GigaCenters, especially in the 5Ghz band."
Spanning a large area in the southeastern part of the state, Minnesota WiFi brings broadband service to many subscribers who live in a rural area with big expanses of terrain. With this large, but low-density service area and a lean support team, Minnesota WiFi is always looking for ways to make strategic technology investments that provide differentiated services to subscribers while keeping support costs down and maintaining profitability. The Calix Carrier Class Wi-Fi solutions have provided Minnesota WiFi with the reliability and whole-home coverage their subscribers require, while delivering the ability to recognize additional savings. Whether through subscriber self-installations of the 804Mesh units or adding VoIP service through the built-in voice support on the 844E GigaCenters, Minnesota WiFi can reduce its truck rolls and eliminate the need for additional equipment on-site.
"Now that these critical broadband connections are in place, WISPs must be able to extend that service into the local homes and businesses with cutting-edge Wi-Fi technologies that deliver the ROI required for their future success," said Skip Hirvela, Calix vice president of sales.
Calix Inc. (NYSE: CALX)
Jeff Finkelstein, executive director of Advanced Technology at Cox Communications, is BBWN Radio's guest on May 24 at 1PM ET/10AM PT/6PM BST. During the show, he'll discuss network innovation, digital transformation and defining DOCSIS' future.
With its acquisition of Netia, Polish pay-TV provider Cyfrowy Polsat gains access to 1 million customers and miles of fiber for its DOCSIS and FTTH deployment plans.
In keeping with the nation's ambitious Digital India project that seeks to reduce the digital divide and increase the digital economy, Nokia and non-profit service provider partner Digital Empowerment Foundation will create 500 smart villages across the nation.
US companies lose $75 billion annually to poor customer experience — and operators are using technologies to decrease the amount they're responsible for.
BT, which has come under fire for its subscriber experience record, today unveiled a new consumer division and plan to converge residential broadband, mobile and WiFi networks.
Wednesday, May 16, 2018
11:00 a.m. New York / 4:00 p.m. London
We will explore several fiber network environments, common vulnerabilities, and the business impact of failures. Fiber networks are typically a combination of owned and leased fiber. Learn how to reduce MTTR by up to 60% when an event occurs and how to detect degradation before it generates a service impact. Fiber monitoring of leased fiber helps ensure that the responsible party is dispatched for repair and SLAs can be managed. We will discuss both in service and out of service monitoring. Learn about the opportunities to improve business results in the following environments:
Hyperscale datacenters- the business need for near 100% uptime
5G small cell combined with leased fiber - ensuring the SLA for leased fiber
Long haul and Metro dark and lit fiber monitoring - reducing MTTR and preventing damage
FTTX construction and service activation in the access or MSO network - accelerating time to revenue
Security- preventing fiber tapping and data theft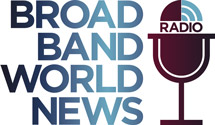 Join us when Jeff Finkelstein, Executive Director of Advanced Technologies at Cox Communications, is BBWN Radio's guest for a wide-ranging conversation about the cable operator's strategic network direction, DOCSIS 3.1, digital transformation and more. Bring your curiosity and questions when our distinguished guest speaks with Broadband World News Editor Alison Diana on May 24 at 1 pm ET; 10 am PT; 6 pm BST.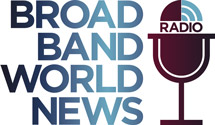 In this edition of BBWN Radio, Matthias Mieves, head of New Business, Sales and Marketing for Connected Home at Deutsche Telekom, will join BBWN Radio Editor Alison Diana to discuss the smart home market, the role of broadband and why service providers should roll out the welcome mat for this profitable market.
All resources
BT's Formula for F1 Success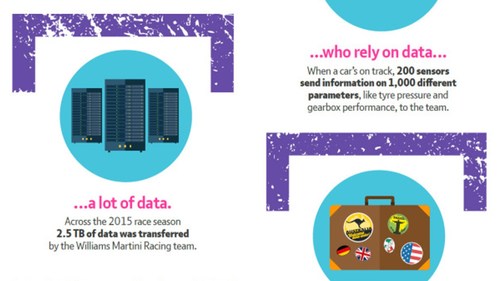 Infographics archive