New ASSIA TruSpeed Module Gives Providers Visibility Across Entire Network
REDWOOD CITY, Calif. -- Adaptive Spectrum and Signal Alignment (ASSIA), a supplier of broadband and WiFi diagnostic and optimization software for carriers and cable operators, today introduced TruSpeed, a CloudCheck software module designed to enable Internet service providers (ISPs), communications regulators and wholesalers to gain visibility to true broadband and WiFi throughput across the entire network.
TruSpeed uses cloud-based machine learning to intelligently monitor and measure both broadband and WiFi speeds while assessing bottlenecks across five key points in the network. This capability is a hardware agnostic solution that leverages ASSIA's flagship CloudCheck WiFi and Expresse patented technologies.
Delivering advertised broadband service speeds by ISPs has become critical in today's regulatory environment. Global telecommunications regulators are adopting stringent rules to ensure providers deliver advertised/minimum broadband speeds. Financial consequences for operators are significant including the ability of consumers to exit contracts when providers do not fulfill commitments. The governmental and market need for accurate throughput measurement has become essential to ISPs, wholesalers and communications regulators alike.
TruSpeed enables ISPs to measure the speed of broadband and WiFi networks, providing historical and real-time network-wide visibility and verification of compliance as well as granular and specific detail of subscriber speeds to the end-user's WiFi devices. This visibility can also be provided to subscribers, increasing confidence in their network bandwidth. With TruSpeed software, ISPs can meet compliance requirements and reduce Opex and churn costs, all while increasing customer satisfaction.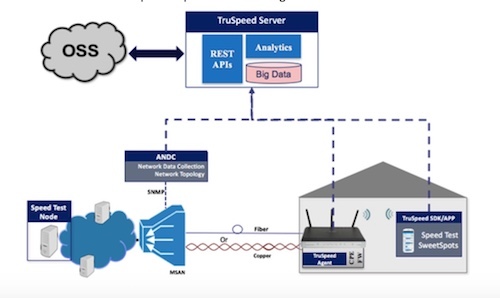 The TruSpeed software solution provides full actual throughput visibility into critical segments of the network and uses ASSIA's agent technology, which discriminates between the different network stakeholders' responsibility in delivering end-to-end Quality of Service (QoS). TruSpeed can isolate bottlenecks across any access and subscriber WiFi network. The TruSpeed agent is already supported by more than 100 platforms and can be deployed on an entire network, allowing fully-automated testing. ASSIA solutions are currently deployed on over 100 million connections around the world.
Types of throughput measurements performed by TruSpeed software include:
In-home WiFi throughput measurements initiated by the TruSpeed mobile app
WiFi throughput measured from the CPE by the TruSpeed software agent, which provides accurate, real-time throughput to all devices connected to the CPE without any additional software required
End-to-end throughput measurements initiated by the TruSpeed app to a speed test node
Broadband throughput measured by the TruSpeed agent to a speed test node
Access sync/contracted rate: Broadband sync rate passively collected on access nodes with optional Access Network Data Collector (ANDC)
"Based on customer and regulator inputs, as well as leveraging ASSIA's expertise and innovation, we are pleased to bring TruSpeed to market," said Dr. John Cioffi, CEO and Chairman of ASSIA. "Not only does TruSpeed provide full visibility on end-to-end speed, it also identifies individual bottlenecks."
Service providers that require a comprehensive, end-to-end Quality-of-Experience (QoE) solution can also easily upgrade TruSpeed software to a full CloudCheck WiFi solution at any point. Additional ASSIA services such as QoE consultancy, network managed solutions (full or partial) and regulator-compliant reporting can be offered as part of the TruSpeed solution.
ASSIA's CloudCheck TruSpeed is now available. For additional information visit ASSIA's website.
First-quarter earnings show demand for range of ADTRAN products and services, including Gfast, VDSL, XGS-PON and professional services, CEO and President Tom Stanton told analysts.
More than a half-million Irish residents expected to have fiber broadband by 2020. But Ireland's National Broadband Plan has not even begun — and government officials today postponed any agreement again.
Rapidly growing MSO keeps bulking up by buying smaller cablecos in largely rural and exurban markets throughout the US.
J.D. Power's most recent survey reveals that in-home technicians can keep customers happy by being on time, following through and communicating clearly.
In a new report and searchable database, Broadband Now discovered fiber is the is the least expensive technology powering subscribers' connections. But the poorest, most rural residents pay the most for connectivity, regardless of underlying infrastructure.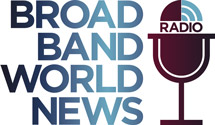 As Vice President of Global Healthcare at AT&T, Maria Lensing oversees the telecommunications operator's technology and professional services offerings across the spectrum of medical providers, from solo practitioners and walk-in clinics to giant hospital chains, medical-device vendors and consulting firms. Lensing also sees more interest from traditional service providers -- cable and telecom operators looking to expand or build relationships with their own medical communities, perhaps as an adjunct to smart-home successes or standalone.
Lensing, who took on this role almost a year ago in May 2018, oversees both the sales and technical teams responsible for developing growth initiatives for AT&T's Global Healthcare business -- including products, services and industry-specific solutions. She also very actively promotes business minority inclusion, education and female empowerment programs and has been recognized both within and outside AT&T. Some awards she's received include "Top 40 Under 40" and "Super Woman in Business" from the Memphis Business Journal.
Join Maria Lensing, VP of Global Healthcare at AT&T, on Tuesday, April 23 at 12:00 p.m. ET / 9:00 p.m. PT, when she's the guest on BBWN Radio, hosted by Broadband World News Editor Alison Diana. Register now!
So far, the agenda includes a discussion of technologies such as fiber and 5G; defining the needs and solutions for a widely diverse range of customers; partnering for success in a typically slow-moving, budget-constrained market; learning and dispersing best practices from other verticals and within other business groups; promoting diversity and female empowerment when so many say they're doing so but so little has changed; and what she hopes to accomplish in another year in this role.
Register and post your questions for Maria on BBWN Radio's easy-to-use chat board. We will get to as many questions as possible. Please post questions before and during the broadcast. Once you've registered, you will be led to the chat board page. Talk to you on April 23!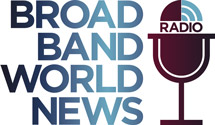 Tune in to Broadband World News Radio on February 14 at 11 a.m. ET / 8 a.m. PT / 4 p.m. UK when John Isch, Practice Director of the Network and Voice Center of Excellence at Orange Business Services, discusses use cases, ROI and misconceptions of software-defined wide-area networks, virtualization and cloud.
All resources
Tuesday, April 30, 2019
11:00 a.m. New York / 4:00 p.m London
Just when you thought the answer to your next technology direction question was clear, the noise around multiple new technology options fills the Internet and airwaves. Multiple 5Gs are being deployed; there's CableLabs' 10G initiative; the ITU and IEEE are toiling around 50G PON – and we haven't even talked about Wi-Fi6 yet! Is any of this real, do you have to pay attention or can you just let the dust settle and then decide?
Since waiting is often not the best option, let's demystify technology options, their impact on your business, and how to prepare for whatever the future brings.
In this webinar, Service Providers will learn:
Current state of 5G and how it affects everyone, not only mobile network providers.
Latest technologies being developed and how they will benefit their networks and subscribers.
How to prepare their networks for the future – whatever it may hold.