REDWOOD CITY, Calif. -- Adaptive Spectrum and Signal Alignment (ASSIA), a supplier of broadband and WiFi diagnostic and optimization software for carriers and cable operators, today introduced TruSpeed, a CloudCheck software module designed to enable Internet service providers (ISPs), communications regulators and wholesalers to gain visibility to true broadband and WiFi throughput across the entire network.
TruSpeed uses cloud-based machine learning to intelligently monitor and measure both broadband and WiFi speeds while assessing bottlenecks across five key points in the network. This capability is a hardware agnostic solution that leverages ASSIA's flagship CloudCheck WiFi and Expresse patented technologies.
Delivering advertised broadband service speeds by ISPs has become critical in today's regulatory environment. Global telecommunications regulators are adopting stringent rules to ensure providers deliver advertised/minimum broadband speeds. Financial consequences for operators are significant including the ability of consumers to exit contracts when providers do not fulfill commitments. The governmental and market need for accurate throughput measurement has become essential to ISPs, wholesalers and communications regulators alike.
TruSpeed enables ISPs to measure the speed of broadband and WiFi networks, providing historical and real-time network-wide visibility and verification of compliance as well as granular and specific detail of subscriber speeds to the end-user's WiFi devices. This visibility can also be provided to subscribers, increasing confidence in their network bandwidth. With TruSpeed software, ISPs can meet compliance requirements and reduce Opex and churn costs, all while increasing customer satisfaction.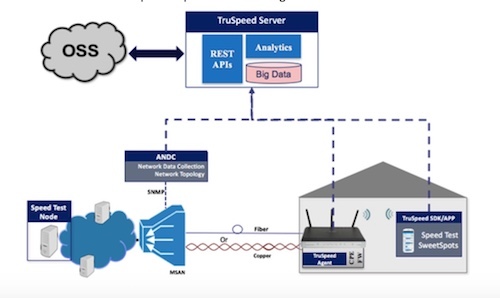 The TruSpeed software solution provides full actual throughput visibility into critical segments of the network and uses ASSIA's agent technology, which discriminates between the different network stakeholders' responsibility in delivering end-to-end Quality of Service (QoS). TruSpeed can isolate bottlenecks across any access and subscriber WiFi network. The TruSpeed agent is already supported by more than 100 platforms and can be deployed on an entire network, allowing fully-automated testing. ASSIA solutions are currently deployed on over 100 million connections around the world.
Types of throughput measurements performed by TruSpeed software include:
In-home WiFi throughput measurements initiated by the TruSpeed mobile app
WiFi throughput measured from the CPE by the TruSpeed software agent, which provides accurate, real-time throughput to all devices connected to the CPE without any additional software required
End-to-end throughput measurements initiated by the TruSpeed app to a speed test node
Broadband throughput measured by the TruSpeed agent to a speed test node
Access sync/contracted rate: Broadband sync rate passively collected on access nodes with optional Access Network Data Collector (ANDC)
"Based on customer and regulator inputs, as well as leveraging ASSIA's expertise and innovation, we are pleased to bring TruSpeed to market," said Dr. John Cioffi, CEO and Chairman of ASSIA. "Not only does TruSpeed provide full visibility on end-to-end speed, it also identifies individual bottlenecks."
Service providers that require a comprehensive, end-to-end Quality-of-Experience (QoE) solution can also easily upgrade TruSpeed software to a full CloudCheck WiFi solution at any point. Additional ASSIA services such as QoE consultancy, network managed solutions (full or partial) and regulator-compliant reporting can be offered as part of the TruSpeed solution.
ASSIA's CloudCheck TruSpeed is now available. For additional information visit ASSIA's website.