New ASSIA TruSpeed Module Gives Providers Visibility Across Entire Network
REDWOOD CITY, Calif. -- Adaptive Spectrum and Signal Alignment (ASSIA), a supplier of broadband and WiFi diagnostic and optimization software for carriers and cable operators, today introduced TruSpeed, a CloudCheck software module designed to enable Internet service providers (ISPs), communications regulators and wholesalers to gain visibility to true broadband and WiFi throughput across the entire network.
TruSpeed uses cloud-based machine learning to intelligently monitor and measure both broadband and WiFi speeds while assessing bottlenecks across five key points in the network. This capability is a hardware agnostic solution that leverages ASSIA's flagship CloudCheck WiFi and Expresse patented technologies.
Delivering advertised broadband service speeds by ISPs has become critical in today's regulatory environment. Global telecommunications regulators are adopting stringent rules to ensure providers deliver advertised/minimum broadband speeds. Financial consequences for operators are significant including the ability of consumers to exit contracts when providers do not fulfill commitments. The governmental and market need for accurate throughput measurement has become essential to ISPs, wholesalers and communications regulators alike.
TruSpeed enables ISPs to measure the speed of broadband and WiFi networks, providing historical and real-time network-wide visibility and verification of compliance as well as granular and specific detail of subscriber speeds to the end-user's WiFi devices. This visibility can also be provided to subscribers, increasing confidence in their network bandwidth. With TruSpeed software, ISPs can meet compliance requirements and reduce Opex and churn costs, all while increasing customer satisfaction.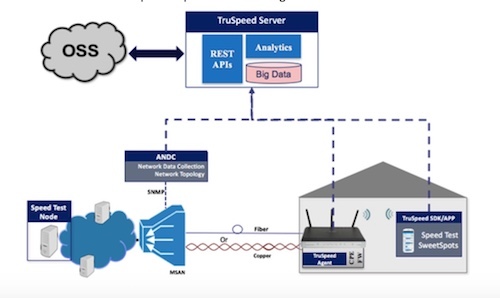 The TruSpeed software solution provides full actual throughput visibility into critical segments of the network and uses ASSIA's agent technology, which discriminates between the different network stakeholders' responsibility in delivering end-to-end Quality of Service (QoS). TruSpeed can isolate bottlenecks across any access and subscriber WiFi network. The TruSpeed agent is already supported by more than 100 platforms and can be deployed on an entire network, allowing fully-automated testing. ASSIA solutions are currently deployed on over 100 million connections around the world.
Types of throughput measurements performed by TruSpeed software include:
In-home WiFi throughput measurements initiated by the TruSpeed mobile app
WiFi throughput measured from the CPE by the TruSpeed software agent, which provides accurate, real-time throughput to all devices connected to the CPE without any additional software required
End-to-end throughput measurements initiated by the TruSpeed app to a speed test node
Broadband throughput measured by the TruSpeed agent to a speed test node
Access sync/contracted rate: Broadband sync rate passively collected on access nodes with optional Access Network Data Collector (ANDC)
"Based on customer and regulator inputs, as well as leveraging ASSIA's expertise and innovation, we are pleased to bring TruSpeed to market," said Dr. John Cioffi, CEO and Chairman of ASSIA. "Not only does TruSpeed provide full visibility on end-to-end speed, it also identifies individual bottlenecks."
Service providers that require a comprehensive, end-to-end Quality-of-Experience (QoE) solution can also easily upgrade TruSpeed software to a full CloudCheck WiFi solution at any point. Additional ASSIA services such as QoE consultancy, network managed solutions (full or partial) and regulator-compliant reporting can be offered as part of the TruSpeed solution.
ASSIA's CloudCheck TruSpeed is now available. For additional information visit ASSIA's website.
The US Department of Agriculture gives high points to those operators providing symmetric, high-speed infrastructure when considering loan and grant applicants.
UK mobile operator will use its 5G spectrum to launch a fixed wireless access (FWA) service in London in August and plans to have that offer, plus mobile 5G services, in 25 UK cities by the end of this year.
Authorization of $166.8 million over next decade earmarked for 60,850 unserved rural homes and businesses across 22 states.
Tunable optics components add up to about $1,000, says Nokia's Stefaan Vanhastel, too high an admission cost for the $26-plus billion corporation in a market estimated at $204 million in 2022.
As enterprises adopt public networking, their adoption of dark fiber for high-security uses grows, said Ed Morche, president of enterprise and government markets at CenturyLink.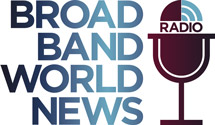 In this insightful Light Reading radio show, Kurt Raaflaub, Head of Strategic Solutions Marketing, will outline the key service provider challenges, deployment considerations, next-gen Gigabit technologies, and service models to win market share in the rapidly growing MDU market.
All resources
Tuesday, May 21, 2019
11:00 a.m. New York / 4:00 p.m London
The MDU market continues to face fierce competition among service providers due to tech-savvy residents (i.e., millennials), demand from building owners and management companies, plus the favorable economics of bulk contracts. However, no MDUs are the same, so service providers must use multiple technologies and inconsistent deployment models, increasing operational complexity and rollout costs.
The MDU market itself is evolving as residents adopt smart-home technologies, generating rising demand for smart apartments with built-in connected thermostats, keyless entryways and doors, and video doorbells. This evolution presents both new challenges and opportunities. In other words, service providers must consider innovative service-delivery strategies to compete and win.
In this Broadband World News and ADTRAN webinar, Kurt Raaflaub, Head of Strategic Solutions Marketing, will highlight emerging MDU broadband Internet trends and challenges. In addition, Kurt will outline the next-generation service creation and delivery platform, built on open standards, that allows service providers to connect millions of underserved MDUs, enables creation of user-driven services, and reduces operational complexity and costs.
Plus, special guest, Alice Lawson, Broadband and Cable Program Manager for the City of Seattle, will discuss Seattle's B4B-Build For Broadband initiative that addresses best practices in planning for MDU telecommunication infrastructure.