Calix's Cloud Updates Have Clear Direction: Reduce Truck Rolls
With the release today of Calix Support Cloud and Calix Marketing Cloud, Calix aims to decrease the cost, complexity -- and truck rolls -- associated with broadband deployment, thereby improving subscriber experience and profitability.
These latest updates to the Calix Cloud platform incorporate analytics so service providers are better equipped to deliver support and enable marketing departments to accelerate decision-making, according to the vendor.
ALLO Communications, which is installing about 400 Calix GigaCenter routers each week, focuses on subscriber experience as a differentiator, said Nick Colton, director of technical support, in a statement. Already a test user for Self-Help, ALLO wants to deploy Self-Heal to all subscribers in the future, he said.
"We see nearly 25 percent of our Wi-Fi related support calls come in within the first 45 days of service, so our ability to support them from day one sets the bar high for our future interactions," said Colton. "As their journey with ALLO continues, Self-Help is another key differentiator as we have already seen a reduction in repeat calls after enabling this for a subset of subscribers."
New features within Calix Support Cloud include:
Self-Heal Plus: Automated WiFi optimization for all subscribers on an operator's network, enabling service providers to avoid many calls by automatically enhancing residential WiFi
Day 1 Subscriber Experience: Gives providers the ability to populate subscriber data on demand, even before they've experienced a service.
Updates to Calix Marketing Cloud include:
Customization options: Authorized users can select the most important subscriber profiles for business growth to streamline reports and make better, faster marketing decisions
Simplified workflows: Real-time access to and visualization of data for easier, quicker and more accurate campaign segmentation
Day 1 Subscriber Experience, which focus on both long-term and new customers. With Calix Marketing Cloud, operators have access to new customization capabilities and simplified workflows, according to Calix
Related posts:
— Alison Diana, Editor, Broadband World News. Follow us on Twitter @BroadbandWN or @alisoncdiana.
Kirsten Rundberget, open strategy lead at Fujitsu Network, discusses the industry's advances — and challenges — in the complex yet beneficial area of open technologies, and why service providers should get involved, even if they don't yet plan to deploy.
Cable operators must know their enterprise strategy and play to their strengths by aiming for specific customer types or by thoroughly covering vertical industries.
Nokia's long-time head of fixed networking gear has been given a new role at the vendor, but his replacement hasn't been named.
South Korean operator says it can offer Gigabit broadband services over twisted copper pairs in multi-dwelling units using HFR boxes that house Sckipio's 212MHz Gfast technology.
By thinking green, vendors can help save the environment and reduce operators' energy bills – perhaps by a lot.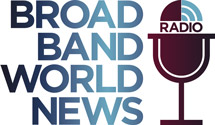 Tune in to Broadband World News Radio on Thursday, November 1 at 8 a.m. PT, 11 a.m. ET, 3 p.m. UK as Ronan Kelly, CTO, EMEA & APAC Regions at ADTRAN, explores the five pillars of network integrity -- a topic he discussed during his recent Broadband World Forum keynote. Register now!
All resources
Thursday, September 27, 2018
2:00 pm ET / 11:00 am PT
Fast, reliable broadband is essential to how we live, work and play today – and the upcoming arrival of 5G will only further increase demand and reliance on fiber infrastructure. Already viewed by consumers as intolerable, delays, outages or the regular maintenance difficulties associated with operating a network will become further exacerbated when residential subscribers further rely on connected devices for day-to-day life. Just as providers deploy network automation tools to reduce operational issues, they must take similar care to manage consumer expectations when they roll out fiber or new services. This webinar features leaders who will discuss how to manage marketing and consumer expectations at every stage of the network lifecycle. Marketing professionals, c-level executives and policymakers interested in drumming up fiber envy should attend.
BT's Formula for F1 Success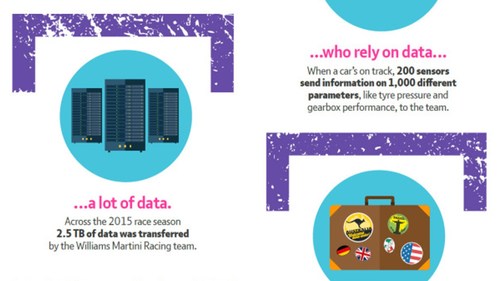 Infographics archive