How Data Analytics Improves Business Performance & CX: Online Panel
As service providers gather more data about their operations, customers and partners, it's increasingly critical to create proactive, actionable insight they can use to improve subscriber experience, enhance operations, save money and develop successful new services and products.
Telcos have collected data for decades, tracking calling patterns and wireless data usage, for example -- primarily for billing until the advent of unlimited plans. But whether it's due to the sheer amount of data, the mass of historical information stored in incompatible silos, the challenge of taking on another huge internal IT-business initiative or a combination of factors, some providers' big data and analytics adoption lags.
About 90% of company-generated data is "dark data," according to IDC. Acquired via an organization's computer networks but unused for decision-making or insights, this data can be found in email, social networks and collaboration tools. Even as the amount of all data increases, 37% of data will be useful in 2020, compared with 22% in 2013, IDC predicted.
It's one more sign that telcos must expend resources on big data and analytics in order to compete -- and win.
To help, Broadband World Forum on Thursday, June 28 presents Network Intelligence: How Can Data Analytics be Used to Improve Business Performance and Customer Satisfaction? at 3:00 p.m. GMT / 10:00 a.m. EDT / 7:00 a.m. PDT. It's part of BBWF's Telco Innovation Digital Week, which also includes discussions about telco network virtualization, defining next-generation networks, telcos and the edge and Security 2020 (on June 29 at 3:00 p.m. GMT). All events are available on-demand as archives.
During Thursday's event, Broadband World News Editor Alison Diana will moderate a panel which will include Yusuf Butun, global solution manager of Industry Business Unit Telecommunication at SAP; Erdem Koc MSc, Expert Radio Network Optimization Engineer at Turkcell; and James Crawshaw, senior analyst at Heavy Reading. Experts will discuss topics such as how telcos can use data analytics and artificial intelligence to improve network performance and subscriber experience, using data analytics to assess an organization's strengths and weaknesses, how to monitor network investments and leverage predictive maintenance with analytics and AI, the extent operators can use and monetize customer data and how to drain the data lake to make certain collected data is used and stored correctly and cleanly.
Join our panelists and share your questions and expertise at this free panel discussion. Register here.
Related posts:
— Alison Diana, Editor, Broadband World News. Follow us on Twitter @BroadbandWN or @alisoncdiana.
Vendor expands focus into MSOs and utilities, increases fiber sales and extends efforts in global territories, as part of initiative to decrease reliance on CSPs.
Some operators expand existing D3.1 infrastructure, while others discover fiber-only is too slow and expensive to meet subscribers' needs quickly enough to keep them happy.
Piracy and account sharing are taking a sizable bite from operators' content revenue, with incumbents and OTT startups feeling the financial hurt.
The FCC drafts changes to accelerate its satellite review process about a week after Amazon's Project Kuiper files an application with the agency in the fast-moving space broadband race.
Federal agency suggests that mandating competition and infrastructure sharing will discourage MDU buildouts and perpetuate the digital divide.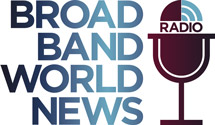 In this insightful Light Reading radio show, Kurt Raaflaub, Head of Strategic Solutions Marketing, will outline the key service provider challenges, deployment considerations, next-gen Gigabit technologies, and service models to win market share in the rapidly growing MDU market.
All resources
Tuesday, May 21, 2019
11:00 a.m. New York / 4:00 p.m London
The MDU market continues to face fierce competition among service providers due to tech-savvy residents (i.e., millennials), demand from building owners and management companies, plus the favorable economics of bulk contracts. However, no MDUs are the same, so service providers must use multiple technologies and inconsistent deployment models, increasing operational complexity and rollout costs.
The MDU market itself is evolving as residents adopt smart-home technologies, generating rising demand for smart apartments with built-in connected thermostats, keyless entryways and doors, and video doorbells. This evolution presents both new challenges and opportunities. In other words, service providers must consider innovative service-delivery strategies to compete and win.
In this Broadband World News and ADTRAN webinar, Kurt Raaflaub, Head of Strategic Solutions Marketing, will highlight emerging MDU broadband Internet trends and challenges. In addition, Kurt will outline the next-generation service creation and delivery platform, built on open standards, that allows service providers to connect millions of underserved MDUs, enables creation of user-driven services, and reduces operational complexity and costs.
Plus, special guest, Alice Lawson, Broadband and Cable Program Manager for the City of Seattle, will discuss Seattle's B4B-Build For Broadband initiative that addresses best practices in planning for MDU telecommunication infrastructure.