Italy's Fastweb Deploys 300-Gig Backbone Network With Coriant
Munich -- Coriant, a global supplier of open, disruptive and hyperscale networking solutions for service providers and web-scale Internet operators, and Fastweb, one of the major Italian telecommunications operators, today announced that Fastweb has deployed a protected 300 Gbps connection spanning more than 950 kilometers on its long haul backbone network using Coriant CloudWave Optics technology.
The 300 Gbps connectivity service connects Fastweb PoPs between Rome and Milan via Turin (more than 950 km) as the primary path and via Florence-Bologna (more than 800 km) as the protected path. The long distance service has been implemented without special amplifiers, tuning or changes in field hardware. Thanks to the solutions provided by Coriant, Fastweb is now able to boost the high-capacity connection of the two paths of its infrastructure up to 300 Gbps. This technology upgrade represents for Fastweb a milestone in the evolution of its network because of the extraordinary performances and the improving of optical efficiency achieved. Fastweb is able to offer ultra-high speed capacity to manage the increasing growth of data traffic to all its customers, families, enterprises and other telecommunication operators.
The long-haul backbone network of Fastweb was built in 2010 and already equipped with the Coriant hiT 7300 Multi Haul Transport Platform implementing 100 Gbps Coherent Technology regeneration-free connections in order to manage increasing data traffic. The further deployment with Coriant CloudWave Optics has helped Fastweb to upgrade its network to the latest generation of state-of-the art technology. Coriant CloudWave Optics boosts the capabilities of the installed network, enabling Fastweb to maximize its initial investments and meet the challenges that new cloud and hyperscale connectivity services pose.
Coriant
Fastweb SpA (Milan: FWB)
Rural service provider Lumos Networks taps ADTRAN's 10G solution to sate its Virginia SMB customers' hunger for high-speed symmetrical fiber-based broadband.
In the American Broadband Initiative Milestones Report out today, 20 federal agencies pledge to simplify and accelerate the process for service providers to deliver broadband into America's countryside.
VITAS Healthcare is testing AR/VR to ease hospice patients' pain, using fiber infrastructure and 5G from AT&T, according to Maria Lensing, AT&T's vice president of Global Business Healthcare.
But startup will need to finalize its satellite design, secure more funding and cut through the regulatory red tape before its vision to rival terrestrial fiber networks can (literally) get off the ground.
A HIMSS Analytics survey, sponsored by Spectrum Enterprise, identifies five patient experience initiatives to where healthcare providers can boost the customer experience and bring in higher margins using advanced broadband networks.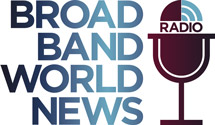 Tune in to Broadband World News Radio on February 14 at 11 a.m. ET / 8 a.m. PT / 4 p.m. UK when John Isch, Practice Director of the Network and Voice Center of Excellence at Orange Business Services, discusses use cases, ROI and misconceptions of software-defined wide-area networks, virtualization and cloud.
All resources
Wednesday, December 12, 2018
12 p.m. New York / 5 p.m. London
Consumers are buying millions of IoT devices, from smart thermostats and security systems to intelligent entertainment setups and furniture. Yet many of these devices remain isolated because home users are uncomfortable connecting them to each other – or even their WiFi. After all, their WiFi network was probably designed only to handle a few laptops, a gaming system and a couple of smartphones. Now, demand on the network is surging and even though you're delivering 100 Mbps to 1 Gbps, that doesn't necessarily mean the broadband power is in the right place or reaches every corner of a home.
Even if WiFi coverage is sufficient, typing is not on trend. Voice is far more natural, easier and faster. Using a TV keyboard is archaic when more and more households have access to cloud-based voice services, like Amazon Alexa. This webinar will explore how service providers can create a comfortable, truly smart home for consumers – simultaneously driving up margin and loyalty.
BT's Formula for F1 Success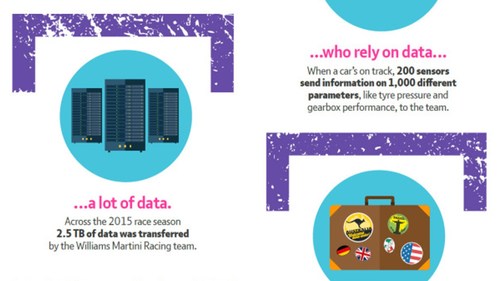 Infographics archive