Iowa Service Provider Evertek Migrates to Calix AXOS E7-2 GPON
Petaluma, Calif. -- Iowa regional service provider Evertek is moving to a future built on Calix AXOS as it transitions its existing fiber network to the Calix AXOS E7-2 Intelligent Modular System.
A leading local exchange carrier (LEC) based in the northwestern part of the state, Evertek has a varied set of network topologies, including fiber, hybrid-fiber coax and wireless, enabling its WISP (Wireless Internet Service Provider) business to extend services across northwest Iowa and into parts of South Dakota and Nebraska. Committed to bringing world-class broadband to its communities over any of these mediums, Evertek has gone well beyond the traditional triple-play package as it offers home security and automation as well as IT services throughout its area. With this dedication at the core of the company's values, Evertek is updating its GPON network from legacy Calix B6 systems to the AXOS E7-2 with the newly introduced Services Management Connector (SMx), allowing Evertek to future proof its network for the next wave of broadband services.
"Our history started as a rural telephone cooperative, and over the years, we have made the investments needed to ensure our communities get the best broadband services available, including the introduction of new network technologies and unique partnerships with other service providers," said Roxanne White, CEO of Evertek. "In our fiber footprint, we continue that tradition by harnessing the power and benefits of the AXOS platform to streamline our operations in a cost-effective manner and deliver new services to subscribers faster. As we move forward, we believe AXOS will provide the network foundation to embrace the next generation of broadband services."
Evertek is also embarking on a complete, next-generation fiber network build, which includes the introduction of AXOS, new network infrastructure and upgraded Calix optical network terminals (ONTs). With AXOS anchoring the network, Evertek can quickly introduce new services to its subscribers while driving more cost efficiencies such as reducing network-related resolution times and limiting the need for initiating truck rolls with the AXOS remote diagnostic toolkit. Through the use of SMx, Evertek will gain the benefits of deploying a software-defined network (SDN) with automated workflows today, all while using existing back-office business systems. The combination of the AXOS platform, the E7-2 system and the SMx connector lets Evertek establish one common operational model across its network for unparalleled flexibility. Furthermore, it establishes a seamless path to deploy next generation fiber technologies and software defined access (SDA) architectures when the need arises.
"At Calix, we are focused on helping service providers of all shapes and sizes build next generation networks that enable the delivery of an unmatched subscriber experience," said Skip Hirvela, vice president of sales at Calix. "Evertek is preparing for the future, as it moves from the B6 system to the E7-2 system, with AXOS being central to its fiber network vision. No matter what new application emerges or what next generation PON technology arises, AXOS will deliver a simplified migration path for Evertek's business and allow its subscribers to experience the latest broadband services."
Calix Inc. (NYSE: CALX)
Kirsten Rundberget, open strategy lead at Fujitsu Network, discusses the industry's advances — and challenges — in the complex yet beneficial area of open technologies, and why service providers should get involved, even if they don't yet plan to deploy.
Cable operators must know their enterprise strategy and play to their strengths by aiming for specific customer types or by thoroughly covering vertical industries.
Nokia's long-time head of fixed networking gear has been given a new role at the vendor, but his replacement hasn't been named.
South Korean operator says it can offer Gigabit broadband services over twisted copper pairs in multi-dwelling units using HFR boxes that house Sckipio's 212MHz Gfast technology.
By thinking green, vendors can help save the environment and reduce operators' energy bills – perhaps by a lot.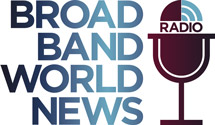 Tune in to Broadband World News Radio on Thursday, November 1 at 8 a.m. PT, 11 a.m. ET, 3 p.m. UK as Ronan Kelly, CTO, EMEA & APAC Regions at ADTRAN, explores the five pillars of network integrity -- a topic he discussed during his recent Broadband World Forum keynote. Register now!
All resources
Thursday, September 27, 2018
2:00 pm ET / 11:00 am PT
Fast, reliable broadband is essential to how we live, work and play today – and the upcoming arrival of 5G will only further increase demand and reliance on fiber infrastructure. Already viewed by consumers as intolerable, delays, outages or the regular maintenance difficulties associated with operating a network will become further exacerbated when residential subscribers further rely on connected devices for day-to-day life. Just as providers deploy network automation tools to reduce operational issues, they must take similar care to manage consumer expectations when they roll out fiber or new services. This webinar features leaders who will discuss how to manage marketing and consumer expectations at every stage of the network lifecycle. Marketing professionals, c-level executives and policymakers interested in drumming up fiber envy should attend.
BT's Formula for F1 Success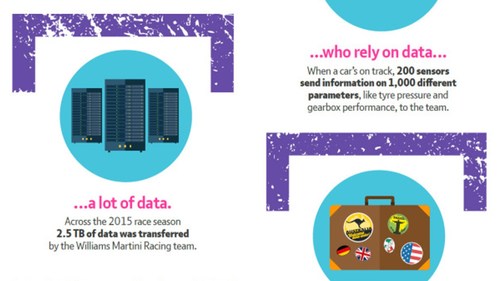 Infographics archive