Iowa Service Provider Evertek Migrates to Calix AXOS E7-2 GPON
Petaluma, Calif. -- Iowa regional service provider Evertek is moving to a future built on Calix AXOS as it transitions its existing fiber network to the Calix AXOS E7-2 Intelligent Modular System.
A leading local exchange carrier (LEC) based in the northwestern part of the state, Evertek has a varied set of network topologies, including fiber, hybrid-fiber coax and wireless, enabling its WISP (Wireless Internet Service Provider) business to extend services across northwest Iowa and into parts of South Dakota and Nebraska. Committed to bringing world-class broadband to its communities over any of these mediums, Evertek has gone well beyond the traditional triple-play package as it offers home security and automation as well as IT services throughout its area. With this dedication at the core of the company's values, Evertek is updating its GPON network from legacy Calix B6 systems to the AXOS E7-2 with the newly introduced Services Management Connector (SMx), allowing Evertek to future proof its network for the next wave of broadband services.
"Our history started as a rural telephone cooperative, and over the years, we have made the investments needed to ensure our communities get the best broadband services available, including the introduction of new network technologies and unique partnerships with other service providers," said Roxanne White, CEO of Evertek. "In our fiber footprint, we continue that tradition by harnessing the power and benefits of the AXOS platform to streamline our operations in a cost-effective manner and deliver new services to subscribers faster. As we move forward, we believe AXOS will provide the network foundation to embrace the next generation of broadband services."
Evertek is also embarking on a complete, next-generation fiber network build, which includes the introduction of AXOS, new network infrastructure and upgraded Calix optical network terminals (ONTs). With AXOS anchoring the network, Evertek can quickly introduce new services to its subscribers while driving more cost efficiencies such as reducing network-related resolution times and limiting the need for initiating truck rolls with the AXOS remote diagnostic toolkit. Through the use of SMx, Evertek will gain the benefits of deploying a software-defined network (SDN) with automated workflows today, all while using existing back-office business systems. The combination of the AXOS platform, the E7-2 system and the SMx connector lets Evertek establish one common operational model across its network for unparalleled flexibility. Furthermore, it establishes a seamless path to deploy next generation fiber technologies and software defined access (SDA) architectures when the need arises.
"At Calix, we are focused on helping service providers of all shapes and sizes build next generation networks that enable the delivery of an unmatched subscriber experience," said Skip Hirvela, vice president of sales at Calix. "Evertek is preparing for the future, as it moves from the B6 system to the E7-2 system, with AXOS being central to its fiber network vision. No matter what new application emerges or what next generation PON technology arises, AXOS will deliver a simplified migration path for Evertek's business and allow its subscribers to experience the latest broadband services."
Calix Inc. (NYSE: CALX)
Rural service provider Lumos Networks taps ADTRAN's 10G solution to sate its Virginia SMB customers' hunger for high-speed symmetrical fiber-based broadband.
In the American Broadband Initiative Milestones Report out today, 20 federal agencies pledge to simplify and accelerate the process for service providers to deliver broadband into America's countryside.
VITAS Healthcare is testing AR/VR to ease hospice patients' pain, using fiber infrastructure and 5G from AT&T, according to Maria Lensing, AT&T's vice president of Global Business Healthcare.
But startup will need to finalize its satellite design, secure more funding and cut through the regulatory red tape before its vision to rival terrestrial fiber networks can (literally) get off the ground.
A HIMSS Analytics survey, sponsored by Spectrum Enterprise, identifies five patient experience initiatives to where healthcare providers can boost the customer experience and bring in higher margins using advanced broadband networks.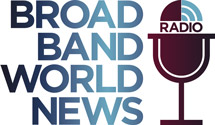 Tune in to Broadband World News Radio on February 14 at 11 a.m. ET / 8 a.m. PT / 4 p.m. UK when John Isch, Practice Director of the Network and Voice Center of Excellence at Orange Business Services, discusses use cases, ROI and misconceptions of software-defined wide-area networks, virtualization and cloud.
All resources
Wednesday, December 12, 2018
12 p.m. New York / 5 p.m. London
Consumers are buying millions of IoT devices, from smart thermostats and security systems to intelligent entertainment setups and furniture. Yet many of these devices remain isolated because home users are uncomfortable connecting them to each other – or even their WiFi. After all, their WiFi network was probably designed only to handle a few laptops, a gaming system and a couple of smartphones. Now, demand on the network is surging and even though you're delivering 100 Mbps to 1 Gbps, that doesn't necessarily mean the broadband power is in the right place or reaches every corner of a home.
Even if WiFi coverage is sufficient, typing is not on trend. Voice is far more natural, easier and faster. Using a TV keyboard is archaic when more and more households have access to cloud-based voice services, like Amazon Alexa. This webinar will explore how service providers can create a comfortable, truly smart home for consumers – simultaneously driving up margin and loyalty.
BT's Formula for F1 Success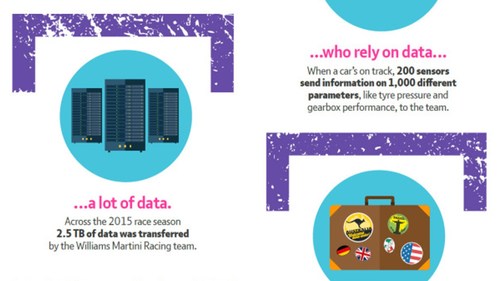 Infographics archive