FCC Approves $100M Telehealth Pilot Program
Washington, D.C. -- On Thursday, August 2, the Federal Communications Commission unanimously approved a proposal to establish a new $100 million "Connected Care Pilot Program" to support telehealth for low-income Americans, especially those living in rural areas and veterans.
Commissioner Brendan Carr has been leading the FCC's efforts in this proceeding and announced the initiative earlier this month in an op-ed with Senator Roger Wicker.
"I am glad my colleagues on the Commission voted to approve my proposal to begin establishing the Connected Care Pilot Program," said Carr. "The FCC has long supported broadband deployments to brick-and-mortar healthcare facilities, but advancements in technology mean we can now bring connected care everywhere. So we should explore how the FCC can support this new trend in telehealth, which can lower costs and improve health outcomes.
"Low-income Americans, particularly in rural areas, face obstacles to healthcare, and I'm glad the FCC is doing its part to help bridge this doctor divide," Carr continued. "I look forward to working with doctors, providers, federal agencies, members of Congress and all stakeholders as we work to get this program up and running."
Deutsche Telekom just signed an infrastructure project with the Gigabit Region Stuttgart, home to 174 municipalities and almost 3 million people, one of many partnerships the German operator has inked in its bid to grow revenue and business.
Mobile and cable operators represented half the managed SD-WAN services market share in this fast-growing space, while other broadband providers such as ISPs and satellite operators also appeared on Vertical Systems Group's ranking.
Organization extends popular TR-069 standard for use in smart homes, looking to simplify and standardize market for vendors, operators and end users.
By slashing subscriber pricing by more than $30 billion annually, Low Earth Orbit satellite companies led by Jeff Bezos and Elon Musk as well as OneWeb have the potential to usher in a whole new era of broadband.
While it continues to pull back from the European continent, Liberty Global is rolling out faster broadband speeds and next-gen WiFi and mobile services to beef up its market position.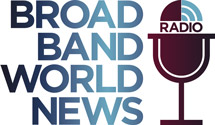 In this insightful Light Reading radio show, Kurt Raaflaub, Head of Strategic Solutions Marketing, will outline the key service provider challenges, deployment considerations, next-gen Gigabit technologies, and service models to win market share in the rapidly growing MDU market.
All resources
Tuesday, May 21, 2019
11:00 a.m. New York / 4:00 p.m London
The MDU market continues to face fierce competition among service providers due to tech-savvy residents (i.e., millennials), demand from building owners and management companies, plus the favorable economics of bulk contracts. However, no MDUs are the same, so service providers must use multiple technologies and inconsistent deployment models, increasing operational complexity and rollout costs.
The MDU market itself is evolving as residents adopt smart-home technologies, generating rising demand for smart apartments with built-in connected thermostats, keyless entryways and doors, and video doorbells. This evolution presents both new challenges and opportunities. In other words, service providers must consider innovative service-delivery strategies to compete and win.
In this Broadband World News and ADTRAN webinar, Kurt Raaflaub, Head of Strategic Solutions Marketing, will highlight emerging MDU broadband Internet trends and challenges. In addition, Kurt will outline the next-generation service creation and delivery platform, built on open standards, that allows service providers to connect millions of underserved MDUs, enables creation of user-driven services, and reduces operational complexity and costs.
Plus, special guest, Alice Lawson, Broadband and Cable Program Manager for the City of Seattle, will discuss Seattle's B4B-Build For Broadband initiative that addresses best practices in planning for MDU telecommunication infrastructure.