FCC Approves $100M Telehealth Pilot Program
Washington, D.C. -- On Thursday, August 2, the Federal Communications Commission unanimously approved a proposal to establish a new $100 million "Connected Care Pilot Program" to support telehealth for low-income Americans, especially those living in rural areas and veterans.
Commissioner Brendan Carr has been leading the FCC's efforts in this proceeding and announced the initiative earlier this month in an op-ed with Senator Roger Wicker.
"I am glad my colleagues on the Commission voted to approve my proposal to begin establishing the Connected Care Pilot Program," said Carr. "The FCC has long supported broadband deployments to brick-and-mortar healthcare facilities, but advancements in technology mean we can now bring connected care everywhere. So we should explore how the FCC can support this new trend in telehealth, which can lower costs and improve health outcomes.
"Low-income Americans, particularly in rural areas, face obstacles to healthcare, and I'm glad the FCC is doing its part to help bridge this doctor divide," Carr continued. "I look forward to working with doctors, providers, federal agencies, members of Congress and all stakeholders as we work to get this program up and running."
Whether they enter the wireless arena, focus on fiber for backhaul, form an IoT department or team up with mobile operators, fixed-access providers can play a big role in the next iteration of 5G IoT.
With its multi-year investment in next-generation PON beginning to show a return, Verizon's Intelligent Edge Network is now a reality, CEO Hans Vestberg told attendees of the Verizon 2019 Investor Meeting today.
Sales of cable broadband access infrastructure will rise to $2 billion in 2023, Dell'Oro predicts in a new broadband access network spending forecast.
It still doesn't go well with milk but with the profile update to 212MHz, Gfast service offerings are a lot more aligned with fiber-only connections, writes UNH-IOL's Lincoln Lavoie.
In just 12 months, there's been more than a 25% decrease in the digital divide population, according to the Federal Communications Commission. But is that really true?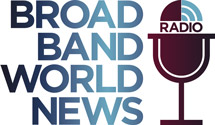 Tune in to Broadband World News Radio on February 14 at 11 a.m. ET / 8 a.m. PT / 4 p.m. UK when John Isch, Practice Director of the Network and Voice Center of Excellence at Orange Business Services, discusses use cases, ROI and misconceptions of software-defined wide-area networks, virtualization and cloud.
All resources
Wednesday, December 12, 2018
12 p.m. New York / 5 p.m. London
Consumers are buying millions of IoT devices, from smart thermostats and security systems to intelligent entertainment setups and furniture. Yet many of these devices remain isolated because home users are uncomfortable connecting them to each other – or even their WiFi. After all, their WiFi network was probably designed only to handle a few laptops, a gaming system and a couple of smartphones. Now, demand on the network is surging and even though you're delivering 100 Mbps to 1 Gbps, that doesn't necessarily mean the broadband power is in the right place or reaches every corner of a home.
Even if WiFi coverage is sufficient, typing is not on trend. Voice is far more natural, easier and faster. Using a TV keyboard is archaic when more and more households have access to cloud-based voice services, like Amazon Alexa. This webinar will explore how service providers can create a comfortable, truly smart home for consumers – simultaneously driving up margin and loyalty.
BT's Formula for F1 Success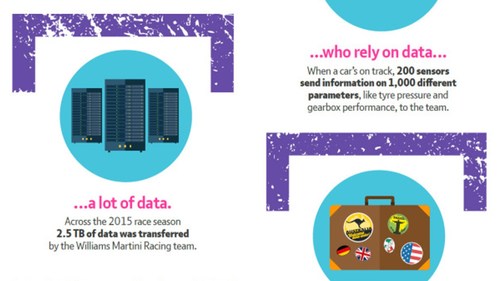 Infographics archive