Ex-Ericsson COO Heads New Sandvine Customer Success Divison
FREMONT, Calif, -- Sandvine, developer of Network intelligence solutions, announced long-time industry executive Alan Petry joined the company as senior vice president of Customer Success. Bringing almost 30 years of experience from a range of senior executive positions, including at Ericsson, Nokia and AT&T, Petry will be responsible for driving a newly created customer success organization and ensuring the success of Sandvine customer deployments worldwide.
Petry has extensive experience in the telecommunications industry, most recently as vice president and chief operating officer for Managed Services at Ericsson. At Ericsson, he managed Tier 1 strategic customer engagements, including AT&T and Verizon, and led delivery on a full spectrum of managed services for telecom clients. During his seven years at Ericsson, Petry also was vice president of Strategic Business Development & Head of End-to-end Service Solutions, in which he led strategic growth initiatives for Ericsson North America. He has also worked in various capacities at Nokia Siemens and AT&T Mobility in engineering, operations and services roles.
"Sandvine solutions serves over two billion subscribers worldwide through deployments with more than 150 Tier 1 and Tier 2 operators," said Petry. "I am excited about the opportunity to work with our customers to support them in the deployment and usage of our industry-leading Active Network Intelligence solutions."
In his new role at Sandvine, Petry will lead a single customer success organization, created through combining Sandvine's existing Global Delivery and Global Support teams, which will be responsible for all post-sales activities. This team will focus on delivering the use cases Sandvine has engineered for operators, including Active Network Intelligence use cases that are being rolled out to customers today. These automation use cases will initially require a high level of interaction with the Customer Success team for the leading edge operators that are deploying them initially, but Petry's team will create repeatable processes that can be deployed for any operator worldwide.
Commenting on the appointment, Lyn Cantor, Sandvine president and CEO, said: "Alan has worked with some of the biggest names in the telco space, and he brings a unique blend of technical and commercial experiences to our team, in addition to a great personal network of customer contacts and knowledge of large-scale operator networks."
Ericsson AB (Nasdaq: ERIC)
Joint venture between OneWeb and Airbus opens facility that can make two satellites per day at one-fiftieth the cost of traditional factories that produce one satellite a year, boasts OneWeb Satellites.
Vendor expands focus into MSOs and utilities, increases fiber sales and extends efforts in global territories, as part of initiative to decrease reliance on CSPs.
Some operators expand existing D3.1 infrastructure, while others discover fiber-only is too slow and expensive to meet subscribers' needs quickly enough to keep them happy.
Piracy and account sharing are taking a sizable bite from operators' content revenue, with incumbents and OTT startups feeling the financial hurt.
The FCC drafts changes to accelerate its satellite review process about a week after Amazon's Project Kuiper files an application with the agency in the fast-moving space broadband race.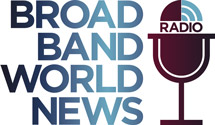 In this insightful Light Reading radio show, Kurt Raaflaub, Head of Strategic Solutions Marketing, will outline the key service provider challenges, deployment considerations, next-gen Gigabit technologies, and service models to win market share in the rapidly growing MDU market.
All resources
Tuesday, May 21, 2019
11:00 a.m. New York / 4:00 p.m London
The MDU market continues to face fierce competition among service providers due to tech-savvy residents (i.e., millennials), demand from building owners and management companies, plus the favorable economics of bulk contracts. However, no MDUs are the same, so service providers must use multiple technologies and inconsistent deployment models, increasing operational complexity and rollout costs.
The MDU market itself is evolving as residents adopt smart-home technologies, generating rising demand for smart apartments with built-in connected thermostats, keyless entryways and doors, and video doorbells. This evolution presents both new challenges and opportunities. In other words, service providers must consider innovative service-delivery strategies to compete and win.
In this Broadband World News and ADTRAN webinar, Kurt Raaflaub, Head of Strategic Solutions Marketing, will highlight emerging MDU broadband Internet trends and challenges. In addition, Kurt will outline the next-generation service creation and delivery platform, built on open standards, that allows service providers to connect millions of underserved MDUs, enables creation of user-driven services, and reduces operational complexity and costs.
Plus, special guest, Alice Lawson, Broadband and Cable Program Manager for the City of Seattle, will discuss Seattle's B4B-Build For Broadband initiative that addresses best practices in planning for MDU telecommunication infrastructure.