Calix Marketing Cloud Adds Insights to Boost Providers' Customer Engagement
SAN JOSE, Callif. -- Calix on Thursday announced new innovations for Calix Marketing Cloud (CMC) that use the power of analytics to illuminate opportunities for business growth through insights into prospective subscribers' broadband needs.
With newly acquired subscriber profiles to learn from -- including a projection of their maximum revenue potential -- CMC allows service providers to more accurately plan their approach to engage new subscribers. More importantly, operators can now easily discover and reach the most ideal prospects based on existing subscriber insights. In turn, this focused, data-driven approach drastically reduces overall subscriber acquisition costs while opening up new revenue streams.
"Since we first implemented Calix Marketing Cloud, we have seen a tremendous response from our subscriber base and a 23% increase in revenue," said Candy Riem, vice president of marketing at a href=" https://jointhecrowd.teamfiber.com"target="new">Midwest Energy & Communications. "We can now use insights from our network to make more informed decisions, which improves both the subscriber experience and our business results. We're excited to use the new acquisition capabilities in CMC to push the boundaries of what is possible and drive new levels of success for MEC."
Using the latest enhancements to Calix Marketing Cloud, service providers can:
Discover trends in newly added subscribers to evaluate their current acquisition strategy
Identify maximum revenue potential per subscriber
Segment prospects based on existing subscriber intelligence
Visualize opportunities on attainable bandwidth heat map.
In addition, new revenue insights within CMC deliver a financial point of view to service providers that empower more informed upsell, retention and acquisition decisions. Clearly highlighting gaps in current and potential revenue allow operators to address many common business challenges, like calculating marketing ROI and justifying investments in marketing activities.
"We are very excited about these additions to Calix Marketing Cloud as they meet two important customer goals: Acquiring new subscribers and growing existing revenue. The first innovation in CMC allows marketers to better address the most expensive and difficult part of their role – acquisition. CMC provides the power of acquisition insights to every marketer, when and where they need it, transforming a very complicated task into one filled with insights and opportunities," said Shane Eleniak, Calix senior vice president of platforms.
"The second provides real-time insight into the opportunity gap between actual revenue per subscriber and the revenue each could generate if they bought all services at the top tier. That revenue opportunity gap is the highest ROI opportunity for marketing as it is a lot easier to upsell than acquire; every dollar of upsell is a dollar of pure profit," he added. "CMC allows customers to clearly see that profit opportunity. ...These latest innovations within Calix Marketing Cloud are another big step forward in enabling our customers to open new markets and grow ARPU."
Calix Inc. (NYSE: CALX)
Joint venture between OneWeb and Airbus opens facility that can make two satellites per day at one-fiftieth the cost of traditional factories that produce one satellite a year, boasts OneWeb Satellites.
Vendor expands focus into MSOs and utilities, increases fiber sales and extends efforts in global territories, as part of initiative to decrease reliance on CSPs.
Some operators expand existing D3.1 infrastructure, while others discover fiber-only is too slow and expensive to meet subscribers' needs quickly enough to keep them happy.
Piracy and account sharing are taking a sizable bite from operators' content revenue, with incumbents and OTT startups feeling the financial hurt.
The FCC drafts changes to accelerate its satellite review process about a week after Amazon's Project Kuiper files an application with the agency in the fast-moving space broadband race.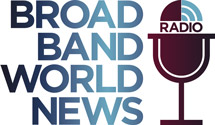 In this insightful Light Reading radio show, Kurt Raaflaub, Head of Strategic Solutions Marketing, will outline the key service provider challenges, deployment considerations, next-gen Gigabit technologies, and service models to win market share in the rapidly growing MDU market.
All resources
Tuesday, May 21, 2019
11:00 a.m. New York / 4:00 p.m London
The MDU market continues to face fierce competition among service providers due to tech-savvy residents (i.e., millennials), demand from building owners and management companies, plus the favorable economics of bulk contracts. However, no MDUs are the same, so service providers must use multiple technologies and inconsistent deployment models, increasing operational complexity and rollout costs.
The MDU market itself is evolving as residents adopt smart-home technologies, generating rising demand for smart apartments with built-in connected thermostats, keyless entryways and doors, and video doorbells. This evolution presents both new challenges and opportunities. In other words, service providers must consider innovative service-delivery strategies to compete and win.
In this Broadband World News and ADTRAN webinar, Kurt Raaflaub, Head of Strategic Solutions Marketing, will highlight emerging MDU broadband Internet trends and challenges. In addition, Kurt will outline the next-generation service creation and delivery platform, built on open standards, that allows service providers to connect millions of underserved MDUs, enables creation of user-driven services, and reduces operational complexity and costs.
Plus, special guest, Alice Lawson, Broadband and Cable Program Manager for the City of Seattle, will discuss Seattle's B4B-Build For Broadband initiative that addresses best practices in planning for MDU telecommunication infrastructure.