BBWF Survey 2018 Reveals Rosy Outlook for Broadband Operators
Respondents to the Broadband World Forum Survey painted a rosy picture, despite an industry undergoing rapid change, with 69% reporting positive growth over the past 12 months.
These results were published in this year's Broadband World Forum Survey report, which examines note only data from the survey, but also audience data gathered by Broadband World Forum over the past 12 months.
Overall, the report examines data from 950 respondents, representing 491 companies from 95 countries. Network operators, consisting of fixed, converged, mobile, cable and satellite, made up 51% of the data analysed, with the remaining made up of vendors (23%), Broadcasters (7%) and other (19%).
Other key findings include:

Globally, operators are focused on next-generation networks (24% of respondents) and access technology (18%)
In Europe, one-fifth of respondents were interested in access technology (21%)
One-third of Africa registrants show an interest in Next-Generation networks (30%)
Belgium has a strong propensity towards IoT (23% versus 2% globally)
Portugal likes the smart home (12% vs 3% globally)
Data analytics and network virtualization weigh higher in the UK than average
Nearly one-third of Spanish respondents have network virtualization as a key focus
Germany is dominated by access technology (25% vs 18% globally) and next-generation networks (36% vs 24% globally)
"The combination of survey and audience data paints a great picture of the broadband market. Despite the apparent disruption and fickle nature of customers, the market is robust," said Niall Hunt, Broadband World Forum Digital Content lead. "In an environment where there's high investment in networks as we push towards the gigabit society and 5G, operators across the globe paint a rosy picture."
To download a copy of the report, please visit "Broadband World Forum 2018 Survey Report."
Broadband World Forum runs between 23-25 October at the Messe in Berlin and is the only global event that focuses exclusively on the networks. From the core to FTTx to 5G enablement and the IoT, key industry stakeholders from around the globe will come together for dynamic discussions to address how operators and telcos can overcome the connectivity gap to deliver next-generation infrastructure, while also shining a light on innovation excellence.
Whether they enter the wireless arena, focus on fiber for backhaul, form an IoT department or team up with mobile operators, fixed-access providers can play a big role in the next iteration of 5G IoT.
With its multi-year investment in next-generation PON beginning to show a return, Verizon's Intelligent Edge Network is now a reality, CEO Hans Vestberg told attendees of the Verizon 2019 Investor Meeting today.
Sales of cable broadband access infrastructure will rise to $2 billion in 2023, Dell'Oro predicts in a new broadband access network spending forecast.
It still doesn't go well with milk but with the profile update to 212MHz, Gfast service offerings are a lot more aligned with fiber-only connections, writes UNH-IOL's Lincoln Lavoie.
In just 12 months, there's been more than a 25% decrease in the digital divide population, according to the Federal Communications Commission. But is that really true?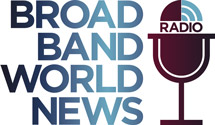 Tune in to Broadband World News Radio on February 14 at 11 a.m. ET / 8 a.m. PT / 4 p.m. UK when John Isch, Practice Director of the Network and Voice Center of Excellence at Orange Business Services, discusses use cases, ROI and misconceptions of software-defined wide-area networks, virtualization and cloud.
All resources
Wednesday, December 12, 2018
12 p.m. New York / 5 p.m. London
Consumers are buying millions of IoT devices, from smart thermostats and security systems to intelligent entertainment setups and furniture. Yet many of these devices remain isolated because home users are uncomfortable connecting them to each other – or even their WiFi. After all, their WiFi network was probably designed only to handle a few laptops, a gaming system and a couple of smartphones. Now, demand on the network is surging and even though you're delivering 100 Mbps to 1 Gbps, that doesn't necessarily mean the broadband power is in the right place or reaches every corner of a home.
Even if WiFi coverage is sufficient, typing is not on trend. Voice is far more natural, easier and faster. Using a TV keyboard is archaic when more and more households have access to cloud-based voice services, like Amazon Alexa. This webinar will explore how service providers can create a comfortable, truly smart home for consumers – simultaneously driving up margin and loyalty.
BT's Formula for F1 Success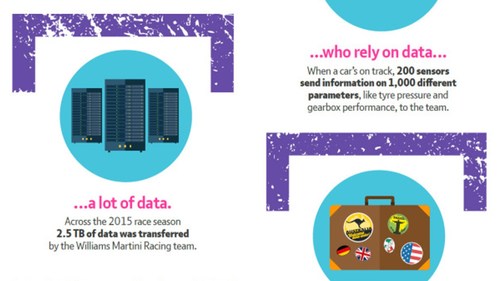 Infographics archive