Italian Wholesaler Picks SM Optics for FTTH & FWA Services
Milan, Italy -- Italian wholesale carrier Open Fiber awarded a contract to SM Optics, a company of the SIAE MICROELETTRONICA Group, which will provide and deploy WDM ROADM technology without WSS to extend the fiber connection from the fiber backbone to the metro/zone site. The new network delivers fiber-to-the-home (FTTH) and fixed wireless access (FWA) aggregated traffic, providing ultra-broadband services to home and local businesses.
Open Fiber's mission is to build a fiber optic network across Italy, providing fiber connectivity to most homes and businesses in the country -- a target of nearly 19 million homes. This optical access infrastructure will enable operators to deliver next-generation services, including FTTH broadband networks for data, gaming, video streaming and mobile connectivity, as well as 5G and Internet of Things (IoT).
The SM Optics optical transport solution delivers unprecedented flexibility with minimal footprint and the ability to successfully address the challenges of limited space deployment and low power consumption. In addition, the unique stackable architecture helps Open Fiber optimize its investment based on traffic growth.
Stefano Schiavoni, general manager of SM Optics sales, said: "This technology can provide 10 to 200 Gbps of potential capacity per channel, making Open Fiber's metro access one of the fastest networks available today. With our micro-node technology Open Fiber has been able to deploy OTN and WDM ROADM technologies to access networks."
Added Roman Op Valsisi, SM Optics' managing director and board member: "The award of this contract is extremely important to us as it will demonstrate the strength of our decomposed metropolitan area platform and as a catalyst for Italian development and digital advancement. The strength of the local telecommunications company."
Rural service provider Lumos Networks taps ADTRAN's 10G solution to sate its Virginia SMB customers' hunger for high-speed symmetrical fiber-based broadband.
In the American Broadband Initiative Milestones Report out today, 20 federal agencies pledge to simplify and accelerate the process for service providers to deliver broadband into America's countryside.
VITAS Healthcare is testing AR/VR to ease hospice patients' pain, using fiber infrastructure and 5G from AT&T, according to Maria Lensing, AT&T's vice president of Global Business Healthcare.
But startup will need to finalize its satellite design, secure more funding and cut through the regulatory red tape before its vision to rival terrestrial fiber networks can (literally) get off the ground.
A HIMSS Analytics survey, sponsored by Spectrum Enterprise, identifies five patient experience initiatives to where healthcare providers can boost the customer experience and bring in higher margins using advanced broadband networks.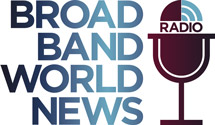 Tune in to Broadband World News Radio on February 14 at 11 a.m. ET / 8 a.m. PT / 4 p.m. UK when John Isch, Practice Director of the Network and Voice Center of Excellence at Orange Business Services, discusses use cases, ROI and misconceptions of software-defined wide-area networks, virtualization and cloud.
All resources
Wednesday, December 12, 2018
12 p.m. New York / 5 p.m. London
Consumers are buying millions of IoT devices, from smart thermostats and security systems to intelligent entertainment setups and furniture. Yet many of these devices remain isolated because home users are uncomfortable connecting them to each other – or even their WiFi. After all, their WiFi network was probably designed only to handle a few laptops, a gaming system and a couple of smartphones. Now, demand on the network is surging and even though you're delivering 100 Mbps to 1 Gbps, that doesn't necessarily mean the broadband power is in the right place or reaches every corner of a home.
Even if WiFi coverage is sufficient, typing is not on trend. Voice is far more natural, easier and faster. Using a TV keyboard is archaic when more and more households have access to cloud-based voice services, like Amazon Alexa. This webinar will explore how service providers can create a comfortable, truly smart home for consumers – simultaneously driving up margin and loyalty.
BT's Formula for F1 Success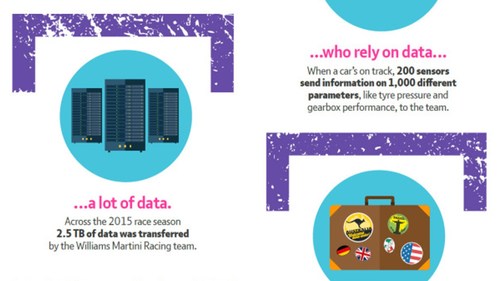 Infographics archive