USDA Plows $40M Into Rural Infrastructure
The United States Department of Agriculture is plowing almost $40 million into rural American infrastructure to improve residents' health, education and job training.
Agriculture Secretary Sonny Perdue on Wednesday announced the United States Department of Agriculture (USDA) is awarding grants of almost $40 million for 128 projects to increase access to job training , educational and healthcare services in rural areas -- and the broadband access infrastructure required to access them.
USDA
Secretary Perdue said. "Distance learning and telemedicine technology bridge the gap that often exists between rural communities and essential education, workforce training and health care resources."
USDA is awarding $39.6 million through the Distance Learning and Telemedicine (DLT) Grant Program. More than 4.5 million residents in 40 states and three territories will benefit from the funding.
Below are summaries of two of the USDA's investments in rural communities:
Washburn University: The Kansas educational institution will receive $349,213 that will go toward enabling two-way interactive distance learning via video teleconferencing technology. This will help residents develop workplace skills for today's workplace. Resources provided through this investment will enable Kansas' rural students to obtain these skills. This investment also will be used to recruit and retain healthcare workers for rural communities. More than 3,700 students will have access to the educational opportunities provided with this project, including students in a high school in the Lawrence-Gardener Juvenile Corrections Center.
St. Anthony Hospital: Will receive $457,020 to help SSM Health Care of Oklahoma purchase telemedicine equipment to expand its Saints 1st Telehealth Network to serve up to 3,434 inpatients and 3,401 outpatients. This telehealth system will reduce the time and money patients spend to access specialized medical services such as cardiology, endocrinology, pulmonology, pediatric, hospitalist and mental health, as well as primary care. Under this solution, the hospital and its partner will establish telemedicine links at 12 hub/end-user locations several Oklahoma counties. Sites include nine rural hospitals and three rural doctor offices, and the overall implementation is designed to significantly improve healthcare and health -- by encouraging people to more proactively seek medical attention due to its convenience -- in the treated areas. Project sites include nine rural hospitals and three rural physician practices.
This investment is based on a list of 31 recommendations the Interagency Task Force on Agriculture and Rural Prosperity presented to the president in January 2018. Established in April 2017 by President Donald Trump, the agency is designed to identify changes to laws and policies that could improve the rural economy and health.
"Increasing investments in rural infrastructure is a key recommendation of the task force," according to USDA.
Related posts:
— Alison Diana, Editor, Broadband World News. Follow us on Twitter or @alisoncdiana.
(Home page image source: Teldocs.com)
Kirsten Rundberget, open strategy lead at Fujitsu Network, discusses the industry's advances — and challenges — in the complex yet beneficial area of open technologies, and why service providers should get involved, even if they don't yet plan to deploy.
Cable operators must know their enterprise strategy and play to their strengths by aiming for specific customer types or by thoroughly covering vertical industries.
Nokia's long-time head of fixed networking gear has been given a new role at the vendor, but his replacement hasn't been named.
South Korean operator says it can offer Gigabit broadband services over twisted copper pairs in multi-dwelling units using HFR boxes that house Sckipio's 212MHz Gfast technology.
By thinking green, vendors can help save the environment and reduce operators' energy bills – perhaps by a lot.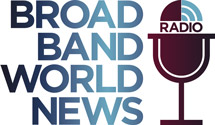 Tune in to Broadband World News Radio on Thursday, November 1 at 8 a.m. PT, 11 a.m. ET, 3 p.m. UK as Ronan Kelly, CTO, EMEA & APAC Regions at ADTRAN, explores the five pillars of network integrity -- a topic he discussed during his recent Broadband World Forum keynote. Register now!
All resources
Thursday, September 27, 2018
2:00 pm ET / 11:00 am PT
Fast, reliable broadband is essential to how we live, work and play today – and the upcoming arrival of 5G will only further increase demand and reliance on fiber infrastructure. Already viewed by consumers as intolerable, delays, outages or the regular maintenance difficulties associated with operating a network will become further exacerbated when residential subscribers further rely on connected devices for day-to-day life. Just as providers deploy network automation tools to reduce operational issues, they must take similar care to manage consumer expectations when they roll out fiber or new services. This webinar features leaders who will discuss how to manage marketing and consumer expectations at every stage of the network lifecycle. Marketing professionals, c-level executives and policymakers interested in drumming up fiber envy should attend.
BT's Formula for F1 Success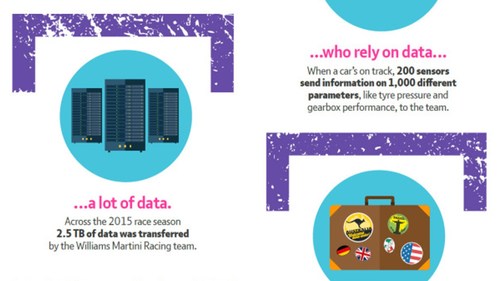 Infographics archive