USDA Plows $40M Into Rural Infrastructure
The United States Department of Agriculture is plowing almost $40 million into rural American infrastructure to improve residents' health, education and job training.
Agriculture Secretary Sonny Perdue on Wednesday announced the United States Department of Agriculture (USDA) is awarding grants of almost $40 million for 128 projects to increase access to job training , educational and healthcare services in rural areas -- and the broadband access infrastructure required to access them.
USDA
Secretary Perdue said. "Distance learning and telemedicine technology bridge the gap that often exists between rural communities and essential education, workforce training and health care resources."
USDA is awarding $39.6 million through the Distance Learning and Telemedicine (DLT) Grant Program. More than 4.5 million residents in 40 states and three territories will benefit from the funding.
Below are summaries of two of the USDA's investments in rural communities:
Washburn University: The Kansas educational institution will receive $349,213 that will go toward enabling two-way interactive distance learning via video teleconferencing technology. This will help residents develop workplace skills for today's workplace. Resources provided through this investment will enable Kansas' rural students to obtain these skills. This investment also will be used to recruit and retain healthcare workers for rural communities. More than 3,700 students will have access to the educational opportunities provided with this project, including students in a high school in the Lawrence-Gardener Juvenile Corrections Center.
St. Anthony Hospital: Will receive $457,020 to help SSM Health Care of Oklahoma purchase telemedicine equipment to expand its Saints 1st Telehealth Network to serve up to 3,434 inpatients and 3,401 outpatients. This telehealth system will reduce the time and money patients spend to access specialized medical services such as cardiology, endocrinology, pulmonology, pediatric, hospitalist and mental health, as well as primary care. Under this solution, the hospital and its partner will establish telemedicine links at 12 hub/end-user locations several Oklahoma counties. Sites include nine rural hospitals and three rural doctor offices, and the overall implementation is designed to significantly improve healthcare and health -- by encouraging people to more proactively seek medical attention due to its convenience -- in the treated areas. Project sites include nine rural hospitals and three rural physician practices.
This investment is based on a list of 31 recommendations the Interagency Task Force on Agriculture and Rural Prosperity presented to the president in January 2018. Established in April 2017 by President Donald Trump, the agency is designed to identify changes to laws and policies that could improve the rural economy and health.
"Increasing investments in rural infrastructure is a key recommendation of the task force," according to USDA.
Related posts:
— Alison Diana, Editor, Broadband World News. Follow us on Twitter or @alisoncdiana.
(Home page image source: Teldocs.com)
Shrihari Pandit, president and CEO of 24-year-old Stealth Communications, shares his call to action to reject the current FCC's regulatory strategies and decisions.
Shields Energy's cloud-based IoT subscription service monitors power usage for telcos. It's currently only available to service providers for internal use, but it's an offering CSPs ultimately could provide to their customers for differentiation, lower churn and more revenue.
CBTS debuted a family of 10 Gbit optical networking solutions, coupled with off-the-shelf hardware and systems integration services designed to replicate the vendor experience of proprietary system days.
Spotty coverage and low penetration rates in Sacramento suggest that Verizon will have a tough time getting an attractive return on fixed wireless broadband service, analyst finds.
Under the supervision of technology leaders, Verizon has fully operationalized NGPON2 so it's a cornerstone of the provider's new Intelligent Edge Network (iEN) access architecture. But does that mean NGPON2 is completely ready for prime time?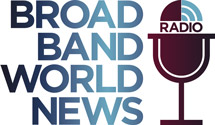 Tune in to Broadband World News Radio on February 14 at 11 a.m. ET / 8 a.m. PT / 4 p.m. UK when John Isch, Practice Director of the Network and Voice Center of Excellence at Orange Business Services, discusses use cases, ROI and misconceptions of software-defined wide-area networks, virtualization and cloud.
All resources
Wednesday, December 12, 2018
12 p.m. New York / 5 p.m. London
Consumers are buying millions of IoT devices, from smart thermostats and security systems to intelligent entertainment setups and furniture. Yet many of these devices remain isolated because home users are uncomfortable connecting them to each other – or even their WiFi. After all, their WiFi network was probably designed only to handle a few laptops, a gaming system and a couple of smartphones. Now, demand on the network is surging and even though you're delivering 100 Mbps to 1 Gbps, that doesn't necessarily mean the broadband power is in the right place or reaches every corner of a home.
Even if WiFi coverage is sufficient, typing is not on trend. Voice is far more natural, easier and faster. Using a TV keyboard is archaic when more and more households have access to cloud-based voice services, like Amazon Alexa. This webinar will explore how service providers can create a comfortable, truly smart home for consumers – simultaneously driving up margin and loyalty.
BT's Formula for F1 Success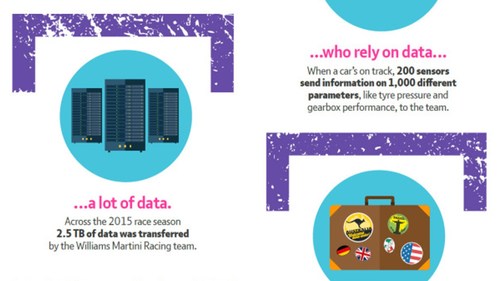 Infographics archive