UK Smart-Home Adoption Lags US: Parks Associates
Adoption of smart home products in the U.K. lags compared to the United States, as just 16% of U.K. broadband households own at least one smart home device, compared to 26% in the US. A combination of factors, including lower familiarity of these products, lesser perceived value and lower Net Promoter Scores (NPS), impede broader adoption, according to research from Parks Associates.
Despite a significantly lower adoption rate in the U.K., the average number owned of each device shows little difference between the two countries. Smart home adopters in the U.K. more often opt to purchase additional or complementary devices for their connected home.
To further increase adoption rates, operators, vendors and others seeking to dominate the evolving smart-home market -- both its wallet and its customer loyalty -- must address these areas through greater marketing and promotion of each product to increase awareness of not only the devices themselves, but also the benefits that come with a smarter and more connected home.
A hardware-as-a-service model is one approach to mitigate any concerns about upfront costs of smart products and smart home systems. This model allows customers to receive the products they want with professional installation and support over the life of the product for a low monthly fee. Parks Associates discusses this and other approaches in its report: "360 View: Smart Home and Security in the UK."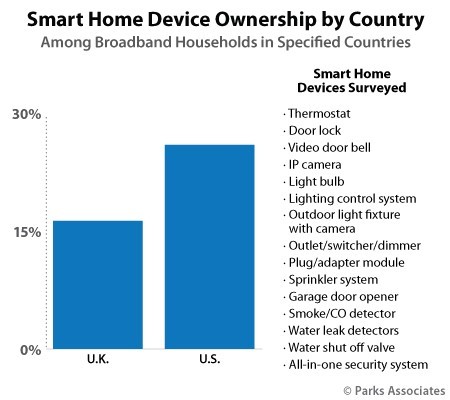 Kirsten Rundberget, open strategy lead at Fujitsu Network, discusses the industry's advances — and challenges — in the complex yet beneficial area of open technologies, and why service providers should get involved, even if they don't yet plan to deploy.
Cable operators must know their enterprise strategy and play to their strengths by aiming for specific customer types or by thoroughly covering vertical industries.
Nokia's long-time head of fixed networking gear has been given a new role at the vendor, but his replacement hasn't been named.
South Korean operator says it can offer Gigabit broadband services over twisted copper pairs in multi-dwelling units using HFR boxes that house Sckipio's 212MHz Gfast technology.
By thinking green, vendors can help save the environment and reduce operators' energy bills – perhaps by a lot.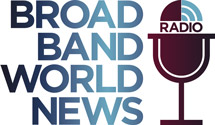 Tune in to Broadband World News Radio on Thursday, November 1 at 8 a.m. PT, 11 a.m. ET, 3 p.m. UK as Ronan Kelly, CTO, EMEA & APAC Regions at ADTRAN, explores the five pillars of network integrity -- a topic he discussed during his recent Broadband World Forum keynote. Register now!
All resources
Thursday, September 27, 2018
2:00 pm ET / 11:00 am PT
Fast, reliable broadband is essential to how we live, work and play today – and the upcoming arrival of 5G will only further increase demand and reliance on fiber infrastructure. Already viewed by consumers as intolerable, delays, outages or the regular maintenance difficulties associated with operating a network will become further exacerbated when residential subscribers further rely on connected devices for day-to-day life. Just as providers deploy network automation tools to reduce operational issues, they must take similar care to manage consumer expectations when they roll out fiber or new services. This webinar features leaders who will discuss how to manage marketing and consumer expectations at every stage of the network lifecycle. Marketing professionals, c-level executives and policymakers interested in drumming up fiber envy should attend.
BT's Formula for F1 Success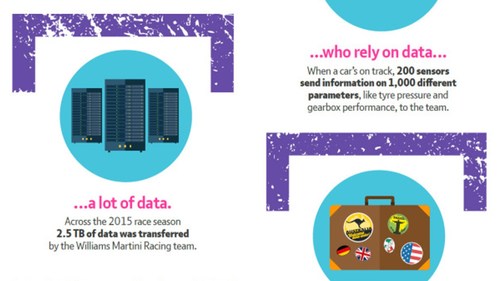 Infographics archive