Prysmian Finalizes $141M Sub Cable Deal to Connect Crete With Greek Mainland
MILAN -- Prysmian Group, one of the largest vendors in the energy and telecom cable systems industry, today announced the finalization of its contract agreement -- valued at €125 million -- with Independent Power Transmission Operator (IPTO). IPTO is responsible for the transmission power grid in Greece. This contract covered a submarine power cable connection between the island of Crete and the Peloponnese region of the Greek mainland. As first announced on Oct. 2, 2018, the operator awarded the project to Prysmian. Today, a contract-signing ceremony in Chania attended by the Greek Minister of Environment and Energy, Georgios Stathakis, and IPTO CEO, Manos Manousakis, cemented the contract.
"We are very proud to be part of such a strategic project that shall create this important link between Crete and the Greek mainland for the very first time," said Hakan Ozmen, executive vice president, Project BU at Prysmian Group. "Our long-lasting collaboration with IPTO shall enable us to demonstrate once more the quality and state-of-the-art of our products and solutions. With the trust IPTO again places in us with this contract, we can proudly re-affirm Prysmian leadership in submarine cable interconnectors, as this project stands alongside many others we have secured in recent times..."
These include connections in Greece between the island of Syros and Lavrion, the Cyclades project, two links between the islands of Evia, Andros and Tinos and the Italy-Greece inter-connector, all awarded by IPTO to Prysmian, Ozmen said. "[These] complement a range of projects across the Mediterranean region with the Sardinia-Italian Peninsula (SA.PE.I) project, the Capri-Torre Annunziata and Capri-Sorrento connections in Italy, two interconnectors between Spain and Morocco, and both projects linking the Balearic Islands, the Iberian Peninsula-Mallorca and Ibiza-Mallorca, as well as the 400kV Dardanelles link in Turkey," he added."
The Crete-Peloponnese contract involves the design, supply, installation and commissioning of an HVAC cable system composed of 150 kV three-core cables with XLPE insulation and double-wire armoring. The route extends to 135 km and shall reach depths of up to 950 meters. Prysmian's own vessel, Giulio Verne, will perform the deployment.
Prysmian's Centre of Excellence in Arco Felice (Naples) will produce the submarine cables, with delivery and commissioning scheduled for 2020.
Deutsche Telekom just signed an infrastructure project with the Gigabit Region Stuttgart, home to 174 municipalities and almost 3 million people, one of many partnerships the German operator has inked in its bid to grow revenue and business.
Mobile and cable operators represented half the managed SD-WAN services market share in this fast-growing space, while other broadband providers such as ISPs and satellite operators also appeared on Vertical Systems Group's ranking.
Organization extends popular TR-069 standard for use in smart homes, looking to simplify and standardize market for vendors, operators and end users.
By slashing subscriber pricing by more than $30 billion annually, Low Earth Orbit satellite companies led by Jeff Bezos and Elon Musk as well as OneWeb have the potential to usher in a whole new era of broadband.
While it continues to pull back from the European continent, Liberty Global is rolling out faster broadband speeds and next-gen WiFi and mobile services to beef up its market position.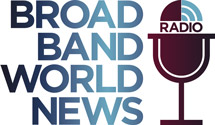 In this insightful Light Reading radio show, Kurt Raaflaub, Head of Strategic Solutions Marketing, will outline the key service provider challenges, deployment considerations, next-gen Gigabit technologies, and service models to win market share in the rapidly growing MDU market.
All resources
Tuesday, May 21, 2019
11:00 a.m. New York / 4:00 p.m London
The MDU market continues to face fierce competition among service providers due to tech-savvy residents (i.e., millennials), demand from building owners and management companies, plus the favorable economics of bulk contracts. However, no MDUs are the same, so service providers must use multiple technologies and inconsistent deployment models, increasing operational complexity and rollout costs.
The MDU market itself is evolving as residents adopt smart-home technologies, generating rising demand for smart apartments with built-in connected thermostats, keyless entryways and doors, and video doorbells. This evolution presents both new challenges and opportunities. In other words, service providers must consider innovative service-delivery strategies to compete and win.
In this Broadband World News and ADTRAN webinar, Kurt Raaflaub, Head of Strategic Solutions Marketing, will highlight emerging MDU broadband Internet trends and challenges. In addition, Kurt will outline the next-generation service creation and delivery platform, built on open standards, that allows service providers to connect millions of underserved MDUs, enables creation of user-driven services, and reduces operational complexity and costs.
Plus, special guest, Alice Lawson, Broadband and Cable Program Manager for the City of Seattle, will discuss Seattle's B4B-Build For Broadband initiative that addresses best practices in planning for MDU telecommunication infrastructure.