Online Shoppers Break Records, Not Internet – Adobe Report
SAN JOSE, Calif. -- Adobe yesterday released 2018 online shopping data for Cyber Monday and the holiday week overall, determining consumers were in a spending mood. Cyber Monday was projected to hit $7.9 billion by the end of the day, making it the largest online shopping day of all time in the United States.
This represents a 19.7% increase year-over-year (YoY) as of 7:00 p.m. ET. In comparison, Thanksgiving Day and Black Friday brought in $3.7 billion (28% growth YoY) and $6.2 billion (23.6% growth YoY) in revenue, respectively. With spending of $6.4 billion, the Thanksgiving holiday weekend (Nov. 24 and 25), set a record as the biggest online shopping weekend in the U.S, growing faster than Black Friday and Cyber Monday at more than a 25% increase each day. The full season thus far (November 1 to 26) drove $58.5 billion in online sales, a 19.9% increase, generating over $1 billion each day.
Over the weekend, the relatively new -- and increasingly popular (by both stores and consumers) -- Buy Online, Pickup In-Store (BOPIS) -- saw a record 50% increase YoY. As the online and offline retail experience continues to blend, retailers with physical stores drove 28% higher conversions online. Revenue from smartphones hit $2.1 billion on Cyber Monday ($1.4 billion in 2017), making it the highest ever at 48.1% growth YoY, while smartphone traffic share grew 16%. Mobile overall represented 51.4% of site visits (43.6% smartphones, 7.8% tablets) and 34% of revenue (26.3% smartphones, 7.7% tablets), making it the first Cyber Monday where more than half of visits came from mobile.
"Cyber Monday sales topped $7.9 billion according to Adobe Analytics data, making it the single largest shopping day in U.S. history," said John Copeland, head of Marketing and Customer Insights at Adobe. "Sales coming from smartphones hit an all-time high of $2 billion and we saw a significant spike in the Buy Online, Pickup In-Store trend. "
Additional findings include:
Golden Hours of Retail: Shoppers are taking advantage of final Cyber Monday deals before heading to bed. The three hours between 10:00 p.m. and 1:00 a.m. ET on Cyber Monday are expected to drive $1.7 billion in online sales, roughly $300 million more than an average full day during the year.
Biggest Discounts: Black Friday saw the best deals for televisions (prices down 18%) and computers (17.8%). On the Sunday before Cyber Monday, shoppers saw some of the best deals for toys (31.6%). We expect the biggest discounts for furniture and bedding (14%) to happen on Giving Tuesday.
Out-of-Stock Levels: 2.4% of product page visits saw an out-of-stock message on Cyber Monday, up over a season average of 2.1%. This cost retailers up to $187 million in potential sales. In comparison, Thanksgiving saw 3.3% and Black Friday saw 2.8%, costing retailers up to $120 million and $177 million, respectively.
Top Cities by Spend: Denver had the biggest shopping baskets since Thanksgiving with orders averaging $163, followed by $157 in San Francisco, $156 in New York, $156 in Portland and $154 in the Seattle/Tacoma area. The nationwide average is $138, up 6.1% YoY as shoppers have gotten more comfortable buying more and bigger ticket items online.
Main Sales Drivers: On Cyber Monday, direct website traffic ranked highest for driving revenue at 25.3% share of sales (down 1.2% YoY), followed by paid search at 25.1% (up 7.4% YoY), natural search at 18.8% (down 2.8%) and email at 24.2% (up 0.5%). Similar to past years, social media continued to have minimal impact on online sales at a 1.1% share.
Large Versus Small Retailers: Large retailers ($1 billion or more in annual e-commerce revenue) saw 6% higher conversion rates on smartphones, a sign that investments in improving the mobile shopping experience are paying off. Smaller retailers, offering more specialized products, were better at getting shoppers to close sales via desktops with 7% higher conversions.
Adobe Systems Inc.
(Nasdaq: ADBE)
Deutsche Telekom just signed an infrastructure project with the Gigabit Region Stuttgart, home to 174 municipalities and almost 3 million people, one of many partnerships the German operator has inked in its bid to grow revenue and business.
Mobile and cable operators represented half the managed SD-WAN services market share in this fast-growing space, while other broadband providers such as ISPs and satellite operators also appeared on Vertical Systems Group's ranking.
Organization extends popular TR-069 standard for use in smart homes, looking to simplify and standardize market for vendors, operators and end users.
By slashing subscriber pricing by more than $30 billion annually, Low Earth Orbit satellite companies led by Jeff Bezos and Elon Musk as well as OneWeb have the potential to usher in a whole new era of broadband.
While it continues to pull back from the European continent, Liberty Global is rolling out faster broadband speeds and next-gen WiFi and mobile services to beef up its market position.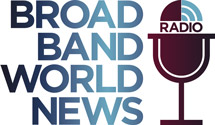 In this insightful Light Reading radio show, Kurt Raaflaub, Head of Strategic Solutions Marketing, will outline the key service provider challenges, deployment considerations, next-gen Gigabit technologies, and service models to win market share in the rapidly growing MDU market.
All resources
Tuesday, May 21, 2019
11:00 a.m. New York / 4:00 p.m London
The MDU market continues to face fierce competition among service providers due to tech-savvy residents (i.e., millennials), demand from building owners and management companies, plus the favorable economics of bulk contracts. However, no MDUs are the same, so service providers must use multiple technologies and inconsistent deployment models, increasing operational complexity and rollout costs.
The MDU market itself is evolving as residents adopt smart-home technologies, generating rising demand for smart apartments with built-in connected thermostats, keyless entryways and doors, and video doorbells. This evolution presents both new challenges and opportunities. In other words, service providers must consider innovative service-delivery strategies to compete and win.
In this Broadband World News and ADTRAN webinar, Kurt Raaflaub, Head of Strategic Solutions Marketing, will highlight emerging MDU broadband Internet trends and challenges. In addition, Kurt will outline the next-generation service creation and delivery platform, built on open standards, that allows service providers to connect millions of underserved MDUs, enables creation of user-driven services, and reduces operational complexity and costs.
Plus, special guest, Alice Lawson, Broadband and Cable Program Manager for the City of Seattle, will discuss Seattle's B4B-Build For Broadband initiative that addresses best practices in planning for MDU telecommunication infrastructure.