Online Shoppers Break Records, Not Internet – Adobe Report
SAN JOSE, Calif. -- Adobe yesterday released 2018 online shopping data for Cyber Monday and the holiday week overall, determining consumers were in a spending mood. Cyber Monday was projected to hit $7.9 billion by the end of the day, making it the largest online shopping day of all time in the United States.
This represents a 19.7% increase year-over-year (YoY) as of 7:00 p.m. ET. In comparison, Thanksgiving Day and Black Friday brought in $3.7 billion (28% growth YoY) and $6.2 billion (23.6% growth YoY) in revenue, respectively. With spending of $6.4 billion, the Thanksgiving holiday weekend (Nov. 24 and 25), set a record as the biggest online shopping weekend in the U.S, growing faster than Black Friday and Cyber Monday at more than a 25% increase each day. The full season thus far (November 1 to 26) drove $58.5 billion in online sales, a 19.9% increase, generating over $1 billion each day.
Over the weekend, the relatively new -- and increasingly popular (by both stores and consumers) -- Buy Online, Pickup In-Store (BOPIS) -- saw a record 50% increase YoY. As the online and offline retail experience continues to blend, retailers with physical stores drove 28% higher conversions online. Revenue from smartphones hit $2.1 billion on Cyber Monday ($1.4 billion in 2017), making it the highest ever at 48.1% growth YoY, while smartphone traffic share grew 16%. Mobile overall represented 51.4% of site visits (43.6% smartphones, 7.8% tablets) and 34% of revenue (26.3% smartphones, 7.7% tablets), making it the first Cyber Monday where more than half of visits came from mobile.
"Cyber Monday sales topped $7.9 billion according to Adobe Analytics data, making it the single largest shopping day in U.S. history," said John Copeland, head of Marketing and Customer Insights at Adobe. "Sales coming from smartphones hit an all-time high of $2 billion and we saw a significant spike in the Buy Online, Pickup In-Store trend. "
Additional findings include:
Golden Hours of Retail: Shoppers are taking advantage of final Cyber Monday deals before heading to bed. The three hours between 10:00 p.m. and 1:00 a.m. ET on Cyber Monday are expected to drive $1.7 billion in online sales, roughly $300 million more than an average full day during the year.
Biggest Discounts: Black Friday saw the best deals for televisions (prices down 18%) and computers (17.8%). On the Sunday before Cyber Monday, shoppers saw some of the best deals for toys (31.6%). We expect the biggest discounts for furniture and bedding (14%) to happen on Giving Tuesday.
Out-of-Stock Levels: 2.4% of product page visits saw an out-of-stock message on Cyber Monday, up over a season average of 2.1%. This cost retailers up to $187 million in potential sales. In comparison, Thanksgiving saw 3.3% and Black Friday saw 2.8%, costing retailers up to $120 million and $177 million, respectively.
Top Cities by Spend: Denver had the biggest shopping baskets since Thanksgiving with orders averaging $163, followed by $157 in San Francisco, $156 in New York, $156 in Portland and $154 in the Seattle/Tacoma area. The nationwide average is $138, up 6.1% YoY as shoppers have gotten more comfortable buying more and bigger ticket items online.
Main Sales Drivers: On Cyber Monday, direct website traffic ranked highest for driving revenue at 25.3% share of sales (down 1.2% YoY), followed by paid search at 25.1% (up 7.4% YoY), natural search at 18.8% (down 2.8%) and email at 24.2% (up 0.5%). Similar to past years, social media continued to have minimal impact on online sales at a 1.1% share.
Large Versus Small Retailers: Large retailers ($1 billion or more in annual e-commerce revenue) saw 6% higher conversion rates on smartphones, a sign that investments in improving the mobile shopping experience are paying off. Smaller retailers, offering more specialized products, were better at getting shoppers to close sales via desktops with 7% higher conversions.
Adobe Systems Inc.
(Nasdaq: ADBE)
Whether they enter the wireless arena, focus on fiber for backhaul, form an IoT department or team up with mobile operators, fixed-access providers can play a big role in the next iteration of 5G IoT.
With its multi-year investment in next-generation PON beginning to show a return, Verizon's Intelligent Edge Network is now a reality, CEO Hans Vestberg told attendees of the Verizon 2019 Investor Meeting today.
Sales of cable broadband access infrastructure will rise to $2 billion in 2023, Dell'Oro predicts in a new broadband access network spending forecast.
It still doesn't go well with milk but with the profile update to 212MHz, Gfast service offerings are a lot more aligned with fiber-only connections, writes UNH-IOL's Lincoln Lavoie.
In just 12 months, there's been more than a 25% decrease in the digital divide population, according to the Federal Communications Commission. But is that really true?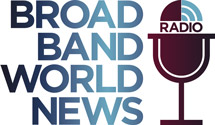 Tune in to Broadband World News Radio on February 14 at 11 a.m. ET / 8 a.m. PT / 4 p.m. UK when John Isch, Practice Director of the Network and Voice Center of Excellence at Orange Business Services, discusses use cases, ROI and misconceptions of software-defined wide-area networks, virtualization and cloud.
All resources
Wednesday, December 12, 2018
12 p.m. New York / 5 p.m. London
Consumers are buying millions of IoT devices, from smart thermostats and security systems to intelligent entertainment setups and furniture. Yet many of these devices remain isolated because home users are uncomfortable connecting them to each other – or even their WiFi. After all, their WiFi network was probably designed only to handle a few laptops, a gaming system and a couple of smartphones. Now, demand on the network is surging and even though you're delivering 100 Mbps to 1 Gbps, that doesn't necessarily mean the broadband power is in the right place or reaches every corner of a home.
Even if WiFi coverage is sufficient, typing is not on trend. Voice is far more natural, easier and faster. Using a TV keyboard is archaic when more and more households have access to cloud-based voice services, like Amazon Alexa. This webinar will explore how service providers can create a comfortable, truly smart home for consumers – simultaneously driving up margin and loyalty.
BT's Formula for F1 Success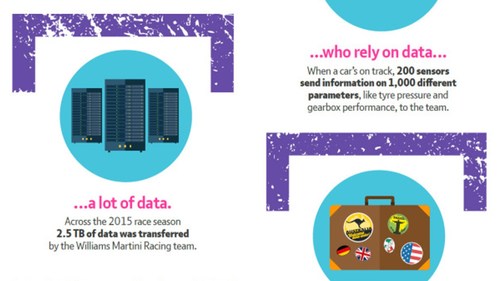 Infographics archive