CenturyLink CTO Dugan Joins MEF Board
LOS ANGELES -- MEF today announced Andrew Dugan, CenturyLink's chief technology officer, has joined the MEF board of directors, where he joins other technology and service provider executives who are guiding the organization's ambitious MEF 3.0 initiative to transform the communications industry.
CenturyLink recently named Dugan CTO; previously, he served as senior vice president of technology planning, network architecture and security at the company. Prior to joining CenturyLink, he was CTO, plus other roles at Level 3 Communications, which CenturyLink acquired. Dugan has more than 30 years experience in building communications networks and services platforms.
"We are thrilled to see Andrew quickly join the MEF Board of Directors so soon after accepting his new role at CenturyLink. The Board will be able to leverage his industry knowledge and expertise to gain a new perspective on how MEF 3.0 will impact the worldwide adoption of assured services across automated networks," said Nan Chen, MEF president. "We look forward to seeing the advancements that the vibrant MEF community will achieve in the coming year with the guidance and support of our world-class Board and leadership team."
Noted Dugan: "As a a global leader in SDN-enabled Ethernet devices and dynamic services, CenturyLink is strongly committed to working with MEF to enable next-generation network services that help businesses and their customers excel in the digital economy. I look forward to working with the Board to advance the MEF 3.0 framework."
The MEF Board of Directors is focused on expanding MEF's ecosystem of service providers, technology vendors and other companies committed to building a global ecosystem of MEF 3.0 automated networks to advance on-demand, cloud-centric services with user- and application-directed control over network resources and service capabilities.
MEF Board of Directors & Advisory Director includes:
Nan Chen, CENX Advisor, Ericsson
Frederick Chui, Senior Vice President, Global Data Sales and Presales, PCCW Global
Andrew Dugan, Chief Technology Officer, CenturyLink
Shawn Hakl, Senior Vice President Business Products, Verizon
Kevin O'Toole, Senior Vice President, Product Management, Comcast Business
Roman Pacewicz, Chief Product Officer, AT&T Business
Ralph Santitoro, Head of SDN/NFV/SD-WAN Services, Fujitsu Network Communications
Michael Strople, President Allstream, Managing Director – Canada, Zayo Group
Mirko Voltolini, Global Head of Network on Demand, Colt Technology Services
Rami Yaron, Senior Director SDN/NFV Solutions, NEC/Netcracker
Jean-Claude Geha, SVP International Services & Technology Delivery, Deutsche Telekom AG; Chairman Deutsche Telekom Pan-Net (Advisory Director)
CenturyLink Inc. (NYSE: CTL)
Joint venture between OneWeb and Airbus opens facility that can make two satellites per day at one-fiftieth the cost of traditional factories that produce one satellite a year, boasts OneWeb Satellites.
Vendor expands focus into MSOs and utilities, increases fiber sales and extends efforts in global territories, as part of initiative to decrease reliance on CSPs.
Some operators expand existing D3.1 infrastructure, while others discover fiber-only is too slow and expensive to meet subscribers' needs quickly enough to keep them happy.
Piracy and account sharing are taking a sizable bite from operators' content revenue, with incumbents and OTT startups feeling the financial hurt.
The FCC drafts changes to accelerate its satellite review process about a week after Amazon's Project Kuiper files an application with the agency in the fast-moving space broadband race.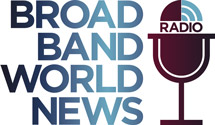 In this insightful Light Reading radio show, Kurt Raaflaub, Head of Strategic Solutions Marketing, will outline the key service provider challenges, deployment considerations, next-gen Gigabit technologies, and service models to win market share in the rapidly growing MDU market.
All resources
Tuesday, May 21, 2019
11:00 a.m. New York / 4:00 p.m London
The MDU market continues to face fierce competition among service providers due to tech-savvy residents (i.e., millennials), demand from building owners and management companies, plus the favorable economics of bulk contracts. However, no MDUs are the same, so service providers must use multiple technologies and inconsistent deployment models, increasing operational complexity and rollout costs.
The MDU market itself is evolving as residents adopt smart-home technologies, generating rising demand for smart apartments with built-in connected thermostats, keyless entryways and doors, and video doorbells. This evolution presents both new challenges and opportunities. In other words, service providers must consider innovative service-delivery strategies to compete and win.
In this Broadband World News and ADTRAN webinar, Kurt Raaflaub, Head of Strategic Solutions Marketing, will highlight emerging MDU broadband Internet trends and challenges. In addition, Kurt will outline the next-generation service creation and delivery platform, built on open standards, that allows service providers to connect millions of underserved MDUs, enables creation of user-driven services, and reduces operational complexity and costs.
Plus, special guest, Alice Lawson, Broadband and Cable Program Manager for the City of Seattle, will discuss Seattle's B4B-Build For Broadband initiative that addresses best practices in planning for MDU telecommunication infrastructure.