CenturyLink CTO Dugan Joins MEF Board
LOS ANGELES -- MEF today announced Andrew Dugan, CenturyLink's chief technology officer, has joined the MEF board of directors, where he joins other technology and service provider executives who are guiding the organization's ambitious MEF 3.0 initiative to transform the communications industry.
CenturyLink recently named Dugan CTO; previously, he served as senior vice president of technology planning, network architecture and security at the company. Prior to joining CenturyLink, he was CTO, plus other roles at Level 3 Communications, which CenturyLink acquired. Dugan has more than 30 years experience in building communications networks and services platforms.
"We are thrilled to see Andrew quickly join the MEF Board of Directors so soon after accepting his new role at CenturyLink. The Board will be able to leverage his industry knowledge and expertise to gain a new perspective on how MEF 3.0 will impact the worldwide adoption of assured services across automated networks," said Nan Chen, MEF president. "We look forward to seeing the advancements that the vibrant MEF community will achieve in the coming year with the guidance and support of our world-class Board and leadership team."
Noted Dugan: "As a a global leader in SDN-enabled Ethernet devices and dynamic services, CenturyLink is strongly committed to working with MEF to enable next-generation network services that help businesses and their customers excel in the digital economy. I look forward to working with the Board to advance the MEF 3.0 framework."
The MEF Board of Directors is focused on expanding MEF's ecosystem of service providers, technology vendors and other companies committed to building a global ecosystem of MEF 3.0 automated networks to advance on-demand, cloud-centric services with user- and application-directed control over network resources and service capabilities.
MEF Board of Directors & Advisory Director includes:
Nan Chen, CENX Advisor, Ericsson
Frederick Chui, Senior Vice President, Global Data Sales and Presales, PCCW Global
Andrew Dugan, Chief Technology Officer, CenturyLink
Shawn Hakl, Senior Vice President Business Products, Verizon
Kevin O'Toole, Senior Vice President, Product Management, Comcast Business
Roman Pacewicz, Chief Product Officer, AT&T Business
Ralph Santitoro, Head of SDN/NFV/SD-WAN Services, Fujitsu Network Communications
Michael Strople, President Allstream, Managing Director – Canada, Zayo Group
Mirko Voltolini, Global Head of Network on Demand, Colt Technology Services
Rami Yaron, Senior Director SDN/NFV Solutions, NEC/Netcracker
Jean-Claude Geha, SVP International Services & Technology Delivery, Deutsche Telekom AG; Chairman Deutsche Telekom Pan-Net (Advisory Director)
CenturyLink Inc. (NYSE: CTL)
Findings from university researchers and The Wall Street Journal indicate that many US homes are overpaying for broadband.
As cable operators weigh construction costs, the potential for service disruptions, training needs and network maintenance, the decision on which path to take isn't so straightforward anymore.
In a one-on-one interview with Broadband World News, ADTRAN Chairman and CEO Tom Stanton speaks about the vendor's success with a new breed of broadband providers, today's competitive environment and, yes, Verizon and NG-PON2.
In a provocative new BBWN webinar, Broadband Success Partners' Jack Burton will delve into cable's next-gen HFC architecture plans and explain why going all-fiber may make more sense for operators right now.
Five years ago, NOS board member Manuel Ramalho Eanes helped steer the Portuguese service provider toward a future heavily reliant on smart homes and cities. It's a decision the provider is glad it made.



Five years ago, NOS board member Manuel Ramalho Eanes banked big on smart homes and smart cities.




Slovak Telekom and T-Mobile Czech Republic Chief Technology and Information Officer Branimir Maric is using his more than two decades' experience in telco, including 15 years in various ...




Operators cannot protect networks -- their own or their customers -- by building a hard shell around the infrastructure, given the sensitive data dwelling and being sent to and from edge ...




Communications service providers have long talked about improving the day-to-day experience of their customers, but have not always backed up their words with actions and resources.

All Broadband World Forum Perspectives
All resources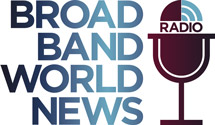 In this insightful Light Reading radio show, Kurt Raaflaub, Head of Strategic Solutions Marketing, will outline the key service provider challenges, deployment considerations, next-gen Gigabit technologies, and service models to win market share in the rapidly growing MDU market.
Tuesday, September 10, 2019
12:00 p.m. New York / 5:00 p.m. London
Wi-Fi is the foundation of the connected home for consumers; yet, it's often a source of frustration. With the imminent release of the new Wi-Fi 6 standard – combined with a strong Managed Wi-Fi offer – service providers can reverse subscriber frustration while tapping into new revenue streams.
Key topics include:
What's different about Wi-Fi 6 and why it matters to your subscribers
The importance of offering Managed Wi-Fi and its connection to Wi-Fi 6
How you can elevate your brand and gain a strong foothold in the home network.