Can 3 Techs Boost Quality of Service?
There is a disparity between the quality of some rural and urban broadband customer service, a dangerous path for operators to take as new competitors in fixed wireless and alternate technologies target this market. But focusing on customer experience before new offerings arrive can help service providers fend off competitors when competitors come and offer lower prices, according to one CX executive.
"There are inequalities in the quality of service between the rural areas and big cities. There is a difference in infrastructure (which is more developed in urban areas), leading to quicker broadband and network services in urban areas, and a rather poor network quality in rural areas," Mauro Zullo, director of Business Development at Bulb Technologies told Broadband World News.
Rural customers are subject to more latency and more frequent line-drops, he said. Since these network interruptions impact the entire customer experience, there is a decline in the quality of the network infrastructure and the overall quality of service delivered to customers in rural areas, he added.
Regardless of subscribers' location, three technologies are critical to enhancing CSPs' quality of service, said Zullo. The combination of automation, data analytics and artificial intelligence allow providers to improve customer experience, retention and upselling opportunities.
"The complexity of today's telco's legacy systems often delays answers to solving network issues. And a lack of trained agents at the first line of call means telcos are often led to send engineers on site (which is very costly when going to remote areas) as visibility on the network is limited, when most of the issues could be solved remotely," he said. "Using an automated platform that can sit on top of existing infrastructure elements, collect information from the network and provide automated processing of diagnostics and troubleshooting will greatly reduce the amount of calls that are coming in and the amount of technician they will solve a problem, in most cases, before it gets to the customer care agents," Zullo added.
CSPs can use AI for upselling, product recommendations, price adjustments, competitive pricing strategies and more, he said. These tools also are helpful for personalization-mapping, said Zullo.
"This enables customer care teams to be notified to troubleshoot network and service issues before customers have even noticed there was an issue. Moreover, tailored, contextual upsell campaigns and promotions can be developed for automated delivery through any channel," he said. "The more a CSP knows its customers and reacts proactively to their problems and needs, the more customers will love and trust their CSP."
Related posts:
— Alison Diana, Editor, Broadband World News. Follow us on Twitter or @alisoncdiana.
The US Department of Agriculture gives high points to those operators providing symmetric, high-speed infrastructure when considering loan and grant applicants.
UK mobile operator will use its 5G spectrum to launch a fixed wireless access (FWA) service in London in August and plans to have that offer, plus mobile 5G services, in 25 UK cities by the end of this year.
Authorization of $166.8 million over next decade earmarked for 60,850 unserved rural homes and businesses across 22 states.
Tunable optics components add up to about $1,000, says Nokia's Stefaan Vanhastel, too high an admission cost for the $26-plus billion corporation in a market estimated at $204 million in 2022.
As enterprises adopt public networking, their adoption of dark fiber for high-security uses grows, said Ed Morche, president of enterprise and government markets at CenturyLink.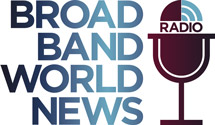 In this insightful Light Reading radio show, Kurt Raaflaub, Head of Strategic Solutions Marketing, will outline the key service provider challenges, deployment considerations, next-gen Gigabit technologies, and service models to win market share in the rapidly growing MDU market.
All resources
Tuesday, May 21, 2019
11:00 a.m. New York / 4:00 p.m London
The MDU market continues to face fierce competition among service providers due to tech-savvy residents (i.e., millennials), demand from building owners and management companies, plus the favorable economics of bulk contracts. However, no MDUs are the same, so service providers must use multiple technologies and inconsistent deployment models, increasing operational complexity and rollout costs.
The MDU market itself is evolving as residents adopt smart-home technologies, generating rising demand for smart apartments with built-in connected thermostats, keyless entryways and doors, and video doorbells. This evolution presents both new challenges and opportunities. In other words, service providers must consider innovative service-delivery strategies to compete and win.
In this Broadband World News and ADTRAN webinar, Kurt Raaflaub, Head of Strategic Solutions Marketing, will highlight emerging MDU broadband Internet trends and challenges. In addition, Kurt will outline the next-generation service creation and delivery platform, built on open standards, that allows service providers to connect millions of underserved MDUs, enables creation of user-driven services, and reduces operational complexity and costs.
Plus, special guest, Alice Lawson, Broadband and Cable Program Manager for the City of Seattle, will discuss Seattle's B4B-Build For Broadband initiative that addresses best practices in planning for MDU telecommunication infrastructure.