Comcast xFi: From Remote Control to Smart-Home Hub
It looks like a television remote, but Comcast xFi is the central hub of a smart home, according to the MSO.
Last week, Comcast gave its more than 15 million xFi customers the ability to automatically import the names of devices as they connect to a home's WiFi network instead of listing the device via its 12-character MAC address (which may as well be another language). And earlier this year it debuted a whole-home mesh network system to extend WiFi availability into hard-to-reach areas of an abode. (See Comcast Rolls Out xFi Pods Nationwide.)
'
While Comcast and its subscribers refer to xFi as an "entertainment platform," the device also plays a supporting role. Literally. If there's a service disruption or dissatisfaction with service quality, the service goes beyond the router to provide Comcast with information on the network and everything that's attached, he said.
"It lets us get information, not just at the network level in the DOCSIS modem -- but to what's happening within the customer's home and the components of a gateway. When we were deploying third-party gateway without Comcast software, we didn't know what had a problem," Schaefer said. "We had absolutely no way of knowing those things. We now have this ability to have 15 million probes in our network and we're managing the very high expectations of our customers. When we use xFi to manage their in-home experience, we're actually building these tools so when agents answer their phone calls, they have the same view as the customer does."
Customer experience -- which historically has never been a strong point for cable or ISPs -- continues to be a critical area of focus, he said. Comcast employees made more than 1 million customer callbacks this year, executives mandated all managers regularly speak to customers and the operator invested hundreds of millions of dollars in a Net Promoter Score implementation, training and other strategies.
That's due, of course, to competitive pressure from other providers and the opportunities the home network affords. Creating a positive subscriber experience, whether customers use multiple services or simply purchase connectivity, is essential, said Schaefer.
"Of course, the core network has to be great, but the in-home network -- that last 100 feet that has been forgotten for so long -- that has to be perfect," he said. "The customer has to benefit from premises equipment that is powerful, built for speed -- and most critically, receive that speed in the home."
Related posts:
— Alison Diana, Editor, Broadband World News. Follow us on Twitter or @alisoncdiana.
Deutsche Telekom just signed an infrastructure project with the Gigabit Region Stuttgart, home to 174 municipalities and almost 3 million people, one of many partnerships the German operator has inked in its bid to grow revenue and business.
Mobile and cable operators represented half the managed SD-WAN services market share in this fast-growing space, while other broadband providers such as ISPs and satellite operators also appeared on Vertical Systems Group's ranking.
Organization extends popular TR-069 standard for use in smart homes, looking to simplify and standardize market for vendors, operators and end users.
By slashing subscriber pricing by more than $30 billion annually, Low Earth Orbit satellite companies led by Jeff Bezos and Elon Musk as well as OneWeb have the potential to usher in a whole new era of broadband.
While it continues to pull back from the European continent, Liberty Global is rolling out faster broadband speeds and next-gen WiFi and mobile services to beef up its market position.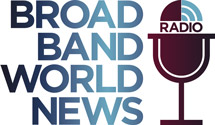 In this insightful Light Reading radio show, Kurt Raaflaub, Head of Strategic Solutions Marketing, will outline the key service provider challenges, deployment considerations, next-gen Gigabit technologies, and service models to win market share in the rapidly growing MDU market.
All resources
Tuesday, May 21, 2019
11:00 a.m. New York / 4:00 p.m London
The MDU market continues to face fierce competition among service providers due to tech-savvy residents (i.e., millennials), demand from building owners and management companies, plus the favorable economics of bulk contracts. However, no MDUs are the same, so service providers must use multiple technologies and inconsistent deployment models, increasing operational complexity and rollout costs.
The MDU market itself is evolving as residents adopt smart-home technologies, generating rising demand for smart apartments with built-in connected thermostats, keyless entryways and doors, and video doorbells. This evolution presents both new challenges and opportunities. In other words, service providers must consider innovative service-delivery strategies to compete and win.
In this Broadband World News and ADTRAN webinar, Kurt Raaflaub, Head of Strategic Solutions Marketing, will highlight emerging MDU broadband Internet trends and challenges. In addition, Kurt will outline the next-generation service creation and delivery platform, built on open standards, that allows service providers to connect millions of underserved MDUs, enables creation of user-driven services, and reduces operational complexity and costs.
Plus, special guest, Alice Lawson, Broadband and Cable Program Manager for the City of Seattle, will discuss Seattle's B4B-Build For Broadband initiative that addresses best practices in planning for MDU telecommunication infrastructure.