Telefónica Deploys Nagra Security System Platform
Cheseaux-sur-Lausanne, Switzerland, and Phoenix, Ariz. -- Nagra, a Kudelski Group company and a leading independent provider of content protection and multiscreen television solutions, today announced telecommunications provider Telefónica has deployed the Nagra Security Services Platform (SSP) to manage the ConnNagraect client to secure its Movistar IPTV service and 4K Ultra HD content in multiple countries with newest STBs. This marks the first deployment of the Nagra SSP and Nagra Connect with a telco provider in an IPTV environment.
This security platform gives Telefónica one 4K-ready content protection system able to secure multiple devices types, from existing set-top boxes to next generation set-top boxes, plus multiple use cases as required by the operator regarding live TV. It will also benefit content owners, assuring them of the highest level of security for premium and enhanced content -- such as 4K -- and consumers, enabling access to new IPTV services in the operator's newest markets, as well as to high-quality 4K content using a new generation of set-top boxes.
"We are proud that Telefónica has selected Nagra as their security partner for their worldwide IPTV deployments," said Maurice Van Riek, senior vice president of Content and Asset Security at Nagra. "The Nagra Security Services Platform provides a single suite of solutions to address every content protection need and provides a scalable and modular system for managing multiple environments across existing and newer generation set-top boxes. Together with the Connect client, Telefónica has a robust and comprehensive 4K and IP-ready content protection solution that can seamlessly deploy across device generations, regions and markets."
The Nagra Security Services Platform (SSP) goes beyond simple CAS and DRM management to give service providers complete control of content value protection across all of their networks, devices and use cases, and can be deployed on an operator's premises or in the cloud, in a software-as-a-service model (SaaS). Its Connect client provides cable and IPTV service providers with a native IP security solution that combines the best of CAS and DRM solutions into a single client supporting connected broadcast, IPTV, operator and third-party OTT delivery (including Netflix), and in-home distribution.
The Connect client features a unique Adaptive Security concept that pragmatically leverages the security infrastructure of any client device to uniformly address a wide range of STB generations, all from one single platform. The Nagra SSP and its range of security solutions fully support Movielabs' Enhanced Content Protection (ECP) profile Hollywood-approved for 4K Ultra HD content.
The US Department of Agriculture gives high points to those operators providing symmetric, high-speed infrastructure when considering loan and grant applicants.
UK mobile operator will use its 5G spectrum to launch a fixed wireless access (FWA) service in London in August and plans to have that offer, plus mobile 5G services, in 25 UK cities by the end of this year.
Authorization of $166.8 million over next decade earmarked for 60,850 unserved rural homes and businesses across 22 states.
Tunable optics components add up to about $1,000, says Nokia's Stefaan Vanhastel, too high an admission cost for the $26-plus billion corporation in a market estimated at $204 million in 2022.
As enterprises adopt public networking, their adoption of dark fiber for high-security uses grows, said Ed Morche, president of enterprise and government markets at CenturyLink.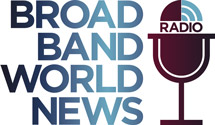 In this insightful Light Reading radio show, Kurt Raaflaub, Head of Strategic Solutions Marketing, will outline the key service provider challenges, deployment considerations, next-gen Gigabit technologies, and service models to win market share in the rapidly growing MDU market.
All resources
Tuesday, May 21, 2019
11:00 a.m. New York / 4:00 p.m London
The MDU market continues to face fierce competition among service providers due to tech-savvy residents (i.e., millennials), demand from building owners and management companies, plus the favorable economics of bulk contracts. However, no MDUs are the same, so service providers must use multiple technologies and inconsistent deployment models, increasing operational complexity and rollout costs.
The MDU market itself is evolving as residents adopt smart-home technologies, generating rising demand for smart apartments with built-in connected thermostats, keyless entryways and doors, and video doorbells. This evolution presents both new challenges and opportunities. In other words, service providers must consider innovative service-delivery strategies to compete and win.
In this Broadband World News and ADTRAN webinar, Kurt Raaflaub, Head of Strategic Solutions Marketing, will highlight emerging MDU broadband Internet trends and challenges. In addition, Kurt will outline the next-generation service creation and delivery platform, built on open standards, that allows service providers to connect millions of underserved MDUs, enables creation of user-driven services, and reduces operational complexity and costs.
Plus, special guest, Alice Lawson, Broadband and Cable Program Manager for the City of Seattle, will discuss Seattle's B4B-Build For Broadband initiative that addresses best practices in planning for MDU telecommunication infrastructure.