Net Neutrality Case Goes On, Despite Shutdown
Whether or not the government shutdown ends beforehand, a federal appeals court on Thursday said it will not delay oral arguments slated to begin Feb. 1 in the case against the Federal Communication Commission's repeal of the 2015 net neutrality rules and classification of ISPs.
On Tuesday, the FCC asked a federal appeals court to delay the hearing, citing the partial government shutdown as the reason. (See Net Neutrality: It's Not Dead Yet.)
Led in this particular case by trade group INCOMPAS -- which states it "advocates for competition policy across all networks [and] represents Internet, streaming, communications and technology companies both large and small, advocating for laws and policies that promote competition, innovation and economic development" -- petitioners filed to prevent any delay."
INCOMPAS' legal representatives' cited:
Court precedent: In at least 16 cases during the 2013 government shutdown, the court denied any delay in oral arguments.
Time pressures: "Due to the FCC's misguided and unlawful repeal of the network neutrality rules, consumers are at risk of substantial harm from ISPs which may now interfere with access to lawful Internet content without the restraint of the net neutrality rules."
Block and tackle: Edge providers face threats from ISPs, which may block, throttle or use other tactics against edge providers' services that compete with ISPs' offerings.
Time is money: Plaintiffs have invested money, time and other resources to prepare for the February date and any change to that timing would create "substantial disruption."
The court ruled in favor of the plaintiffs -- against the FCC -- and oral arguments will begin, as scheduled, on Feb. 1. The court made no comment beyond its ruling.
Related posts:
— Alison Diana, Editor, Broadband World News. Follow us on Twitter or @alisoncdiana.
Findings from university researchers and The Wall Street Journal indicate that many US homes are overpaying for broadband.
As cable operators weigh construction costs, the potential for service disruptions, training needs and network maintenance, the decision on which path to take isn't so straightforward anymore.
In a one-on-one interview with Broadband World News, ADTRAN Chairman and CEO Tom Stanton speaks about the vendor's success with a new breed of broadband providers, today's competitive environment and, yes, Verizon and NG-PON2.
In a provocative new BBWN webinar, Broadband Success Partners' Jack Burton will delve into cable's next-gen HFC architecture plans and explain why going all-fiber may make more sense for operators right now.
Five years ago, NOS board member Manuel Ramalho Eanes helped steer the Portuguese service provider toward a future heavily reliant on smart homes and cities. It's a decision the provider is glad it made.



Five years ago, NOS board member Manuel Ramalho Eanes banked big on smart homes and smart cities.




Slovak Telekom and T-Mobile Czech Republic Chief Technology and Information Officer Branimir Maric is using his more than two decades' experience in telco, including 15 years in various ...




Operators cannot protect networks -- their own or their customers -- by building a hard shell around the infrastructure, given the sensitive data dwelling and being sent to and from edge ...




Communications service providers have long talked about improving the day-to-day experience of their customers, but have not always backed up their words with actions and resources.

All Broadband World Forum Perspectives
All resources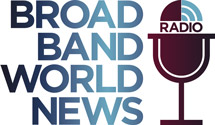 In this insightful Light Reading radio show, Kurt Raaflaub, Head of Strategic Solutions Marketing, will outline the key service provider challenges, deployment considerations, next-gen Gigabit technologies, and service models to win market share in the rapidly growing MDU market.
Tuesday, September 10, 2019
12:00 p.m. New York / 5:00 p.m. London
Wi-Fi is the foundation of the connected home for consumers; yet, it's often a source of frustration. With the imminent release of the new Wi-Fi 6 standard – combined with a strong Managed Wi-Fi offer – service providers can reverse subscriber frustration while tapping into new revenue streams.
Key topics include:
What's different about Wi-Fi 6 and why it matters to your subscribers
The importance of offering Managed Wi-Fi and its connection to Wi-Fi 6
How you can elevate your brand and gain a strong foothold in the home network.