Network Equipment Services to Near $250B by 2023: Report
Redwood City, Calif. -- A report published today by Dell'Oro Group shows cumulative revenue for Network Equipment Services to service providers is projected to range between $200 billion and $250 billion over the next five years, reflecting strong growth opportunities for both product-attached and non-product attached services. Huawei held the highest market share in 2018, a situation that may change given multiple governments' scrutiny of the vendor over the past several months.
"While we envision the coupling between equipment and services will remain strong for product-attached services, we are increasingly optimistic about the role non-product attached services will play to help operators navigate the network of tomorrow," said Stefan Pongratz, director of Network Equipment Services Research at Dell'Oro Group. "We believe network complexity will dramatically increase in the future as service providers strive to incorporate SDN/NFV and deliver new products related to IoT and 5G. As a result, we believe the software component of networks and the amount of services will be larger in the future."
In addition, the Dell'Oro Group Network Equipment Services Report found:
The top four vendors comprise more than 80% of the market.
Huawei had the highest market share since 2016, over 30% in 2018.
Huawei's services share improved more than 70% between 2013 and 2017.
Professional services such as consulting are projected to grow at the fastest pace over the forecast period, however Network Rollout will remain the largest segment.
Rural service provider Lumos Networks taps ADTRAN's 10G solution to sate its Virginia SMB customers' hunger for high-speed symmetrical fiber-based broadband.
In the American Broadband Initiative Milestones Report out today, 20 federal agencies pledge to simplify and accelerate the process for service providers to deliver broadband into America's countryside.
VITAS Healthcare is testing AR/VR to ease hospice patients' pain, using fiber infrastructure and 5G from AT&T, according to Maria Lensing, AT&T's vice president of Global Business Healthcare.
But startup will need to finalize its satellite design, secure more funding and cut through the regulatory red tape before its vision to rival terrestrial fiber networks can (literally) get off the ground.
A HIMSS Analytics survey, sponsored by Spectrum Enterprise, identifies five patient experience initiatives to where healthcare providers can boost the customer experience and bring in higher margins using advanced broadband networks.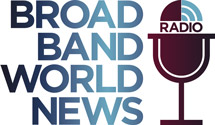 Tune in to Broadband World News Radio on February 14 at 11 a.m. ET / 8 a.m. PT / 4 p.m. UK when John Isch, Practice Director of the Network and Voice Center of Excellence at Orange Business Services, discusses use cases, ROI and misconceptions of software-defined wide-area networks, virtualization and cloud.
All resources
Wednesday, December 12, 2018
12 p.m. New York / 5 p.m. London
Consumers are buying millions of IoT devices, from smart thermostats and security systems to intelligent entertainment setups and furniture. Yet many of these devices remain isolated because home users are uncomfortable connecting them to each other – or even their WiFi. After all, their WiFi network was probably designed only to handle a few laptops, a gaming system and a couple of smartphones. Now, demand on the network is surging and even though you're delivering 100 Mbps to 1 Gbps, that doesn't necessarily mean the broadband power is in the right place or reaches every corner of a home.
Even if WiFi coverage is sufficient, typing is not on trend. Voice is far more natural, easier and faster. Using a TV keyboard is archaic when more and more households have access to cloud-based voice services, like Amazon Alexa. This webinar will explore how service providers can create a comfortable, truly smart home for consumers – simultaneously driving up margin and loyalty.
BT's Formula for F1 Success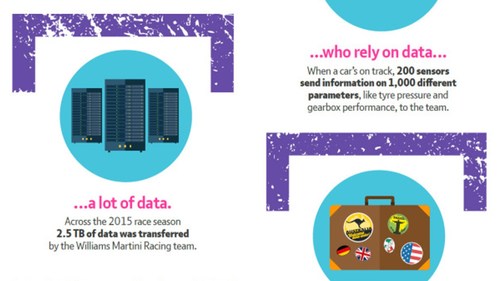 Infographics archive