Saudi Arabia Telecom Joins i3forum
DUBAI -- Non-profit industry group i3forum, which focuses on transforming the carrier business, announced at Capacity Middle East 2019 today Saudi Telecom Co. (STC) joined the organization as a full member. STC, which joins 22 global organizations from across the carrier ecosystem, is the first Middle Eastern carrier to become part of the i3forum.
i3forum brings the International Carrier ecosystem together to enable and accelerate transformation. Its members decide the challenges and topics to address and it provides a platform for members to explore, share and debate the challenges facing Carrier business. Members are empowered by a shared purpose and mission to shape the future of the industry.
"We are excited to welcome STC to the i3forum as a full member. STC brings a unique perspective on our industry and we look forward to collaborating with the team at STC," said Philippe Millet, i3forum chairman. "Each new member adds something different to the i3forum and creates new benefits for existing members. With a diverse and dynamic membership, we are well positioned to tackle the challenges that are facing our industry today and in the future."
STC serves within the Kingdom of Saudi Arabia (KSA) and across the Middle East, Europe and Asia (MENA), supporting more than 100 million subscribers globally. In part, it accomplishes this via its fiber-optic cable network that spans 137,000 kilometers across Asia, the Middle East and Europe. It operates the MENA Gateway data center and JEDIX Internet exchange point in Jeddah, KSA. The government is establishing the KSA as a key hub for telecoms connectivity in the MENA region as part of its Saudi Vision 2030.
"We are honoured to join the i3forum and become the first Middle Eastern carrier to participate. It is critical that we collaborate with our peers and help to drive our industry forward. Together, we can solve challenges and find new ways to innovate locally and across the globe," said Sami Bin Ghadir, Revenue Assurance & Fraud Management general manager at STC. "The i3forum has demonstrated its ability to put ideas into action and create real change for carriers. As its membership continues to grow, it is a great time to be part of the i3forum."
As a not-for-profit, membership-funded association, the i3forum works closely with standardization bodies including GSMA and the Wireless Broadband Alliance. In 2018 the Global Leaders Forum (GLF) together with i3forum delivered the Code of Conduct, one of many initiatives designed to accelerate transformation across the entire ecosystem. In addition, i3forum members collaborate on practical recommendations and best practices to drive innovation and transformation across the service-provider ecosystem. Its workgroups tackle challenges operators face, then deliver actionable recommendations to enable long-term growth of carrier businesses, according to i3forum. This includes how to adopt and deliver new technologies, solutions and business models with the intent of positively impacting telecommunications providers for the long-term, the association said.
STC established a wholesale business unit in 2005 and became a founding member and key investor in every major submarine cable system within the region. As such, STC's Wholesale BU as cost-effective access to major international capacities and routes, making it one of the area's wholesale leaders for price, flexibility and access.
Deutsche Telekom just signed an infrastructure project with the Gigabit Region Stuttgart, home to 174 municipalities and almost 3 million people, one of many partnerships the German operator has inked in its bid to grow revenue and business.
Mobile and cable operators represented half the managed SD-WAN services market share in this fast-growing space, while other broadband providers such as ISPs and satellite operators also appeared on Vertical Systems Group's ranking.
Organization extends popular TR-069 standard for use in smart homes, looking to simplify and standardize market for vendors, operators and end users.
By slashing subscriber pricing by more than $30 billion annually, Low Earth Orbit satellite companies led by Jeff Bezos and Elon Musk as well as OneWeb have the potential to usher in a whole new era of broadband.
While it continues to pull back from the European continent, Liberty Global is rolling out faster broadband speeds and next-gen WiFi and mobile services to beef up its market position.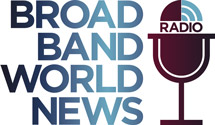 In this insightful Light Reading radio show, Kurt Raaflaub, Head of Strategic Solutions Marketing, will outline the key service provider challenges, deployment considerations, next-gen Gigabit technologies, and service models to win market share in the rapidly growing MDU market.
All resources
Tuesday, May 21, 2019
11:00 a.m. New York / 4:00 p.m London
The MDU market continues to face fierce competition among service providers due to tech-savvy residents (i.e., millennials), demand from building owners and management companies, plus the favorable economics of bulk contracts. However, no MDUs are the same, so service providers must use multiple technologies and inconsistent deployment models, increasing operational complexity and rollout costs.
The MDU market itself is evolving as residents adopt smart-home technologies, generating rising demand for smart apartments with built-in connected thermostats, keyless entryways and doors, and video doorbells. This evolution presents both new challenges and opportunities. In other words, service providers must consider innovative service-delivery strategies to compete and win.
In this Broadband World News and ADTRAN webinar, Kurt Raaflaub, Head of Strategic Solutions Marketing, will highlight emerging MDU broadband Internet trends and challenges. In addition, Kurt will outline the next-generation service creation and delivery platform, built on open standards, that allows service providers to connect millions of underserved MDUs, enables creation of user-driven services, and reduces operational complexity and costs.
Plus, special guest, Alice Lawson, Broadband and Cable Program Manager for the City of Seattle, will discuss Seattle's B4B-Build For Broadband initiative that addresses best practices in planning for MDU telecommunication infrastructure.