Pelosi Brings Net Neutrality to Congress
Congressional Democrats expect to unveil legislation tomorrow to overturn the Trump administration's repeal of net neutrality rules, according to House of Representatives Speaker Nancy Pelosi.
Now that House Democrats control Congress they hope to pass the "Save the Internet Act," the speaker told lawmakers in a letter. They expect to propose the Act at 11:15 a.m. ET on Wednesday, March 6, in the Rayburn Room of the US Capitol, Pelosi wrote.
Democrats need only one Republican vote to pass the legislation, tweeted Representative Lloyd Doggett (D-Texas), noting the bill faces a more rigorous battle in the House.
The Federal Communications Commission tossed out net neutrality when it reversed the Obama administration's model of a utility-style regulatory approach and replaced it with current FCC Chairman Ajit Pai's "light touch" policy. The Trump-era FCC used its "Restoring Internet Freedom" Act to reclassify Internet service providers under Title I and gave the Federal Trade Commission oversight for providers.
Lawsuits follow each change in classification and ruling. (One such case, Mozilla versus FCC, went to court this month and now awaits word from the District of Columbia's Court of Appeals.) But if the vast majority of members of the House of Representatives and Congress enact a law -- with enough of a majority to withstand a presidential veto -- that would, most likely, end the net neutrality seesaw.
Related posts:
— Alison Diana, Editor,
Broadband World News
. Follow us
on Twitter
or
@alisoncdiana
.
(Home page image source: Flickr via 2.0 Generic - CC BY 2.0)
Joint venture between OneWeb and Airbus opens facility that can make two satellites per day at one-fiftieth the cost of traditional factories that produce one satellite a year, boasts OneWeb Satellites.
Vendor expands focus into MSOs and utilities, increases fiber sales and extends efforts in global territories, as part of initiative to decrease reliance on CSPs.
Some operators expand existing D3.1 infrastructure, while others discover fiber-only is too slow and expensive to meet subscribers' needs quickly enough to keep them happy.
Piracy and account sharing are taking a sizable bite from operators' content revenue, with incumbents and OTT startups feeling the financial hurt.
The FCC drafts changes to accelerate its satellite review process about a week after Amazon's Project Kuiper files an application with the agency in the fast-moving space broadband race.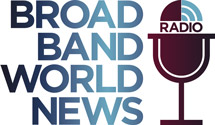 In this insightful Light Reading radio show, Kurt Raaflaub, Head of Strategic Solutions Marketing, will outline the key service provider challenges, deployment considerations, next-gen Gigabit technologies, and service models to win market share in the rapidly growing MDU market.
All resources
Tuesday, May 21, 2019
11:00 a.m. New York / 4:00 p.m London
The MDU market continues to face fierce competition among service providers due to tech-savvy residents (i.e., millennials), demand from building owners and management companies, plus the favorable economics of bulk contracts. However, no MDUs are the same, so service providers must use multiple technologies and inconsistent deployment models, increasing operational complexity and rollout costs.
The MDU market itself is evolving as residents adopt smart-home technologies, generating rising demand for smart apartments with built-in connected thermostats, keyless entryways and doors, and video doorbells. This evolution presents both new challenges and opportunities. In other words, service providers must consider innovative service-delivery strategies to compete and win.
In this Broadband World News and ADTRAN webinar, Kurt Raaflaub, Head of Strategic Solutions Marketing, will highlight emerging MDU broadband Internet trends and challenges. In addition, Kurt will outline the next-generation service creation and delivery platform, built on open standards, that allows service providers to connect millions of underserved MDUs, enables creation of user-driven services, and reduces operational complexity and costs.
Plus, special guest, Alice Lawson, Broadband and Cable Program Manager for the City of Seattle, will discuss Seattle's B4B-Build For Broadband initiative that addresses best practices in planning for MDU telecommunication infrastructure.