Huawei Releases Symmetric 10G PON ONT for Whole-Home WiFi
SHENZHEN, China -- Huawei released a symmetric 10G PON ON, the EchoLife V5 X Pro, which delivers 10 Gbps bidirectional ultra-fast transmission, zero-freezing WiFi and seamless coverage of an entire residence, providing users with carrier-class home WiFi experience.
Services such as 4K/8K, virtual reality and online gaming are becoming popular in homes, stimulating explosive growth of data traffic in operator networks and posing great challenges to existing home networks. Key problems include insufficient network bandwidth causing poor user experience, broadband service limitations because of bottlenecks, and 30% to 60% of user experience complaints related to WiFi. With 80% of home data traffic carried over WiFi, WiFi network quality has become an urgent issue for operators.
Huawei's EchoLife V5 X Pro is designed to solve key problems such as frequent signal conflict, strong interference, poor coverage and low WiFi rate.
The EchoLife V5 X Pro gateway supports smooth evolution from GPON to 10G PON and provides up to 10 Gbps wired transmission in both upstream and downstream directions, enabling gigabit broadband access for high-bandwidth services such as home video, entertainment, VR, gaming and private line.
The gateway includes WiFi 6 technology with an air interface rate of up to 6 Gbps, four times that of WiFi 5. The dual-4x4 high-performance omni-directional antenna array design reduces attenuation from walls by 25%. It also supports the highest 160 MHz spectrum bandwidth in the industry, and intelligently avoids busy channels by using radar channel scanning to help users connect to the fastest WiFi channel. Huawei used a proprietary optimization algorithm to shorten WiFi transmission delay to less than 7 ms, eliminating stalling and delay, and ensuring ultimate user experience for cutting-edge immersive services such as 4K/8K IPTV, online gaming and cloud VR.
In large residences where WiFi signals of a single ONT cannot cover the entire space, the EchoLife V5 X Pro gateway supports the PremiumWiFi solution to flexibly mesh network with a series of edge ONT products. This extends WiFi coverage, providing ubiquitous high-speed broadband experience. PremiumWiFi uses a cloud management platform to visually monitor WiFi performance in real time, help operator detect WiFi faults with one click and reduce home visits for troubleshooting by 30%, significantly reducing maintenance and operating costs.
Deutsche Telekom just signed an infrastructure project with the Gigabit Region Stuttgart, home to 174 municipalities and almost 3 million people, one of many partnerships the German operator has inked in its bid to grow revenue and business.
Mobile and cable operators represented half the managed SD-WAN services market share in this fast-growing space, while other broadband providers such as ISPs and satellite operators also appeared on Vertical Systems Group's ranking.
Organization extends popular TR-069 standard for use in smart homes, looking to simplify and standardize market for vendors, operators and end users.
By slashing subscriber pricing by more than $30 billion annually, Low Earth Orbit satellite companies led by Jeff Bezos and Elon Musk as well as OneWeb have the potential to usher in a whole new era of broadband.
While it continues to pull back from the European continent, Liberty Global is rolling out faster broadband speeds and next-gen WiFi and mobile services to beef up its market position.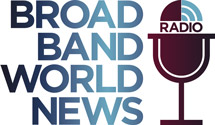 In this insightful Light Reading radio show, Kurt Raaflaub, Head of Strategic Solutions Marketing, will outline the key service provider challenges, deployment considerations, next-gen Gigabit technologies, and service models to win market share in the rapidly growing MDU market.
All resources
Tuesday, May 21, 2019
11:00 a.m. New York / 4:00 p.m London
The MDU market continues to face fierce competition among service providers due to tech-savvy residents (i.e., millennials), demand from building owners and management companies, plus the favorable economics of bulk contracts. However, no MDUs are the same, so service providers must use multiple technologies and inconsistent deployment models, increasing operational complexity and rollout costs.
The MDU market itself is evolving as residents adopt smart-home technologies, generating rising demand for smart apartments with built-in connected thermostats, keyless entryways and doors, and video doorbells. This evolution presents both new challenges and opportunities. In other words, service providers must consider innovative service-delivery strategies to compete and win.
In this Broadband World News and ADTRAN webinar, Kurt Raaflaub, Head of Strategic Solutions Marketing, will highlight emerging MDU broadband Internet trends and challenges. In addition, Kurt will outline the next-generation service creation and delivery platform, built on open standards, that allows service providers to connect millions of underserved MDUs, enables creation of user-driven services, and reduces operational complexity and costs.
Plus, special guest, Alice Lawson, Broadband and Cable Program Manager for the City of Seattle, will discuss Seattle's B4B-Build For Broadband initiative that addresses best practices in planning for MDU telecommunication infrastructure.