Fixed Broadband Access Sales Up 8% in Q4 2018: Dell'Oro
Service providers continue to invest on broadband access equipment, with global revenue increasing to $3.4 billion in the fourth quarter 2018, up 8% from the same period in 2017, according to a recent Dell'Oro Group report.
With 5G's arrival, telcos are opening their network budgets, said Jeff Heynen, research director for Broadband Access and Home Networking at Dell'Oro Group. Both 2.5 Gbit/s GPON and 10 Gbit/s EPON saw year-over-year increases, especially in China which is standardizing on 10 Gbit/s EPON, he said. Total PON ONT unit shipments increased 6%, driven by strong demand for 2.5 Gbit/s GPON units in China and the Asia-Pacific region, in general.
"The 10-gig EPON generation is now starting to hit the market in decent, measurable… and that will definitely continue. It really started to pick up in the second half of last year," Heynen told Broadband World News. "A lot of it is coming from China, but you have growing deployments of it in other parts of the world now, too. I really think XG-PON is the 10-gig, non-EPON technology that's going to win-out here. Anything that doesn't use [expensive] coherent optics or multiple wavelengths for residential apps, where margins are lower, those are the type of technology you want."
Service providers' spending on total DSL port shipments increased 16% year-over-year, with VDSL ports growing 13% and Gfast ports increasing 232%, according to the 4Q 2018 Broadband Access Quarterly Report.
Telco spending offset "surprising weakness in cable CCAP spending," which Heynen attributed to MSOs' delayed capacity purchases as they decided how to advance with distributed access architectures (DAA).
With most cable operators having recently wrapped up or neared completion of DOCSIS 3.1 deployments, they seem more loathe to begin heavily investing in the next necessity. But soon MSOs will move beyond investigating DAA now many recognize the myriad benefits, including increased network capacity, simplified outside plant maintenance and node evolution with Remote PHY, Remote MAC-PHY and Remote 10G EPON OLT, said Heynen.
As a result of a slowdown in CCAP license purchases in North America, total cable access concentrator revenue decreased 18% in 2018 versus 2017, dropping to $380 million, Dell'Oro's report said.
Related posts:
— Alison Diana, Editor, Broadband World News. Follow us on Twitter or @alisoncdiana.
Joint venture between OneWeb and Airbus opens facility that can make two satellites per day at one-fiftieth the cost of traditional factories that produce one satellite a year, boasts OneWeb Satellites.
Vendor expands focus into MSOs and utilities, increases fiber sales and extends efforts in global territories, as part of initiative to decrease reliance on CSPs.
Some operators expand existing D3.1 infrastructure, while others discover fiber-only is too slow and expensive to meet subscribers' needs quickly enough to keep them happy.
Piracy and account sharing are taking a sizable bite from operators' content revenue, with incumbents and OTT startups feeling the financial hurt.
The FCC drafts changes to accelerate its satellite review process about a week after Amazon's Project Kuiper files an application with the agency in the fast-moving space broadband race.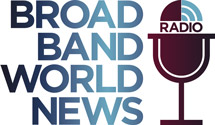 In this insightful Light Reading radio show, Kurt Raaflaub, Head of Strategic Solutions Marketing, will outline the key service provider challenges, deployment considerations, next-gen Gigabit technologies, and service models to win market share in the rapidly growing MDU market.
All resources
Tuesday, May 21, 2019
11:00 a.m. New York / 4:00 p.m London
The MDU market continues to face fierce competition among service providers due to tech-savvy residents (i.e., millennials), demand from building owners and management companies, plus the favorable economics of bulk contracts. However, no MDUs are the same, so service providers must use multiple technologies and inconsistent deployment models, increasing operational complexity and rollout costs.
The MDU market itself is evolving as residents adopt smart-home technologies, generating rising demand for smart apartments with built-in connected thermostats, keyless entryways and doors, and video doorbells. This evolution presents both new challenges and opportunities. In other words, service providers must consider innovative service-delivery strategies to compete and win.
In this Broadband World News and ADTRAN webinar, Kurt Raaflaub, Head of Strategic Solutions Marketing, will highlight emerging MDU broadband Internet trends and challenges. In addition, Kurt will outline the next-generation service creation and delivery platform, built on open standards, that allows service providers to connect millions of underserved MDUs, enables creation of user-driven services, and reduces operational complexity and costs.
Plus, special guest, Alice Lawson, Broadband and Cable Program Manager for the City of Seattle, will discuss Seattle's B4B-Build For Broadband initiative that addresses best practices in planning for MDU telecommunication infrastructure.