Viasat Teams With Ruralweb for Brazilian Satellite Broadband
Brasilia, Brazil and Carlsbad, Calif. -- Global communications vendor Viasat Inc. today announced its first Brazilian wholesale distribution partner, Ruralweb, a Brazilian-licensed company that has offered satellite services since 2003. Through the agreement, Ruralweb will work with Viasat to distribute and deploy high-speed satellite Internet services throughout all of Brazil, even the country's most remote locations.
Through a relationship Viasat maintains with Telebras, Viasat offers an advanced broadband service via the SGDC-1 (Geostationary Satellite for Defense and Strategic Communications) satellite. By coupling the SGDC-1 satellite with Viasat's ground network and infrastructure, Ruralweb will bring Viasat's fast, reliable satellite Internet services to residential, small office/home office (SOHO), agricultural and enterprise markets.
"Ruralweb is a respected partner with an established distribution and fulfillment network that has served the Brazil communications market for over a decade," said Lisa Scalpone, Viasat's country manager for Brazil. "Ruralweb's team will help us bring affordable, scalable, high-quality broadband services to new markets, especially those communities where Internet service has historically been unavailable."
Added Ruralweb President Marcus Antonio Kruel: "We're focused on keeping pace with broadband technology advancements. Our partnership with Viasat will allow us to complement our satellite portfolio -- with an ability to offer advanced high-quality Ka-band services. Viasat selected us as a distribution partner because our local expertise will enable us to penetrate new geographic locations and populations to meet the anticipated demands for Viasat's new service offerings."
Viasat remains committed to bring high-speed, high-quality broadband service to the people of Brazil. The company continues to invest resources into the local Brazilian market as it awaits final approval of the amendment to its agreement with Telebras by the Tribunal de Contas da União (TCU).
Findings from university researchers and The Wall Street Journal indicate that many US homes are overpaying for broadband.
As cable operators weigh construction costs, the potential for service disruptions, training needs and network maintenance, the decision on which path to take isn't so straightforward anymore.
In a one-on-one interview with Broadband World News, ADTRAN Chairman and CEO Tom Stanton speaks about the vendor's success with a new breed of broadband providers, today's competitive environment and, yes, Verizon and NG-PON2.
In a provocative new BBWN webinar, Broadband Success Partners' Jack Burton will delve into cable's next-gen HFC architecture plans and explain why going all-fiber may make more sense for operators right now.
Five years ago, NOS board member Manuel Ramalho Eanes helped steer the Portuguese service provider toward a future heavily reliant on smart homes and cities. It's a decision the provider is glad it made.



Five years ago, NOS board member Manuel Ramalho Eanes banked big on smart homes and smart cities.




Slovak Telekom and T-Mobile Czech Republic Chief Technology and Information Officer Branimir Maric is using his more than two decades' experience in telco, including 15 years in various ...




Operators cannot protect networks -- their own or their customers -- by building a hard shell around the infrastructure, given the sensitive data dwelling and being sent to and from edge ...




Communications service providers have long talked about improving the day-to-day experience of their customers, but have not always backed up their words with actions and resources.

All Broadband World Forum Perspectives
All resources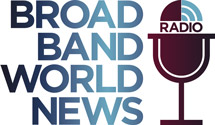 In this insightful Light Reading radio show, Kurt Raaflaub, Head of Strategic Solutions Marketing, will outline the key service provider challenges, deployment considerations, next-gen Gigabit technologies, and service models to win market share in the rapidly growing MDU market.
Tuesday, September 10, 2019
12:00 p.m. New York / 5:00 p.m. London
Wi-Fi is the foundation of the connected home for consumers; yet, it's often a source of frustration. With the imminent release of the new Wi-Fi 6 standard – combined with a strong Managed Wi-Fi offer – service providers can reverse subscriber frustration while tapping into new revenue streams.
Key topics include:
What's different about Wi-Fi 6 and why it matters to your subscribers
The importance of offering Managed Wi-Fi and its connection to Wi-Fi 6
How you can elevate your brand and gain a strong foothold in the home network.