ADTRAN Reports Q1 2019 Earnings, Declares Quarterly Cash Dividend
HUNTSVILLE, Ala. -- ADTRAN at 8 pm CST on April 17 reported results for the first quarter 2019. For that quarter, sales were $143.8 million compared to $120.8 million for the first quarter of 2018. Net income was $0.8 million compared to a net loss of $10.8 million for the first quarter of 2018.
Earnings per share, assuming dilution, were $0.02 in the most recent quarter, compared with a loss per share of $0.22 for the first quarter of 2018. Non-GAAP net income was $4.9 million versus a net loss of $15.8 million for the first quarter of 2018. Non-GAAP earnings per share, assuming dilution, were $0.10; in the year-ago quarter, there was a loss per share of $0.33. Non-GAAP earnings per share exclude stock-based compensation expense, acquisition related amortizations and other expenses, restructuring expenses, gain on bargain purchase of a business, and amortization of pension actuarial losses. Reconciliation between GAAP net income (loss) and earnings (loss) per share to non-GAAP net income (loss) and non-GAAP earnings (loss) per share is in the table provided.
"We are pleased with our progress in the first quarter of 2019. Our revenue was diverse and well balanced with material contributions across the LATAM, EMEA, North America and Pacific Rim regions. Furthermore, our broad portfolio of next-generation solutions continues to gain market traction with a growing number of customers in an expanding range of market segments. This progress underscores the company's global strategy of diversification across geographies and markets," said ADTRAN Chairman and Chief Executive Officer Tom Stanton.
The company's Board of Directors declared a cash dividend for the first quarter of 2019. That quarterly cash dividend is $0.09 per common share to be paid to holders of record at the close of business on May 2, 2019. The ex-dividend date is May 1, 2019, and the payment date is May 16, 2019.
ADTRAN will hold a conference call to discuss its first quarter results today -- Thurs., April 18, 2019, at 9:30 a.m. Central Time. ADTRAN will webcast this conference call. To listen, simply visit the Investor Relations site at www.investors.adtran.com approximately 10 minutes prior to the start of the call and click on the conference call link provided. An online replay of the conference call, as well as the text of the company's earnings release, will be available on the Investor Relations site approximately 24 hours following the call and will remain available for at least 12 months. For more information, visit the investor relations site.
Find complete financial tables in the ADTRAN announcement.
Deutsche Telekom just signed an infrastructure project with the Gigabit Region Stuttgart, home to 174 municipalities and almost 3 million people, one of many partnerships the German operator has inked in its bid to grow revenue and business.
Mobile and cable operators represented half the managed SD-WAN services market share in this fast-growing space, while other broadband providers such as ISPs and satellite operators also appeared on Vertical Systems Group's ranking.
Organization extends popular TR-069 standard for use in smart homes, looking to simplify and standardize market for vendors, operators and end users.
By slashing subscriber pricing by more than $30 billion annually, Low Earth Orbit satellite companies led by Jeff Bezos and Elon Musk as well as OneWeb have the potential to usher in a whole new era of broadband.
While it continues to pull back from the European continent, Liberty Global is rolling out faster broadband speeds and next-gen WiFi and mobile services to beef up its market position.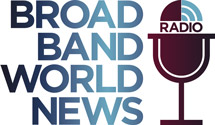 In this insightful Light Reading radio show, Kurt Raaflaub, Head of Strategic Solutions Marketing, will outline the key service provider challenges, deployment considerations, next-gen Gigabit technologies, and service models to win market share in the rapidly growing MDU market.
All resources
Tuesday, May 21, 2019
11:00 a.m. New York / 4:00 p.m London
The MDU market continues to face fierce competition among service providers due to tech-savvy residents (i.e., millennials), demand from building owners and management companies, plus the favorable economics of bulk contracts. However, no MDUs are the same, so service providers must use multiple technologies and inconsistent deployment models, increasing operational complexity and rollout costs.
The MDU market itself is evolving as residents adopt smart-home technologies, generating rising demand for smart apartments with built-in connected thermostats, keyless entryways and doors, and video doorbells. This evolution presents both new challenges and opportunities. In other words, service providers must consider innovative service-delivery strategies to compete and win.
In this Broadband World News and ADTRAN webinar, Kurt Raaflaub, Head of Strategic Solutions Marketing, will highlight emerging MDU broadband Internet trends and challenges. In addition, Kurt will outline the next-generation service creation and delivery platform, built on open standards, that allows service providers to connect millions of underserved MDUs, enables creation of user-driven services, and reduces operational complexity and costs.
Plus, special guest, Alice Lawson, Broadband and Cable Program Manager for the City of Seattle, will discuss Seattle's B4B-Build For Broadband initiative that addresses best practices in planning for MDU telecommunication infrastructure.