China Mobile Building 'Dual-Gigabit City,' UK & India Expand Full Fiber
Also in today's roundup: Clikia leaves OTT, the FCC cracks down on shady boxes, Zone goes direct to viewers, Zzoomm and Jurassic Fibre almost ready to dig and Reliance Jio preps JioGigaFiber for India market.
China Mobile (Shanghai) today unveiled its "Dual-Gigabit First City" plan and released multiple gigabit broadband convergence packages that will provide residential customers with combined gigabit broadband and 5G services.

This is part of China's goal to build a "dual-gigabit city" featuring both wired and wireless gigabit broadband. By Q3 2019, 5.6 million home users and 3,000 buildings, plus all administrative buildings in Shanghai will have gigabit broadband, China Mobile said. To accomplish this, the operator is adopting multiple Huawei technologies including its 10G PON E2E solution; its large-capacity OLT platform, which can support up to 16,000 online 4K and VR video subscribers; and other technologies that ensure a high-quality immersive experience in 4K/8K videos, online gaming and cloud VR.
OTT-TV service provider Clikia -- which previously was linked to Omniverse One World Television -- seems to have, literally, taken to the skies. Last week it suspended its streaming TV subscription service after several large studios filed suit against Omniverse, charging it with copyright violation. Clikia, for one, closed its OTT doors and segued into aeronautics under new CEO (and pilot) Dean E. Sukowatey. Read the story by Jeff Baumgartner on Light Reading (don't miss the back-links) to get the complete story.
The Federal Communications Commission's Enforcement Bureau is hardening its stance and efforts to capture grey-market video streaming boxes sold via online sites such as Amazon and eBay. It wants to winnow out-of-compliant streaming video boxes, which are increasingly marketed, the Bureau said. Although it has yet to provide a list of these models, any companies marketing or operating non-compliant set-top boxes must "stop immediately" or face fines of almost $20,000 per day for new violations and up to $147,290 for an ongoing violation, according to the Bureau. The FCC agency's advisory focuses particularly on devices capable of emitting RF energy, which must pass FCC certification testing to ensure they do not cause interference; must obtain and show FCC labeling and the resulting FCC identifier number, and include information in the user manual on how to mitigate any interference issues.
Zone TV has extended into the direct-to-consumer OTT market with the recent release of Zoneify, which includes 13 channels. This features 12 in genres such as food, gaming, specialty sports and children's content curated and programmed by people, plus one AI-assisted 13th channel dubbed "Myzone," that's built and customized as it learns about the user's interests and viewing habits. The company most likely will add subscription options in the future and within 30-45 days add the OTT offering to browsers and mainstream TV-connected streaming platforms, CEO Jeff Weber told Light Reading. Zoneify should slip into the middle tier of the competitive OTT market, in between SVoD and virtual MVPDs, said the former AT&T executive, who was heavily involved in the operator's U-verse IPTV service.
Full-fiber British network operator Zzoomm applied to Ofcom for Code powers, which allow providers to build their networks in public highways. On April 18, Ofcom began a formal 30-day consultation to apply this authorization to the startup. Zzoomm, which plans to use full-fiber infrastructure to replace copper-based networks, said Code powers would enable it to reach all properties within the towns it serves. The provider will be able to build and maintain its network, associated ducts and network equipment in the public highways without needing specific street-works licenses for each road. This, therefore, will accelerate and simplify its fiber deployment. Zzoomm expects to start building its network this summer.
Speaking of British startup altnets, Jurassic Fibre this week was acquired by Fern Trading, under the advice of Octopus Investments. It will use the £250 million ($325 million) in long-term funding to invest in developing an FTTP network that will pass more than 300,000 homes in southwest England (Devon, Dorset and Somerset). Jurassic Fibre's full-fiber, gigabit infrastructure will serve residential and business customers currently using copper-based networks, the provider said. The operator hopes its deployment, accompanied by jobs and related infrastructure opportunities, will help increase the UK's overall FTTP coverage levels beyond today's miserable 6%, which places the nation far behind European neighbors and will prevent Britain from meeting broadband needs, Jurassic Fibre said.
After successful beta trials, Reliance Jio is moving ahead with , JioGigaFiber services created upon the acquisitions of Den Networks and Hathway Cable and Datacom Ltd. The Indian service provider will deploy the offering across 1,600 cities for home broadband, entertainment, smart home solutions, wireline and enterprises, it said on Thursday. Reliance Jio also is reportedly , testing a triple play bundle with unlimited voice, 100 Gbp/s high-speed data, free home TV and access to multiple Jio apps via GigaFiber broadband, Telecom Economic Times wrote.
Related posts:
— Alison Diana, Editor, Broadband World News. Follow us on Twitter or @alisoncdiana.
Vendor expands focus into MSOs and utilities, increases fiber sales and extends efforts in global territories, as part of initiative to decrease reliance on CSPs.
Some operators expand existing D3.1 infrastructure, while others discover fiber-only is too slow and expensive to meet subscribers' needs quickly enough to keep them happy.
Piracy and account sharing are taking a sizable bite from operators' content revenue, with incumbents and OTT startups feeling the financial hurt.
The FCC drafts changes to accelerate its satellite review process about a week after Amazon's Project Kuiper files an application with the agency in the fast-moving space broadband race.
Federal agency suggests that mandating competition and infrastructure sharing will discourage MDU buildouts and perpetuate the digital divide.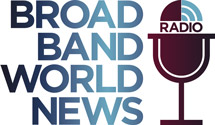 In this insightful Light Reading radio show, Kurt Raaflaub, Head of Strategic Solutions Marketing, will outline the key service provider challenges, deployment considerations, next-gen Gigabit technologies, and service models to win market share in the rapidly growing MDU market.
All resources
Tuesday, May 21, 2019
11:00 a.m. New York / 4:00 p.m London
The MDU market continues to face fierce competition among service providers due to tech-savvy residents (i.e., millennials), demand from building owners and management companies, plus the favorable economics of bulk contracts. However, no MDUs are the same, so service providers must use multiple technologies and inconsistent deployment models, increasing operational complexity and rollout costs.
The MDU market itself is evolving as residents adopt smart-home technologies, generating rising demand for smart apartments with built-in connected thermostats, keyless entryways and doors, and video doorbells. This evolution presents both new challenges and opportunities. In other words, service providers must consider innovative service-delivery strategies to compete and win.
In this Broadband World News and ADTRAN webinar, Kurt Raaflaub, Head of Strategic Solutions Marketing, will highlight emerging MDU broadband Internet trends and challenges. In addition, Kurt will outline the next-generation service creation and delivery platform, built on open standards, that allows service providers to connect millions of underserved MDUs, enables creation of user-driven services, and reduces operational complexity and costs.
Plus, special guest, Alice Lawson, Broadband and Cable Program Manager for the City of Seattle, will discuss Seattle's B4B-Build For Broadband initiative that addresses best practices in planning for MDU telecommunication infrastructure.