DZS 10G ONTs Designed to Bridge NG-PON2 Price Gap
Dasan Zhone introduced a family of multi-protocol smart gateways this week that are designed to help service providers future-proof their networks as they migrate them from 10G GPON up to NG-PON2.
Whether or not providers opt to include a several-year-stop at XGS-PON, PON upgrades are costly -- and eliminating the need to replace optical network terminals (ONTs) and optical line terminals (OLTs) is a boon for operators.
"Many operators plan to take a step-wise approach when expanding their networks using 10G GPON technologies, aligned with the specific needs of their business," said Teresa Mastrangelo, principal analyst at Broadbandtrends, in a statement. "A large majority of these service providers will focus on XGS-PON for the first phase of their rollouts, while future-proofing their networks for the advantages of NG-PON 2."
Once price prohibitive, 10G GPON's costs are dropping as demand for 10-gig deployments grows worldwide. Cloud-based consumer offerings, such as video-on-demand, eSports and 4K/8K televisions, plus evolving gaming solutions that require high-speed, low latency broadband, are also driving operators to invest in next-generation PON. Future-proofing, however, is key, Mastrangelo said.
The DZS 5200 smart gateways give providers a choice between 10/10G symmetrical PON technology and 10G Active Ethernet using SFP+ optics, according to DZS. This choice offers more seamless connectivity to existing FTTx and enterprise business subscribers via one common network, the vendor noted. Initial models allow one fixed 10G copper LAN port and four GE ports; there are options for voice or PoE+ / PoE++. New models in the 5200 family will use the same platform and support NG-PON 2 as the availability and price/performance of optics drop.
"Offering our customers a common platform with choice among technologies and form factors is core to our 10G solution development. In this way, DZS can best serve the diverse needs of operators across the globe," said Seungdong Lee, chief technology officer at DZS. "We believe that 10/10 symmetrical XGS-PON is the best upgrade path to evaluate in 2019."
Related posts:
— Alison Diana, Editor, Broadband World News. Follow us on Twitter or @alisoncdiana.
Some operators expand existing D3.1 infrastructure, while others discover fiber-only is too slow and expensive to meet subscribers' needs quickly enough to keep them happy.
Piracy and account sharing are taking a sizable bite from operators' content revenue, with incumbents and OTT startups feeling the financial hurt.
The FCC drafts changes to accelerate its satellite review process about a week after Amazon's Project Kuiper files an application with the agency in the fast-moving space broadband race.
Federal agency suggests that mandating competition and infrastructure sharing will discourage MDU buildouts and perpetuate the digital divide.
Subsidiary Kuiper Systems, led by Jeff Bezos, requests FCC permission to launch 3,236 satellites slated to beam broadband service to most of the under- and unserved parts of the world.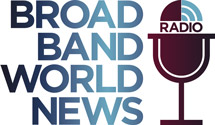 In this insightful Light Reading radio show, Kurt Raaflaub, Head of Strategic Solutions Marketing, will outline the key service provider challenges, deployment considerations, next-gen Gigabit technologies, and service models to win market share in the rapidly growing MDU market.
All resources
Tuesday, May 21, 2019
11:00 a.m. New York / 4:00 p.m London
The MDU market continues to face fierce competition among service providers due to tech-savvy residents (i.e., millennials), demand from building owners and management companies, plus the favorable economics of bulk contracts. However, no MDUs are the same, so service providers must use multiple technologies and inconsistent deployment models, increasing operational complexity and rollout costs.
The MDU market itself is evolving as residents adopt smart-home technologies, generating rising demand for smart apartments with built-in connected thermostats, keyless entryways and doors, and video doorbells. This evolution presents both new challenges and opportunities. In other words, service providers must consider innovative service-delivery strategies to compete and win.
In this Broadband World News and ADTRAN webinar, Kurt Raaflaub, Head of Strategic Solutions Marketing, will highlight emerging MDU broadband Internet trends and challenges. In addition, Kurt will outline the next-generation service creation and delivery platform, built on open standards, that allows service providers to connect millions of underserved MDUs, enables creation of user-driven services, and reduces operational complexity and costs.
Plus, special guest, Alice Lawson, Broadband and Cable Program Manager for the City of Seattle, will discuss Seattle's B4B-Build For Broadband initiative that addresses best practices in planning for MDU telecommunication infrastructure.