DASAN Zhone Solutions Reports Strong Q1 2019 Results
OAKLAND, Calif. -- DASAN Zhone Solutions (DZS), a global provider of ultra-broadband network access solutions and communications platforms deployed by advanced Tier 1, 2 and 3 service providers and enterprise customers, today reported first-quarter results for the period ended March 31, 2019. The company also provided its outlook for the three months ending June 30, 2019 and reaffirmed its guidance for the full year ending December 31, 2019.
First Quarter 2019 Financial Performance: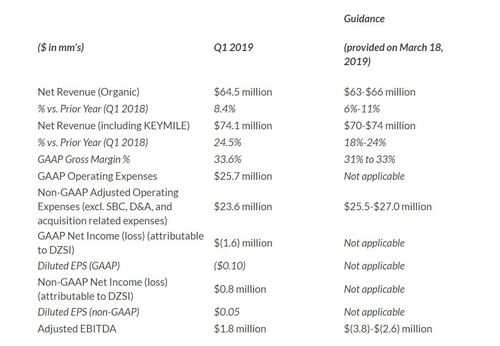 Net revenue for the first quarter of 2019 was $74.1 million, which was above the Company's guidance of $70 million to $74 million and reflected an increase of 24.5% year-over-year.
GAAP gross margin for the first quarter of 2019 was 33.6%, which was above the Company's gross margin guidance of 31% to 33% and reflected the immediate and accretive contribution of KEYMILE, an acquisition which closed on January 3, 2019.
GAAP net income attributable to DZSI for the first quarter of 2019 totaled a loss of $(1.6) million, or $(0.10) per diluted share. Non-GAAP net income attributable to DZSI for the first quarter of 2019 totaled $0.8 million, or $0.05 per diluted share.
GAAP operating expenses for the first quarter of 2019 were $25.7 million. Non-GAAP adjusted operating expenses for the first quarter of 2019 were $23.6 million, which was better than the Company's guidance of $25.5 million to $27.0 million.
Non-GAAP adjusted EBITDA for the first quarter of 2019 totaled $1.8 million and non-GAAP adjusted EBITDA margin was 2.5%, which exceeded the Company's guidance of $(3.8) million to $(2.6) million. On a year-over-year basis, non-GAAP adjusted EBITDA for the first quarter of 2019 increased 28.9% from $1.4 million, or 2.4% non-GAAP adjusted EBITDA margin, in the same year-ago period.
Total cash and cash equivalents (excluding restricted cash) as of March 31, 2019 were $20.9 million, compared to $27.7 million as of December 31, 2018.
"We are encouraged by our first quarter 2019 results, and our out-performance against guidance," said Yung Kim, CEO of DZS. "Our strong results for the period demonstrate that we are capitalizing on broad-based growth opportunities across multiple markets, product lines, technologies and customer groups. In Broadband Access, we are benefiting from emerging markets investing directly into fiber as well as the start of the next generation fiber-based upgrade cycle in fiber-rich countries. We are also strategically focused in other growth areas, including around 5G, where we have a robust product portfolio and the distinguished reputation of being one of the very first to market with a 5G mobile backhaul solution, as well as fiber in the enterprise, both of which represent significant growth opportunities for DZS to execute on going forward."
Added Michael Golomb, CFO of DZS: "We delivered better than expected results in the first quarter, with revenue growing 24.5% year-over-year, reflecting continued strength in Asia Pacific and EMEA regions with KeyMile contributing to the outperformance. Strong gross margins, which saw an accretive contribution from KeyMile -- as well as tight cost controls -- drove a significant outperformance in adjusted EBITDA. In the quarter, we also made progress in addressing our capital structure by closing on a new long term debt facility, with the proceeds used to strengthen our cash position to support continued growth in our business."
For the complete earnings report and second-quarter guidance, visit: DASAN Zhone's website.
Organization extends popular TR-069 standard for use in smart homes, looking to simplify and standardize market for vendors, operators and end users.
By slashing subscriber pricing by more than $30 billion annually, Low Earth Orbit satellite companies led by Jeff Bezos and Elon Musk as well as OneWeb have the potential to usher in a whole new era of broadband.
While it continues to pull back from the European continent, Liberty Global is rolling out faster broadband speeds and next-gen WiFi and mobile services to beef up its market position.
Acquisitive private network, cloud and hosting provider BSO expands worldwide customer base of wholesale service providers, ISPs, content providers and networks with purchase of IX Reach.
Ability to deliver copper- and fiber-based technologies to service providers around the world helped DZS beat expectations and boost revenue to start 2019.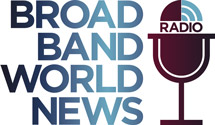 In this insightful Light Reading radio show, Kurt Raaflaub, Head of Strategic Solutions Marketing, will outline the key service provider challenges, deployment considerations, next-gen Gigabit technologies, and service models to win market share in the rapidly growing MDU market.
All resources
Tuesday, May 21, 2019
11:00 a.m. New York / 4:00 p.m London
Win MDUs: Playing With Loaded 9-Sided Dice (archive available soon)
The MDU market continues to face fierce competition among service providers due to tech-savvy residents (i.e., millennials), demand from building owners and management companies, plus the favorable economics of bulk contracts. However, no MDUs are the same, so service providers must use multiple technologies and inconsistent deployment models, increasing operational complexity and rollout costs.
The MDU market itself is evolving as residents adopt smart-home technologies, generating rising demand for smart apartments with built-in connected thermostats, keyless entryways and doors, and video doorbells. This evolution presents both new challenges and opportunities. In other words, service providers must consider innovative service-delivery strategies to compete and win.
In this Broadband World News and ADTRAN webinar, Kurt Raaflaub, Head of Strategic Solutions Marketing, will highlight emerging MDU broadband Internet trends and challenges. In addition, Kurt will outline the next-generation service creation and delivery platform, built on open standards, that allows service providers to connect millions of underserved MDUs, enables creation of user-driven services, and reduces operational complexity and costs.
Plus, special guest, Alice Lawson, Broadband and Cable Program Manager for the City of Seattle, will discuss Seattle's B4B-Build For Broadband initiative that addresses best practices in planning for MDU telecommunication infrastructure.