BBWN Bites: TiVo Goes Halvsies, Senators Seek Better Broadband Map
Yes, it really is Friday, my friends. But that doesn't mean the news slowed down. In fact, it's a jam-packed issue, with coverage of TiVo and Sonos, SnapAV and continued demand for smart home solutions. In the US, Senators map out a broadband bill, while Turkey's own TurkCell signs a very savvy loan agreement. Over in the UK, CityFibre and Excalibur connect Swindon, while across in Germany DT and Ericsson check out a fiber competitor. And why not check out what our Assistant Editor, Europe, discovered (and may -- or may not -- watch over the weekend if it's available in his part of the world).
TiVo will split into two businesses -- Product and IP Licensing -- the company announced Wednesday. Separating the two will maximize shareholder value, the company board agreed, since as independent units each division will be more flexible and able to pursue market opportunities. Said Raghu Rau, interim president and CEO:
Read more details, including TiVo's recent earnings and insight into why the video platform, content and services provider has mulled over this decision for a year in Jeff Baumgartner's piece in Light Reading. (See TiVo to Hew Its Products & Licensing Businesses Into Two .)
In Washington, D.C., legislators are trying to fill another hole in the nation's incomplete approach to broadband governance. Reps. Bob Latta (R-Ohio), ranking member of the House Communications Subcommittee, and Peter Welch (D-Vt.) this week introduced a bill requiring the "Federal Communications Commission to establish a challenge process to verify fixed and mobile broadband service coverage data." Dubbed the Broadband Mapping After Scrutiny Act (MAPS), it would allow individuals or others to argue against the vague approach to broadband verification currently in place. As BBWN has covered extensively, the FCC relies on operators and census blocks to define coverage. (See Why Did FCC Kill NTIA's Broadband Map?, Broadband Map Gets Open Sourced via App and US Needs Accurate Broadband Map .)
"Our communities know better than a map if they have access to fast, reliable broadband," said Congressman Latta. "While we know these broadband maps are inaccurate, there currently isn't a way for local governments to challenge them -- the Broadband MAPS Act would change that, making it easier for unserved and underserved communities to make their case to the FCC. Better maps mean better broadband availability."
Home connectivity in the US continues to grow: 22% of US Internet households owned a smart device in Q4 2018 versus 17% in Q4 2017, found The NPD Group. By the end of this year, home automation devices will account for $2.5 billion in sales, according to the Connected Home Automation Report from NPD's " Connected Intelligence." Consumer awareness of smart home products, which reached 42% among non-owners, is starting to slow, demonstrating the marketplace is maturing. In fact, the biggest increase in ownership occurred in the 35-54 age bracket, from 16% to 22%, a sign the smart home concept is shifting from early adopter to mainstream consumer, NPD Group said. It may mean more opportunities for operators to recommend solutions beyond the most obvious entertainment, convenience and initial security set-ups -- an opportunity that translates into better margins and a stronger relationship between subscriber and provider.
SnapAV -- which manufactures audio-visual, surveillance, networking and remote-management products for integrators and service providers -- and Control4, a provider of smart home solutions, today agreed to merge, with SnapAV acquiring Control4 in an all-cash transaction for $23.91 per share. The deal, which is expected to close in the second half of this year, allows the vendors' products to integrate, partner on innovation and develop "more compelling solutions" for the expanding smart home market, the companies said in a release.
Sonos is expected to support Google's voice assistant with its smart speakers, according to a letter it sent investors this week. Service providers involved in smart home solutions -- especially those selling and supporting third-party consumer hardware -- now may want to add these speakers to their offerings. Sonos also wants to expand its partner base, especially with the addition of an outdoor speaker line. It launched an "architectural outdoor speaker with Sonance in April… and [will debut] two products in partnership with IKEA." These are slated to launch in August at IKEA retailers.
British wholesaler and altnet CityFibre teamed up with Excalibur -- an Internet, telecom and IT solutions service provider -- to provide gigabit-capable full-fiber services to more than 1,100 businesses in Swindon. Excalibur is using CityFibre's 6.5 kilometer/4 mile fiber backbone to deliver services to the Southeastern English city's businesses, both large and small. "Swindon's businesses are crying out for a fast and reliable communications infrastructure on which to build their own competitiveness and success," said Excalibur CEO Peter Boucher. "With the launch of full fiber services from CityFibre, we're excited about taking them on a journey that will improve their efficiency and productivity."
Broadcaster and producer Insight TV inked a distribution deal with Swiss operator Sunrise. Insight TV is the first Ultra HD HDR channel to launch on Sunrise's TV Neo Max OTT app, writes Light Reading's Paul Rainford. BBWN congratulates Insight TV on this contract, but is a little concerned over Paul's enthusiasm for the high-quality availability of content like Travel with a Goat. If Paul suddenly moves to Switzerland, we will know why.
Deutsche Telekom and Ericsson claim their trial microwave link over 1.5km attained fiber capacities of more than 100 Gbit/s, something that may concern fixed-access operators in a few years. Or not. Trial results delivered 10-times faster throughput speeds than today's commercial offerings on 70GHz or 80GHz spectrums, DT and Ericsson said in a statement. Noted Alex Jinsung Choi, DT's SVP Strategy & Technology Innovation at Deutsche Telekom: "Advanced backhaul solutions will be needed to support high data throughput and enhanced customer experience in the 5G era. This milestone confirms the feasibility of microwave over millimeter wave spectrum as an important extension of our portfolio of high-capacity, high-performance transport options for the 5G era. In addition, it represents a game changing solution for future fronthauling capabilities."
Fixed and mobile service provider Turkcell signed a three-year, €50 million ($56.2 million) "Sustainability Linked Loan" with BNP Paribas. The annual cost of the loan, which the operator will use for infrastructure, declines if Turkcell meets objectives tied to environmental sustainability acts, including using solar energy, reducing paper consumption by increasing usage of Turkcell's digital publishing app Dergilik and increasing electronic-waste recycling. It also ties into Turkcell's work with IoT in areas such as smart agriculture -- a vertical of increased interest to service providers in many countries. Turkcell has published sustainability reports published since 2011 and has been listed on the Istanbul Stock Exchange (BIST) Sustainability Index since 2015.
Related posts:
— Alison Diana, Editor, Broadband World News. Follow us on Twitter or @alisoncdiana.
Joint venture between OneWeb and Airbus opens facility that can make two satellites per day at one-fiftieth the cost of traditional factories that produce one satellite a year, boasts OneWeb Satellites.
Vendor expands focus into MSOs and utilities, increases fiber sales and extends efforts in global territories, as part of initiative to decrease reliance on CSPs.
Some operators expand existing D3.1 infrastructure, while others discover fiber-only is too slow and expensive to meet subscribers' needs quickly enough to keep them happy.
Piracy and account sharing are taking a sizable bite from operators' content revenue, with incumbents and OTT startups feeling the financial hurt.
The FCC drafts changes to accelerate its satellite review process about a week after Amazon's Project Kuiper files an application with the agency in the fast-moving space broadband race.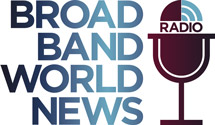 In this insightful Light Reading radio show, Kurt Raaflaub, Head of Strategic Solutions Marketing, will outline the key service provider challenges, deployment considerations, next-gen Gigabit technologies, and service models to win market share in the rapidly growing MDU market.
All resources
Tuesday, May 21, 2019
11:00 a.m. New York / 4:00 p.m London
The MDU market continues to face fierce competition among service providers due to tech-savvy residents (i.e., millennials), demand from building owners and management companies, plus the favorable economics of bulk contracts. However, no MDUs are the same, so service providers must use multiple technologies and inconsistent deployment models, increasing operational complexity and rollout costs.
The MDU market itself is evolving as residents adopt smart-home technologies, generating rising demand for smart apartments with built-in connected thermostats, keyless entryways and doors, and video doorbells. This evolution presents both new challenges and opportunities. In other words, service providers must consider innovative service-delivery strategies to compete and win.
In this Broadband World News and ADTRAN webinar, Kurt Raaflaub, Head of Strategic Solutions Marketing, will highlight emerging MDU broadband Internet trends and challenges. In addition, Kurt will outline the next-generation service creation and delivery platform, built on open standards, that allows service providers to connect millions of underserved MDUs, enables creation of user-driven services, and reduces operational complexity and costs.
Plus, special guest, Alice Lawson, Broadband and Cable Program Manager for the City of Seattle, will discuss Seattle's B4B-Build For Broadband initiative that addresses best practices in planning for MDU telecommunication infrastructure.