BBWN Bites: Cable One Revels in ARPU
Also in the news: Vodafone sheds its New Zealand unit, Vodacom and Arris post earnings and Telia's Bonnier acquisition gets more scrutiny.
Cable One hit record residential average revenue per unit (ARPU) of $70.80, making Cable One the first publicly traded US cable operator to pass the $70-point, Craig Moffett, an analyst with MoffettNathanson said. The operator accomplished this, in part, by de-emphasizing pay-TV; seeing good acceptance of a new unlimited data offering; and migrating new and existing broadband subscribers to more expensive, high-speed services. One tenth of new customers select the MSO's unlimited data plan, paying the extra $40 or so on top of the baseline rate, Cable One President and CEO Julie Laulis said during its Q1 earnings call. In the first three months of this year, about half of its new customers chose plans offering 200 Mbit/s or higher, she added. (See Cable One Hits Broadband ARPU High.)
Vodafone Group sold 100% of Vodafone New Zealand Ltd. (VFNZ) to a consortium comprised of Infratil Ltd. and Brookfield Asset Management. It agreed acquired to Vodafone New Zealand for a cash consideration equivalent to NZ$3.4bn ($2.5 billion). On completion of the sale, which is expected to be in Vodafone's 2020, Vodafone and VFNZ will enter a Partner Market Agreement: This includes use of the Vodafone brand, preferential roaming terms, access to Vodafone's IoT platform and central procurement, plus other services for residential and business markets.
Vodacom's full fiscal year group revenue reached 90.06 billion South African rand ($6.3 billion), up 4.3% in 2019, while EBITDA (earnings before interest, tax, depreciation and amortization) was up 2.4% to ZAR33.69 billion ($2.35 billion). It now has 110 million customers worldwide, a 5.8% increase over last year. In South Africa, Vodacom grew service revenue by 15.6% in international markets, due in part to its mobile payment platform.
Arris saw sales of video set-tops increase 7%, but overall customer premise equipment (CPE) sales for its first quarter dropped 6% year over year, totaling $824 million. And broadband CPE tumbled 35%, primarily due to a decline in volume shipments as Arris -- like many US vendors -- continued to move production out of tariff-riddled China. North American cable operators' decreased spending also impacted broadband CPE sales in the first quarter. Eddie Edwards, president and CEO of CommScope, which acquired Arris last month, said Arris should eliminate its exposure to US tariffs by mid-2019, wrote Jeff Baumgartner in a Light Reading article about the vendor's earnings and 2019 financial outlook.
SK Telecom and Microsoft signed a memorandum of understanding (MOU) this month for "comprehensive cooperation" in technologies such as 5G, artificial intelligence and cloud to promote Internet of Things (IoT) businesses including smart factories, AI technologies and services, media and entertainment, and new ways of working for Information & Communication Technology companies under the SK Group umbrella of businesses. The two companies expect the MOU to drive new business opportunities, executives said in a release.
In a decentralization move designed to bring operations closer to customers, Wave Broadband is splitting its headquarters into two offices: Headed by Fred Lutz, Wave North now serves its Washington state business and residential customers. Wave South, under the management of Jared Sonne, focuses on subscribers in Northern California and Oregon. Lutz and Sonne were both named general manager and senior vice president of their respective locales, which will operate as Wave Broadband. In January 2018, the operator was acquired by RCN/Grande, which is owned by investment firm TPG Capital.
The European Commission is conducting an in-depth investigation of Telia's proposed acquisition of Bonnier Broadcasting, after an initial look into the deal sparked concern from Telia's TV-distribution competitors in Sweden and Finland could be blocked from popular Bonnier TV channels. That could lead to fewer choices at higher prices for consumers. If it is approved, the 9.2 billion Swedish kronor (US$1.03 billion) acquisition will form a vertically integrated TV corporation across Denmark, Finland, Norway and Sweden. The European Commission must decide by Sept. 19.
Related posts:
— Alison Diana, Editor, Broadband World News. Follow us on Twitter or @alisoncdiana.
Joint venture between OneWeb and Airbus opens facility that can make two satellites per day at one-fiftieth the cost of traditional factories that produce one satellite a year, boasts OneWeb Satellites.
Vendor expands focus into MSOs and utilities, increases fiber sales and extends efforts in global territories, as part of initiative to decrease reliance on CSPs.
Some operators expand existing D3.1 infrastructure, while others discover fiber-only is too slow and expensive to meet subscribers' needs quickly enough to keep them happy.
Piracy and account sharing are taking a sizable bite from operators' content revenue, with incumbents and OTT startups feeling the financial hurt.
The FCC drafts changes to accelerate its satellite review process about a week after Amazon's Project Kuiper files an application with the agency in the fast-moving space broadband race.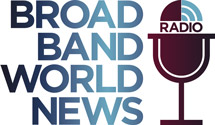 In this insightful Light Reading radio show, Kurt Raaflaub, Head of Strategic Solutions Marketing, will outline the key service provider challenges, deployment considerations, next-gen Gigabit technologies, and service models to win market share in the rapidly growing MDU market.
All resources
Tuesday, May 21, 2019
11:00 a.m. New York / 4:00 p.m London
The MDU market continues to face fierce competition among service providers due to tech-savvy residents (i.e., millennials), demand from building owners and management companies, plus the favorable economics of bulk contracts. However, no MDUs are the same, so service providers must use multiple technologies and inconsistent deployment models, increasing operational complexity and rollout costs.
The MDU market itself is evolving as residents adopt smart-home technologies, generating rising demand for smart apartments with built-in connected thermostats, keyless entryways and doors, and video doorbells. This evolution presents both new challenges and opportunities. In other words, service providers must consider innovative service-delivery strategies to compete and win.
In this Broadband World News and ADTRAN webinar, Kurt Raaflaub, Head of Strategic Solutions Marketing, will highlight emerging MDU broadband Internet trends and challenges. In addition, Kurt will outline the next-generation service creation and delivery platform, built on open standards, that allows service providers to connect millions of underserved MDUs, enables creation of user-driven services, and reduces operational complexity and costs.
Plus, special guest, Alice Lawson, Broadband and Cable Program Manager for the City of Seattle, will discuss Seattle's B4B-Build For Broadband initiative that addresses best practices in planning for MDU telecommunication infrastructure.