BBWN Bites: UK Conservatives Rail Against Huawei
Also in today's roundup: Windstream, Bouygues Telecom, Millicom, Clearfield, FirstLight and Telia Carrier share positive news. And we're keeping our eyes peeled for the next SpaceX launch.
Huawei should be banned completely from developing 5G networks in the UK, according to a report by a Conservative Member of Parliament and two academics, with a foreword by a former head of MI6 -- a finding that contradicts the nation's National Security Council's advice which, in April, determined the Chinese vendor could be used for "non-core" 5G products. The report Henry Jackson Society, (which "works across borders and party lines to combat extremism, advance democracy and real human rights," according to its website), warns that Huawei's operations are "subject to influence by the Chinese state," and that the Chinese vendor "has long been accused of espionage, Britain's Guardian reported. The former head of MI6 Richard Dearlove wrote in the report's foreword: "I very much hope there is time for the UK Government... to reconsider the Huawei decision."
A Huawei spokesperson provided a statement in response to this report:
"This report is long on politically motivated insinuation but short on fact. It fundamentally misunderstands the nature of modern China, global technology markets and of 5G. The isolationist approach they recommend may support an America first trade agenda but it's hard to see how it's in UK's national interest. We are an independent, employee-owned company which does not take instructions from the Chinese government. In 32 years, there have been no significant cybersecurity issues with our equipment. We hope and expect that any decision on Huawei's participation in Britain's build-out of 5G networks will be based on solid evidence, rather than on unfounded speculation and groundless accusations."
Deutsche Telekom's T-Labs and Cambridge, England-based Fetch.AI signed a memorandum of understanding (MoU) to research, build and deploy "autonomous economic agents" (AEAs) on the UK startup's test network. The partners will explore how these agents can be built within IoT devices to provide themselves with authority and autonomy to organize themselves, without any need for human or software intervention. If successful, these AEAs will help optimize and expand high-performance networks and infrastructure, according to a release.
For the fourth consecutive quarter, Windstream Holdings reported that its Kinetic broadband customer base grew: In Q1 2019, the service provider added 11,400 customers, which it said is the strongest quarterly broadband growth since 2011. Enterprise strategic sales -- which include SD-WAN and UCaaS -- represented more than 55% of all enterprise sales in this period. The company reported a net loss of $2.3 billion on revenue of $1.32 billion in the first quarter. Those figures included a $2.3 billion charge due to a new lease accounting standard and the carrier's Chapter 11 bankruptcy filing.
In its first quarter 2019, Bouygues Telecom added 94,000 FTTH subscribers, doubling its penetration rate to 18% with a total fiber-broadband customer base of 663,000, according to the French fixed and mobile operator. Total sales for the period increased 13% year-over-year to €1.45 billion (US$1.62 billion), with an additional 459,000 mobile customers for a total of 16.8 million.
Millicom today closed its acquisition of Telefonia Celular de Nicaragua, the leading mobile operator in the Central American country, adding to Millicom's cable operation of TIGO Nicaragua. It's the first transaction to close since Millicom announced in February its plans to acquire Telefónica's three Central American subsidiaries located in Panama, Costa Rica and Nicaragua. Telefonía Celular de Nicaragua has about 4 million mobile customers, which Millicom adds to TIGO. The provider's 4G network is accessible to 51% of Nicaragua's population, according to the release.
Clearfield is increasing its manufacturing warehouse space at company headquarters due to the growing demand for fiber-optic cable generated by wireless and FTTx deployments. The company is also expanding its manufacturing facility in Tijuana, Mexico and adding employees.
Business Sweden chose a hybrid-WAN solution from Telia to directly route traffic to the Internet via Telia Carrier's global IP backbone. That shortens response time when compared with sending traffic via a central server. (See Eurobites: UK Security Report Says Huawei Can't Be Trusted.)
FirstLight, a service provider in Albany, New York, acquired Maine Fiber Co., a move designed to strengthen the company's fiber network across Maine and into Canada. Terms were not disclosed. (See FirstLight Buys MFC.)
And lastly, I was all set to head out to Port Canaveral where I could get a clearer view of SpaceX's satellite launch, but the mission was scrubbed last night due to high winds. (And boy, was it windy!) SpaceX and the crew at Cape Canaveral will try again tonight. I may peek out my window to enjoy the view! #SpaceCoastLiving

Related posts:
— Alison Diana, Editor, Broadband World News. Follow us on Twitter or @alisoncdiana.
Vendor expands focus into MSOs and utilities, increases fiber sales and extends efforts in global territories, as part of initiative to decrease reliance on CSPs.
Some operators expand existing D3.1 infrastructure, while others discover fiber-only is too slow and expensive to meet subscribers' needs quickly enough to keep them happy.
Piracy and account sharing are taking a sizable bite from operators' content revenue, with incumbents and OTT startups feeling the financial hurt.
The FCC drafts changes to accelerate its satellite review process about a week after Amazon's Project Kuiper files an application with the agency in the fast-moving space broadband race.
Federal agency suggests that mandating competition and infrastructure sharing will discourage MDU buildouts and perpetuate the digital divide.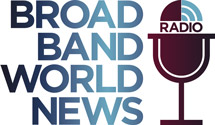 In this insightful Light Reading radio show, Kurt Raaflaub, Head of Strategic Solutions Marketing, will outline the key service provider challenges, deployment considerations, next-gen Gigabit technologies, and service models to win market share in the rapidly growing MDU market.
All resources
Tuesday, May 21, 2019
11:00 a.m. New York / 4:00 p.m London
The MDU market continues to face fierce competition among service providers due to tech-savvy residents (i.e., millennials), demand from building owners and management companies, plus the favorable economics of bulk contracts. However, no MDUs are the same, so service providers must use multiple technologies and inconsistent deployment models, increasing operational complexity and rollout costs.
The MDU market itself is evolving as residents adopt smart-home technologies, generating rising demand for smart apartments with built-in connected thermostats, keyless entryways and doors, and video doorbells. This evolution presents both new challenges and opportunities. In other words, service providers must consider innovative service-delivery strategies to compete and win.
In this Broadband World News and ADTRAN webinar, Kurt Raaflaub, Head of Strategic Solutions Marketing, will highlight emerging MDU broadband Internet trends and challenges. In addition, Kurt will outline the next-generation service creation and delivery platform, built on open standards, that allows service providers to connect millions of underserved MDUs, enables creation of user-driven services, and reduces operational complexity and costs.
Plus, special guest, Alice Lawson, Broadband and Cable Program Manager for the City of Seattle, will discuss Seattle's B4B-Build For Broadband initiative that addresses best practices in planning for MDU telecommunication infrastructure.