BBWN Bites: BT Shares With Employees
UK's BT wants to create a "more engaged and energised workforce," and hopes a new ownership scheme for its 100,000 or so worldwide employees will help that aim, the company announced. Through its "yourshare" program, the operator is committing £50 million (US$63.7 million) -- or a first-time investment of £500 ($637) worth of shares per employee, the operator said. Shares are not vested for three years, however, to "encourage the long-term thinking and customer focus that will drive the success of the company," BT added.
BT also chose a new logo, although the Guardian reports branding is still being finalized and won't debut until August. "…the new mark symbolizes real change," a BT spokesperson told the British newspaper. Perhaps. But Michael Evamy, a respected brand copywriter and author, told Eurobites editor Paul Rainford: "A change from their 'blobworld' is long overdue, and there's been a big shift towards flat, simple logotypes that stand out on your smartphone. But this seems to be taking flat and simple a bit far. What do we read from this? I hate to knock new identities before I've heard the reasoning behind them and seen them applied in the real world... but come on..."
Federal Communications Commission FCC Chairman Ajit Pai on Thursday announced items tentatively on the agenda for the June Open Commission Meeting scheduled for Thursday, June 6, at 10:30 a.m. ET. Topics so far include: Clarification of the Commission's call-blocking rules against robocalls; consideration of a report and order, plus second notice of proposed rulemaking, to modernize today's leased-access rules in the video programming market, and an amendment to update aviation safety, support deployment of newer avionics technology and increase efficient use of limited spectrum resources.
In other FCC news, the agency appointed Claude Aiken, president and CEO of the Wireless Internet Service Providers Association (WISPA), and the reappointment of Elizabeth Bowles, former president of WISPA, and CEO and Chairman of the Board of Aristotle Unified Communications, to the agency's Broadband Deployment Advisory Committee (BDAC). Aiken will serve as a general member of BDAC, and Bowles will serve her second appointment as Chair of the committee. BDAC is a federal advisory committee of about 30 people, focused on reducing or eliminating barriers to infrastructure investment and strengthening existing broadband networks across the US.
NetCologne certainly is investing -- €100 million ($111.6 million) -- in gigabit broadband infrastructure. By year-end, 20,000 households will have access to high-speed Internet, the German provider said. Last year, it focused on schools and business parks; this year its attention is on residential customers. Said NetCologne CEO Timo von Lepel in a statement: "If we have learned something from the experience of 20 years of the Internet, then it is that the demands on bandwidth continue to rise. In the past, grid expansion was hardly able to meet growing demands. Now we are turning the tables and creating an infrastructure that far surpasses today's requirements and guarantees future security for years to come."
Related posts:
— Alison Diana, Editor, Broadband World News. Follow us on Twitter or @alisoncdiana.
Findings from university researchers and The Wall Street Journal indicate that many US homes are overpaying for broadband.
As cable operators weigh construction costs, the potential for service disruptions, training needs and network maintenance, the decision on which path to take isn't so straightforward anymore.
In a one-on-one interview with Broadband World News, ADTRAN Chairman and CEO Tom Stanton speaks about the vendor's success with a new breed of broadband providers, today's competitive environment and, yes, Verizon and NG-PON2.
In a provocative new BBWN webinar, Broadband Success Partners' Jack Burton will delve into cable's next-gen HFC architecture plans and explain why going all-fiber may make more sense for operators right now.
Five years ago, NOS board member Manuel Ramalho Eanes helped steer the Portuguese service provider toward a future heavily reliant on smart homes and cities. It's a decision the provider is glad it made.



Five years ago, NOS board member Manuel Ramalho Eanes banked big on smart homes and smart cities.




Slovak Telekom and T-Mobile Czech Republic Chief Technology and Information Officer Branimir Maric is using his more than two decades' experience in telco, including 15 years in various ...




Operators cannot protect networks -- their own or their customers -- by building a hard shell around the infrastructure, given the sensitive data dwelling and being sent to and from edge ...




Communications service providers have long talked about improving the day-to-day experience of their customers, but have not always backed up their words with actions and resources.

All Broadband World Forum Perspectives
All resources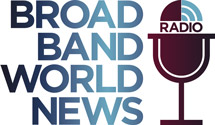 In this insightful Light Reading radio show, Kurt Raaflaub, Head of Strategic Solutions Marketing, will outline the key service provider challenges, deployment considerations, next-gen Gigabit technologies, and service models to win market share in the rapidly growing MDU market.
Tuesday, September 10, 2019
12:00 p.m. New York / 5:00 p.m. London
Wi-Fi is the foundation of the connected home for consumers; yet, it's often a source of frustration. With the imminent release of the new Wi-Fi 6 standard – combined with a strong Managed Wi-Fi offer – service providers can reverse subscriber frustration while tapping into new revenue streams.
Key topics include:
What's different about Wi-Fi 6 and why it matters to your subscribers
The importance of offering Managed Wi-Fi and its connection to Wi-Fi 6
How you can elevate your brand and gain a strong foothold in the home network.