BBWN Bites: From France to Tonga to Iowa, Broadband Investments Rise
Today's roundup also includes a look at how French operator fiber investments grew, how Tongans' access to broadband is on the rise and how rural Iowans can expect enhanced connectivity as a new law (and funding) go into effect.
French operators upped their investment in 2018, pouring an additional €200 million (US$223 million) into operations last year versus the prior year. That added up to reach €9.8 billion ($10.9 billion), despite a 1% decrease in total revenue due to the continuing decline in fixed-line services, according to French communications regulator Arcep's most recent industry scorecard. FTTH accounts for almost all the increased investment, Arcep said. More than 13.6 million premises are now within reach of fiber, it found.
Iowa Governor Kim Reynolds on Monday signed the "Empower Rural Iowa Act," a law designed to increase opportunities in rural parts of the state by increasing grants to boost broadband and expand workforce housing tax incentives. The proposal, which unanimously passed the Iowa legislature, was one of Reynolds's priorities when the Republican campaigned for office, CBS2 Iowa reported.
Tongans are beginning to benefit from broadband investments in both higher speeds and increased availability, according to a new BuddeComm report. A 15-year agreement that started in 2019 between Kacific Broadband Satellite and the Tongan government calls for Kacific to make additional bandwidth available to about 89 more remote communities, with speeds similar to those available in Tonga's large towns. Tongans benefit from an undersea fiber-optic cable (financed by the Asian Development Bank, World Bank, Tongan government and Tonga Cable, as part of the Pacific Regional Connectivity Program); ISPs and operators connect to the wholesale underwater cable and use its high-speed broadband to deliver myriad services, including healthcare, faster connectivity for residential and business customers and improved education connections.
nbn has 8.8 million premises ready to connect to the nbn broadband access network and 10 million premises ready for service, the national Australian wholesaler announced in its most recent earnings report. For the nine months ended March 31, 5.1 million premises use an active service over the nbn access network, generating revenue of $2 billion (Australian) ($1.37 billion USD), up 45% year-over-year. ARPU was $45 per month, the operator said. In the first three months of 2019, nbn made more than 700,000 additional premises ready to connect and activated almost 400,000 premises, according to its earnings report.
Intec this week launched Argus Gfast testers for 212MHz. The Argus 163 can connect LAN cabling, PoE, WLAN and triple-play tests across data, IPTV and VoIP to ADSL2/2+, VDSL2 to super vectoring and Gfast, the vendor said. The Argus 163 is the only instrument in its class that can connect LAN cabling, PoE, WLAN and triple-play tests across data, VoIP and IPTV to ADSL2/2+, VDSL2 to Super Vectoring and G.fast technologies, the company claimed. Using the Argus, RF-Current Clamp, technicians can visualize interference in a loop via Intec's line-scope. Also, the Argus Optical Powermeter in SFP form measures optical power at different wavelengths and stores measured values into the device, Intec said.
Vodafone Germany chose Giax Heleos, a coax network technology, to help ramp up the speed and efficiency of its GIGA HFC 1 Gbit/s service to the operator's 12.6 million residential subscribers. Cable operators can use Heleos to leverage a Distributed Access Architecture (DAA) without extending their fiber networks, according to Giax. Heleos does this by "re-energizing" a provider's existing coax network, the vendor said.
New Zealand service provider 2degrees -- which offers nationwide 3G, 4G and fixed broadband, as well as multiple offerings across more than 180 countries -- adopted BroadForward's next-generation Diameter Signaling Controller (DSC). The software solution is designed to simplify multi-protocol routing and interworking, and supports protocols including Diameter, SS7, SIP, ENUM, RADIUS and HTTP, according to BroadForward. This reduces 2degrees' network complexity and costs by independently integrating and operating intelligent Diameter signaling across multiple networks and vendor implementations. In addition to opex benefits, BroadForward DSC will help 2degrees' 5G deployment, said Nick Read, 2degrees Head of Core and Security, in a statement.
Related posts:
— Alison Diana, Editor, Broadband World News. Follow us on Twitter or @alisoncdiana.
Findings from university researchers and The Wall Street Journal indicate that many US homes are overpaying for broadband.
As cable operators weigh construction costs, the potential for service disruptions, training needs and network maintenance, the decision on which path to take isn't so straightforward anymore.
In a one-on-one interview with Broadband World News, ADTRAN Chairman and CEO Tom Stanton speaks about the vendor's success with a new breed of broadband providers, today's competitive environment and, yes, Verizon and NG-PON2.
In a provocative new BBWN webinar, Broadband Success Partners' Jack Burton will delve into cable's next-gen HFC architecture plans and explain why going all-fiber may make more sense for operators right now.
Five years ago, NOS board member Manuel Ramalho Eanes helped steer the Portuguese service provider toward a future heavily reliant on smart homes and cities. It's a decision the provider is glad it made.



Five years ago, NOS board member Manuel Ramalho Eanes banked big on smart homes and smart cities.




Slovak Telekom and T-Mobile Czech Republic Chief Technology and Information Officer Branimir Maric is using his more than two decades' experience in telco, including 15 years in various ...




Operators cannot protect networks -- their own or their customers -- by building a hard shell around the infrastructure, given the sensitive data dwelling and being sent to and from edge ...




Communications service providers have long talked about improving the day-to-day experience of their customers, but have not always backed up their words with actions and resources.

All Broadband World Forum Perspectives
All resources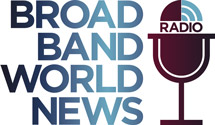 In this insightful Light Reading radio show, Kurt Raaflaub, Head of Strategic Solutions Marketing, will outline the key service provider challenges, deployment considerations, next-gen Gigabit technologies, and service models to win market share in the rapidly growing MDU market.
Tuesday, September 10, 2019
12:00 p.m. New York / 5:00 p.m. London
Wi-Fi is the foundation of the connected home for consumers; yet, it's often a source of frustration. With the imminent release of the new Wi-Fi 6 standard – combined with a strong Managed Wi-Fi offer – service providers can reverse subscriber frustration while tapping into new revenue streams.
Key topics include:
What's different about Wi-Fi 6 and why it matters to your subscribers
The importance of offering Managed Wi-Fi and its connection to Wi-Fi 6
How you can elevate your brand and gain a strong foothold in the home network.