BBWN Bites: That's One Way to Cut the Cord
Today's news wrap-up also includes information about Deutsche Telekom and its cloud partner, a new c-level executive at Masergy, more details about Comcast Hitz as well as a name change for one Florida telecommunications and satellite support company.
Curious? Read on:
TIM reached a wavelength speed of 550 Gbps over its long-distance backbone network during a trial covering more than 350 km on the Italian service provider's operational network between Rome and Florence. Working with Nokia, the partners also attained a transmission rate of 400 Gbps over 900 km and 300 Gbps across 1,750 km, according to the partners. The operator's fully automated Wavelength Division Multiplexing (WDM) network features 16,000-plus km of fiber and connects to 65 national points of presence (PoPs), according to TIM. Nokia partnered with TIM, which tapped the vendor's new Photonic Engine 3 (Nokia PSE-3) DSP, which uses a digital signal processing (DSP) algorithm called Probabilistic Constellation Shaping. PCS is designed to maximize data transport capabilities, regardless of distance, tripling a network's existing bandwidth speed and setting it up for leveraging 5G's efficiency and connectivity boons, according to Nokia.
The arrival of Comcast Hitz, an ad-free SVoD movie service replete with a rotating portfolio of 200 titles that it will include at no cost in many of its pay-TV packages, continues to draw closer. Hitz will replace Cinemax and the premium programmer's associated channels such as More Max and Action Max. (Cinemax will still be available separately for $12, the MSO said.) Hitz will be part of Comcast's Xfinity Premiere, Super and "certain other" packages when it debuts. Comcast has yet to announce that date or any of the movies or "top studios" it's working with.
Deutsche Telekom chose Microsoft as its partner as the German operator looks to expand its cloud services across nine central and eastern European countries. DT will offer enterprises standardized services based on Office 365, Azure and Dynamics 365, and its own security offerings. The service provider is touting price, claiming organizations will save between 30% and 50% of IT operations costs by using DT versus internal resources.
Masergy -- which provides managed SD-WAN, cloud communications and managed security solutions -- named Rebecca "Becky" Carr as chief marketing officer. As CMO, Carr will oversee Masergy's global marketing organization, drive growth, brand equity and digital strategies. The 25-year marketing veteran most recently was global head of marketing at Avaya. Prior marketing management positions include roles at CoStar Group, CenturyLink Technology Solutions and MCI/Verizon.
Telecommunication Support Specialists, an Acorn Growth Company located in Melbourne, Fla., formally changed its name to TSS, said President Don DiFrisco, in a release. TSS supports "a broad range of technical services for satellite, wireless, radar and broadband systems suppliers," he said. "Our targeted focus on innovating and modernizing ground-based radar and satellite communication technologies will allow us to meet the growing needs of our customers and new customers as the need for radar and satellite communications continues to evolve and grow."
Finally, left alone, fiber lasts for decades. That, however, was not the case in New Jersey, where police arrested 38-year-old David Reidenbaker for allegedly destroying Verizon Fios cables, reported CBS Philly. Law enforcement accused Reidenbaker of destroying Verizon's fiber-optic cables on three separate occasions in Cherry Hill, NJ, over the past two months, the station said. The Southampton, NJ, resident also allegedly committed similar crimes in two nearby counties, police said. The damage, which impacted "several homes and businesses," cost Verizon tens of thousands of dollars to repair, CBS Philly reported. In March, Verizon offered up to $10,000 for information on the suspected serial cable-cutter.
Related posts:
— Alison Diana, Editor, Broadband World News. Follow us on Twitter or @alisoncdiana.
Some operators expand existing D3.1 infrastructure, while others discover fiber-only is too slow and expensive to meet subscribers' needs quickly enough to keep them happy.
Piracy and account sharing are taking a sizable bite from operators' content revenue, with incumbents and OTT startups feeling the financial hurt.
The FCC drafts changes to accelerate its satellite review process about a week after Amazon's Project Kuiper files an application with the agency in the fast-moving space broadband race.
Federal agency suggests that mandating competition and infrastructure sharing will discourage MDU buildouts and perpetuate the digital divide.
Subsidiary Kuiper Systems, led by Jeff Bezos, requests FCC permission to launch 3,236 satellites slated to beam broadband service to most of the under- and unserved parts of the world.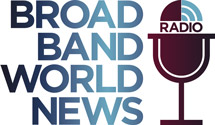 In this insightful Light Reading radio show, Kurt Raaflaub, Head of Strategic Solutions Marketing, will outline the key service provider challenges, deployment considerations, next-gen Gigabit technologies, and service models to win market share in the rapidly growing MDU market.
All resources
Tuesday, May 21, 2019
11:00 a.m. New York / 4:00 p.m London
The MDU market continues to face fierce competition among service providers due to tech-savvy residents (i.e., millennials), demand from building owners and management companies, plus the favorable economics of bulk contracts. However, no MDUs are the same, so service providers must use multiple technologies and inconsistent deployment models, increasing operational complexity and rollout costs.
The MDU market itself is evolving as residents adopt smart-home technologies, generating rising demand for smart apartments with built-in connected thermostats, keyless entryways and doors, and video doorbells. This evolution presents both new challenges and opportunities. In other words, service providers must consider innovative service-delivery strategies to compete and win.
In this Broadband World News and ADTRAN webinar, Kurt Raaflaub, Head of Strategic Solutions Marketing, will highlight emerging MDU broadband Internet trends and challenges. In addition, Kurt will outline the next-generation service creation and delivery platform, built on open standards, that allows service providers to connect millions of underserved MDUs, enables creation of user-driven services, and reduces operational complexity and costs.
Plus, special guest, Alice Lawson, Broadband and Cable Program Manager for the City of Seattle, will discuss Seattle's B4B-Build For Broadband initiative that addresses best practices in planning for MDU telecommunication infrastructure.