BBWN Bites: FCC Report Exaggerates Rural Broadband Progress
Also in today's news roundup: Telefónica Spain looks for rural connectivity options and Loon provides aid in Peru.
The Federal Communications Commission's claim of accelerated broadband availability in rural America was loudly and quickly derided by Democrats in the FCC, rural-broadband advocates and others. The Broadband Deployment Report, released this week (and subtitled "Digital Divide Narrowing Substantially") finds the divide decreased 18% to 21.3 million people between 2016 and 2017, with most gains coming from rural residents. High-speed broadband (250 Mbps up/25 Mbps down) increased 36% to 191.5 million in 2017, the report found -- with an increase of 85.1% of rural Americans with access to high-speed broadband that year. (See ADTRAN Buys Connected Home Dev SmartRG and Microsoft: Half the US Has no Internet at Broadband Speed.)

Critics cited flaws such as the fact that providers self-report census blocks as proof of availability, even though some blocks are miles-wide without any connectivity. The FCC itself admits much of the information is not current, complete or accurate.
Two days after a magnitude 8.0 earthquake struck Peru, Google Loon redirected a group of balloons it had been testing as part of its negotiations with Telefónica and began serving LTE to impacted residents on the damaged ground below, wrote Loon CEO Alastair Westgarth, in a blog post this week. It's not the first time Loon has responded to a disaster in Peru; in early 2017, the alternative-broadband provider and Telefónica brought connectivity after flooding hit the northern region of the South American country. Later that year, Loon teamed up with AT&T and T-Mobile after Hurricane Maria devastated Puerto Rico, Westgarth wrote. Unlike the latter case -- which took about four weeks to deploy -- Loon took only two days to respond in post-earthquake Peru because "we had already deployed the building blocks of the Loon network," he said in the blog.
Telefónica Spain is encouraging the public to submit its ideas for how to connect rural regions of the country, Light Reading reported. Those with suggestions must submit them by June 30 via Internet para Todos Global Call (Internet for All). Given its work with Loon, it's not hard to imagine balloons figure into at least some internal recommendations.
Vodafone appointed David Thodey a non-executive director, effective Sept. 1 (if shareholders approve). Thodey, who spent 12 years at Telstra -- half of them as CEO of the Australian operator -- also held senior positions at IBM.
Tivo's board unanimously elected Dave Shull, formerly CEO of The Weather Channel cable network, as president, CEO and board member of the OTT provider, effective today. Interim president and CEO Raghu Rau will now assume the position of vice chairperson on the board. In addition to The Weather Channel, Shull held various executive roles at DISH Network/EchoStar. (See Dave Shull Named TiVo CEO Amid Plan to Split Biz .)
— Alison Diana, Editor,
Broadband World News
. Follow us
on Twitter
or
@alisoncdiana
.
Findings from university researchers and The Wall Street Journal indicate that many US homes are overpaying for broadband.
As cable operators weigh construction costs, the potential for service disruptions, training needs and network maintenance, the decision on which path to take isn't so straightforward anymore.
In a one-on-one interview with Broadband World News, ADTRAN Chairman and CEO Tom Stanton speaks about the vendor's success with a new breed of broadband providers, today's competitive environment and, yes, Verizon and NG-PON2.
In a provocative new BBWN webinar, Broadband Success Partners' Jack Burton will delve into cable's next-gen HFC architecture plans and explain why going all-fiber may make more sense for operators right now.
Five years ago, NOS board member Manuel Ramalho Eanes helped steer the Portuguese service provider toward a future heavily reliant on smart homes and cities. It's a decision the provider is glad it made.



Five years ago, NOS board member Manuel Ramalho Eanes banked big on smart homes and smart cities.




Slovak Telekom and T-Mobile Czech Republic Chief Technology and Information Officer Branimir Maric is using his more than two decades' experience in telco, including 15 years in various ...




Operators cannot protect networks -- their own or their customers -- by building a hard shell around the infrastructure, given the sensitive data dwelling and being sent to and from edge ...




Communications service providers have long talked about improving the day-to-day experience of their customers, but have not always backed up their words with actions and resources.

All Broadband World Forum Perspectives
All resources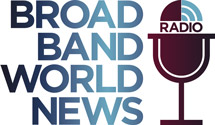 In this insightful Light Reading radio show, Kurt Raaflaub, Head of Strategic Solutions Marketing, will outline the key service provider challenges, deployment considerations, next-gen Gigabit technologies, and service models to win market share in the rapidly growing MDU market.
Tuesday, September 10, 2019
12:00 p.m. New York / 5:00 p.m. London
Wi-Fi is the foundation of the connected home for consumers; yet, it's often a source of frustration. With the imminent release of the new Wi-Fi 6 standard – combined with a strong Managed Wi-Fi offer – service providers can reverse subscriber frustration while tapping into new revenue streams.
Key topics include:
What's different about Wi-Fi 6 and why it matters to your subscribers
The importance of offering Managed Wi-Fi and its connection to Wi-Fi 6
How you can elevate your brand and gain a strong foothold in the home network.