BBWN Bites: FCC Report Exaggerates Rural Broadband Progress
Also in today's news roundup: Telefónica Spain looks for rural connectivity options and Loon provides aid in Peru.
The Federal Communications Commission's claim of accelerated broadband availability in rural America was loudly and quickly derided by Democrats in the FCC, rural-broadband advocates and others. The Broadband Deployment Report, released this week (and subtitled "Digital Divide Narrowing Substantially") finds the divide decreased 18% to 21.3 million people between 2016 and 2017, with most gains coming from rural residents. High-speed broadband (250 Mbps up/25 Mbps down) increased 36% to 191.5 million in 2017, the report found -- with an increase of 85.1% of rural Americans with access to high-speed broadband that year. (See ADTRAN Buys Connected Home Dev SmartRG and Microsoft: Half the US Has no Internet at Broadband Speed.)

Critics cited flaws such as the fact that providers self-report census blocks as proof of availability, even though some blocks are miles-wide without any connectivity. The FCC itself admits much of the information is not current, complete or accurate.
Two days after a magnitude 8.0 earthquake struck Peru, Google Loon redirected a group of balloons it had been testing as part of its negotiations with Telefónica and began serving LTE to impacted residents on the damaged ground below, wrote Loon CEO Alastair Westgarth, in a blog post this week. It's not the first time Loon has responded to a disaster in Peru; in early 2017, the alternative-broadband provider and Telefónica brought connectivity after flooding hit the northern region of the South American country. Later that year, Loon teamed up with AT&T and T-Mobile after Hurricane Maria devastated Puerto Rico, Westgarth wrote. Unlike the latter case -- which took about four weeks to deploy -- Loon took only two days to respond in post-earthquake Peru because "we had already deployed the building blocks of the Loon network," he said in the blog.
Telefónica Spain is encouraging the public to submit its ideas for how to connect rural regions of the country, Light Reading reported. Those with suggestions must submit them by June 30 via Internet para Todos Global Call (Internet for All). Given its work with Loon, it's not hard to imagine balloons figure into at least some internal recommendations.
Vodafone appointed David Thodey a non-executive director, effective Sept. 1 (if shareholders approve). Thodey, who spent 12 years at Telstra -- half of them as CEO of the Australian operator -- also held senior positions at IBM.
Tivo's board unanimously elected Dave Shull, formerly CEO of The Weather Channel cable network, as president, CEO and board member of the OTT provider, effective today. Interim president and CEO Raghu Rau will now assume the position of vice chairperson on the board. In addition to The Weather Channel, Shull held various executive roles at DISH Network/EchoStar. (See Dave Shull Named TiVo CEO Amid Plan to Split Biz .)
— Alison Diana, Editor,
Broadband World News
. Follow us
on Twitter
or
@alisoncdiana
.
The US Department of Agriculture gives high points to those operators providing symmetric, high-speed infrastructure when considering loan and grant applicants.
UK mobile operator will use its 5G spectrum to launch a fixed wireless access (FWA) service in London in August and plans to have that offer, plus mobile 5G services, in 25 UK cities by the end of this year.
Authorization of $166.8 million over next decade earmarked for 60,850 unserved rural homes and businesses across 22 states.
Tunable optics components add up to about $1,000, says Nokia's Stefaan Vanhastel, too high an admission cost for the $26-plus billion corporation in a market estimated at $204 million in 2022.
As enterprises adopt public networking, their adoption of dark fiber for high-security uses grows, said Ed Morche, president of enterprise and government markets at CenturyLink.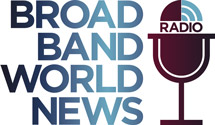 In this insightful Light Reading radio show, Kurt Raaflaub, Head of Strategic Solutions Marketing, will outline the key service provider challenges, deployment considerations, next-gen Gigabit technologies, and service models to win market share in the rapidly growing MDU market.
All resources
Tuesday, May 21, 2019
11:00 a.m. New York / 4:00 p.m London
The MDU market continues to face fierce competition among service providers due to tech-savvy residents (i.e., millennials), demand from building owners and management companies, plus the favorable economics of bulk contracts. However, no MDUs are the same, so service providers must use multiple technologies and inconsistent deployment models, increasing operational complexity and rollout costs.
The MDU market itself is evolving as residents adopt smart-home technologies, generating rising demand for smart apartments with built-in connected thermostats, keyless entryways and doors, and video doorbells. This evolution presents both new challenges and opportunities. In other words, service providers must consider innovative service-delivery strategies to compete and win.
In this Broadband World News and ADTRAN webinar, Kurt Raaflaub, Head of Strategic Solutions Marketing, will highlight emerging MDU broadband Internet trends and challenges. In addition, Kurt will outline the next-generation service creation and delivery platform, built on open standards, that allows service providers to connect millions of underserved MDUs, enables creation of user-driven services, and reduces operational complexity and costs.
Plus, special guest, Alice Lawson, Broadband and Cable Program Manager for the City of Seattle, will discuss Seattle's B4B-Build For Broadband initiative that addresses best practices in planning for MDU telecommunication infrastructure.