BBWN Bites: $3 Billion Pours Into US Broadband – Report
Also today: Vodafone and Tele2 make IoT executive hires; MSOs dance around DAA; Dell and Orange push their partnership to the edge; Openreach drills into radar; and Intracom gets inter-continental.
Capital investment among US broadband providers reached $75 billion in 2018, an increase of $3 billion over the prior year, according to preliminary analysis from USTelecom. The industry organization's capex trends mirror those of the FCC: Provider investment increased after "light touch" regulations in the Ajit Pai era and decreased during net neutrality and the Tom Wheeler years.
Tom Guy will join Vodafone in the newly created role of chief product officer, working with Thomas Engelbertz in the operator's innovation and product hub that debuted in late 2018. Guy, who formerly held the same title at British Gas' connected home subsidiary, Hive, will help Vodafone develop a consumer-focused Internet of Things strategy and product line, he wrote in a blog on the operator's site.
And Greg Lensch, former AT&T general manager of Nordics, is now CEO of Tele2's IoT division. Lensch succeeds acting CEO Johan Ragnevad, who remains strategy director at Tele2 IoT.
Many MSOs have made Distributed Access Architecture (DAA) investments, but haven't deployed them, according to Alan Breznick of Light Reading. Reporting from last week's Anga Com show in Germany, the analyst found vendors increasingly frustrated by operators' treacle-like rollouts of Remote PHY and/or Remote MAC/PHY this year. Other than sporadic announcements from major cablecos like Comcast and this week's news from Altibox of Norway and Denmark that it will use Nokia's virtualized DAA solution, most operators are in no rush. (See Why Cable DAA Is DOA This Year.)
Orange and Dell Technologies have agreed to jointly explore developing distributed-cloud architecture technologies to benefit real-time edge uses and new services based on 5G. By using network telemetry for intelligent automation and service orchestration systems, coupled with AI, management systems will see the entire network stack and improve network operations and customer experience, the partners said. This sets the stage for as-yet-unimagined new services, just as LTE provided a foundation for brand new offerings like Uber and Airbnb.
Openreach debuted its use of ground-penetrating radar (GPR) to accelerate fiber-to-the-premise (FTTP) deployment. Premiering in Salisbury, GPR allows BT Openreach engineers to reduce the risk of inadvertently cutting existing utility pipes or cables and simplifies micro ducting (a.k.a. micro trenching) which, Openreach claims will allow it to lay up to 300 meters of new cable daily.
Intracom Telecom of Greece now has a subsidiary in Monza, Italy. It has, however, been deploying rural ultra-broadband in Italy since 2014.
Related posts:
— Alison Diana, Editor, Broadband World News. Follow us on Twitter or @alisoncdiana.
Findings from university researchers and The Wall Street Journal indicate that many US homes are overpaying for broadband.
As cable operators weigh construction costs, the potential for service disruptions, training needs and network maintenance, the decision on which path to take isn't so straightforward anymore.
In a one-on-one interview with Broadband World News, ADTRAN Chairman and CEO Tom Stanton speaks about the vendor's success with a new breed of broadband providers, today's competitive environment and, yes, Verizon and NG-PON2.
In a provocative new BBWN webinar, Broadband Success Partners' Jack Burton will delve into cable's next-gen HFC architecture plans and explain why going all-fiber may make more sense for operators right now.
Five years ago, NOS board member Manuel Ramalho Eanes helped steer the Portuguese service provider toward a future heavily reliant on smart homes and cities. It's a decision the provider is glad it made.



Five years ago, NOS board member Manuel Ramalho Eanes banked big on smart homes and smart cities.




Slovak Telekom and T-Mobile Czech Republic Chief Technology and Information Officer Branimir Maric is using his more than two decades' experience in telco, including 15 years in various ...




Operators cannot protect networks -- their own or their customers -- by building a hard shell around the infrastructure, given the sensitive data dwelling and being sent to and from edge ...




Communications service providers have long talked about improving the day-to-day experience of their customers, but have not always backed up their words with actions and resources.

All Broadband World Forum Perspectives
All resources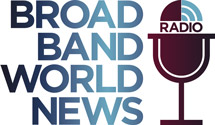 In this insightful Light Reading radio show, Kurt Raaflaub, Head of Strategic Solutions Marketing, will outline the key service provider challenges, deployment considerations, next-gen Gigabit technologies, and service models to win market share in the rapidly growing MDU market.
Tuesday, September 10, 2019
12:00 p.m. New York / 5:00 p.m. London
Wi-Fi is the foundation of the connected home for consumers; yet, it's often a source of frustration. With the imminent release of the new Wi-Fi 6 standard – combined with a strong Managed Wi-Fi offer – service providers can reverse subscriber frustration while tapping into new revenue streams.
Key topics include:
What's different about Wi-Fi 6 and why it matters to your subscribers
The importance of offering Managed Wi-Fi and its connection to Wi-Fi 6
How you can elevate your brand and gain a strong foothold in the home network.