Consumer IoT Awareness Low, Adoption Growing – Metova Study
FRANKLIN, Tenn., & FAYETTEVILLE, Ark. -- Metova, a global provider of mobile, connected car, connected home and IoT solutions, today announced results of its second annual survey revealing consumer trends and the sentiment of over 1,000 consumers on IoT and connected home technologies. Notably, less than 25% of people surveyed felt they have a good understanding of the Internet of Things (IoT); however, nearly 75% of consumers already own at least one IoT device. The survey also reveals a growing amount of people view IoT as the "wave of the future," and have a growing concern around privacy and connected devices. In addition, 85% of people would like the ability to monitor their utility usage in real-time with connected devices and would choose a utility provider over a competitor based on that ability if given a choice.
"We see notable growth and adoption of connected smart devices and increased demand for real-time monitoring of utility usage - yet surprisingly most consumers are not sure what the Internet of Things means," said Jonathan Sasse, president and CMO at Metova. "As consumers continue to incorporate Internet of Things into their everyday lives, it becomes critical that businesses, both established and new, take note and provide their customers with the facilities, transparency, and convenience they are accustomed to through the use of IoT technologies and connected devices."
Key findings include:
A 25% lift year-over-year in the number of consumers understanding "Internet of Things" is, but still less than 1 in 4 fully get the term
IoT device ownership up 10% year over year
Almost 90% express concern about privacy; a 5% increase in people who are "extremely concerned" about IoT device privacy vs. prior survey
Nearly 75% percent of people surveyed watch TV or video via the Internet
Over 30% of respondents own smart bluetooth trackers such as Tile or TrackR, an uptick versus 2018 of almost 14%
Smart thermostats (63%) and smart home retrofit devices (70%) are the IoT technologies most interesting to people
Nearly 85% would like to monitor their electricity, gas or water usage and cost in real-time
Those monitoring utility usage in real-time via their smartphone as has more than doubled (119%) compared with 2018
Find the full survey, and an infographic,
here
.
Metova offers a range of services, from strategy to implementation, designed to enable businesses to lead their market and increase customer loyalty by leveraging emerging mobile, web, connected home, connected car and other technologies. As a key development and strategic partner for leading 'connected' companies including Yale Locks and TruGreen, Metova builds on its technical expertise and strives to understand consumer outlook and trends. This pipeline of information combined with its development and technology skills enables Metova to provide integrated strategic advice through execution.
The US Department of Agriculture gives high points to those operators providing symmetric, high-speed infrastructure when considering loan and grant applicants.
UK mobile operator will use its 5G spectrum to launch a fixed wireless access (FWA) service in London in August and plans to have that offer, plus mobile 5G services, in 25 UK cities by the end of this year.
Authorization of $166.8 million over next decade earmarked for 60,850 unserved rural homes and businesses across 22 states.
Tunable optics components add up to about $1,000, says Nokia's Stefaan Vanhastel, too high an admission cost for the $26-plus billion corporation in a market estimated at $204 million in 2022.
As enterprises adopt public networking, their adoption of dark fiber for high-security uses grows, said Ed Morche, president of enterprise and government markets at CenturyLink.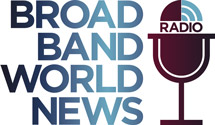 In this insightful Light Reading radio show, Kurt Raaflaub, Head of Strategic Solutions Marketing, will outline the key service provider challenges, deployment considerations, next-gen Gigabit technologies, and service models to win market share in the rapidly growing MDU market.
All resources
Tuesday, May 21, 2019
11:00 a.m. New York / 4:00 p.m London
The MDU market continues to face fierce competition among service providers due to tech-savvy residents (i.e., millennials), demand from building owners and management companies, plus the favorable economics of bulk contracts. However, no MDUs are the same, so service providers must use multiple technologies and inconsistent deployment models, increasing operational complexity and rollout costs.
The MDU market itself is evolving as residents adopt smart-home technologies, generating rising demand for smart apartments with built-in connected thermostats, keyless entryways and doors, and video doorbells. This evolution presents both new challenges and opportunities. In other words, service providers must consider innovative service-delivery strategies to compete and win.
In this Broadband World News and ADTRAN webinar, Kurt Raaflaub, Head of Strategic Solutions Marketing, will highlight emerging MDU broadband Internet trends and challenges. In addition, Kurt will outline the next-generation service creation and delivery platform, built on open standards, that allows service providers to connect millions of underserved MDUs, enables creation of user-driven services, and reduces operational complexity and costs.
Plus, special guest, Alice Lawson, Broadband and Cable Program Manager for the City of Seattle, will discuss Seattle's B4B-Build For Broadband initiative that addresses best practices in planning for MDU telecommunication infrastructure.