Consumer IoT Awareness Low, Adoption Growing – Metova Study
FRANKLIN, Tenn., & FAYETTEVILLE, Ark. -- Metova, a global provider of mobile, connected car, connected home and IoT solutions, today announced results of its second annual survey revealing consumer trends and the sentiment of over 1,000 consumers on IoT and connected home technologies. Notably, less than 25% of people surveyed felt they have a good understanding of the Internet of Things (IoT); however, nearly 75% of consumers already own at least one IoT device. The survey also reveals a growing amount of people view IoT as the "wave of the future," and have a growing concern around privacy and connected devices. In addition, 85% of people would like the ability to monitor their utility usage in real-time with connected devices and would choose a utility provider over a competitor based on that ability if given a choice.
"We see notable growth and adoption of connected smart devices and increased demand for real-time monitoring of utility usage - yet surprisingly most consumers are not sure what the Internet of Things means," said Jonathan Sasse, president and CMO at Metova. "As consumers continue to incorporate Internet of Things into their everyday lives, it becomes critical that businesses, both established and new, take note and provide their customers with the facilities, transparency, and convenience they are accustomed to through the use of IoT technologies and connected devices."
Key findings include:
A 25% lift year-over-year in the number of consumers understanding "Internet of Things" is, but still less than 1 in 4 fully get the term
IoT device ownership up 10% year over year
Almost 90% express concern about privacy; a 5% increase in people who are "extremely concerned" about IoT device privacy vs. prior survey
Nearly 75% percent of people surveyed watch TV or video via the Internet
Over 30% of respondents own smart bluetooth trackers such as Tile or TrackR, an uptick versus 2018 of almost 14%
Smart thermostats (63%) and smart home retrofit devices (70%) are the IoT technologies most interesting to people
Nearly 85% would like to monitor their electricity, gas or water usage and cost in real-time
Those monitoring utility usage in real-time via their smartphone as has more than doubled (119%) compared with 2018
Find the full survey, and an infographic,
here
.
Metova offers a range of services, from strategy to implementation, designed to enable businesses to lead their market and increase customer loyalty by leveraging emerging mobile, web, connected home, connected car and other technologies. As a key development and strategic partner for leading 'connected' companies including Yale Locks and TruGreen, Metova builds on its technical expertise and strives to understand consumer outlook and trends. This pipeline of information combined with its development and technology skills enables Metova to provide integrated strategic advice through execution.
Findings from university researchers and The Wall Street Journal indicate that many US homes are overpaying for broadband.
As cable operators weigh construction costs, the potential for service disruptions, training needs and network maintenance, the decision on which path to take isn't so straightforward anymore.
In a one-on-one interview with Broadband World News, ADTRAN Chairman and CEO Tom Stanton speaks about the vendor's success with a new breed of broadband providers, today's competitive environment and, yes, Verizon and NG-PON2.
In a provocative new BBWN webinar, Broadband Success Partners' Jack Burton will delve into cable's next-gen HFC architecture plans and explain why going all-fiber may make more sense for operators right now.
Five years ago, NOS board member Manuel Ramalho Eanes helped steer the Portuguese service provider toward a future heavily reliant on smart homes and cities. It's a decision the provider is glad it made.



Five years ago, NOS board member Manuel Ramalho Eanes banked big on smart homes and smart cities.




Slovak Telekom and T-Mobile Czech Republic Chief Technology and Information Officer Branimir Maric is using his more than two decades' experience in telco, including 15 years in various ...




Operators cannot protect networks -- their own or their customers -- by building a hard shell around the infrastructure, given the sensitive data dwelling and being sent to and from edge ...




Communications service providers have long talked about improving the day-to-day experience of their customers, but have not always backed up their words with actions and resources.

All Broadband World Forum Perspectives
All resources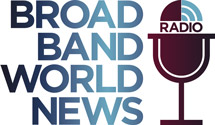 In this insightful Light Reading radio show, Kurt Raaflaub, Head of Strategic Solutions Marketing, will outline the key service provider challenges, deployment considerations, next-gen Gigabit technologies, and service models to win market share in the rapidly growing MDU market.
Tuesday, September 10, 2019
12:00 p.m. New York / 5:00 p.m. London
Wi-Fi is the foundation of the connected home for consumers; yet, it's often a source of frustration. With the imminent release of the new Wi-Fi 6 standard – combined with a strong Managed Wi-Fi offer – service providers can reverse subscriber frustration while tapping into new revenue streams.
Key topics include:
What's different about Wi-Fi 6 and why it matters to your subscribers
The importance of offering Managed Wi-Fi and its connection to Wi-Fi 6
How you can elevate your brand and gain a strong foothold in the home network.