BBWN Bites: CenturyLink Says 'Hola' to Miami, LatAm
Also in today's roundup: Ajit Pai seems to rethink broadband mapping, Huawei wonders about rural broadband, Full Fibre's PON pick, and something for landlords to mull over.
CenturyLink is expanding its network by adding a new facility in Miami to serve Florida and enterprises in Latin America. The data-efficient complex and data center, set to begin construction in September, will include a new network gateway to manage the flow of Internet and data traffic across CenturyLink's global network. The site for the 98,000-square-foot compound is about a mile from a network access point and on one of the highest points in a "500-year flood zone" -- a key concern in often waterlogged Miami. Eventually, the gateway will connect to three long-haul fiber routes as well as subsea cables. CenturyLink expects to begin moving infrastructure into the new facility next year.
FCC Chairman Ajit Pai apparently heard the questions and discontent over the US's broadband map, its use of census blocks and sole reliance on operators' self-reported data. During a Senate hearing on Wednesday, Pai said he now wants operators to give more specific details on where their services are available and wants to include public feedback in a map. The agency plans a vote in August. (See Broadband Map Gets Open Sourced via App and Why Did FCC Kill NTIA's Broadband Map?)
The US government will ruin rural broadband if operators must rip and replace Huawei equipment, the Chinese giant warned in an ex parte filing with the FCC this week. Huawei has made 11 filings so far in the FCC's open docket (18-89), in which the Federal Communications Commission proposes banning carriers from using federal funds to buy gear or services from vendors that pose a national security threat. The vendor has not met face-to-face with the agency, according to Huawei's most recent filing. But the US potentially may be violating World Trade Organization rules, it cautioned. (See Huawei: We're Not a Threat to Our Customers.)
UK broadband wholesaler Full Fibre chose Dhasan Zhone (DZS) Keymile's GPON and XGS-PON technologies for its new fiber network. The operator is beta testing and piloting DZS Keymile's modular V8106 OLT platform.
Speaking of fiber, apartment renters will pay more for high-speed broadband, according to a recent study. Of customers without a fiber connection today, 17% will shell out $50 or more per month, while 35% of current fiber subscribers will pay an additional $50 each month, BroadbandNow found. When considering an apartment, availability of fiber would play a role in almost half of current fiber users' decisions, the poll of 5,786 Americans determined.
Related posts:
— Alison Diana, Editor, Broadband World News. Follow us on Twitter or @alisoncdiana.
Some operators expand existing D3.1 infrastructure, while others discover fiber-only is too slow and expensive to meet subscribers' needs quickly enough to keep them happy.
Piracy and account sharing are taking a sizable bite from operators' content revenue, with incumbents and OTT startups feeling the financial hurt.
The FCC drafts changes to accelerate its satellite review process about a week after Amazon's Project Kuiper files an application with the agency in the fast-moving space broadband race.
Federal agency suggests that mandating competition and infrastructure sharing will discourage MDU buildouts and perpetuate the digital divide.
Subsidiary Kuiper Systems, led by Jeff Bezos, requests FCC permission to launch 3,236 satellites slated to beam broadband service to most of the under- and unserved parts of the world.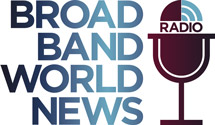 In this insightful Light Reading radio show, Kurt Raaflaub, Head of Strategic Solutions Marketing, will outline the key service provider challenges, deployment considerations, next-gen Gigabit technologies, and service models to win market share in the rapidly growing MDU market.
All resources
Tuesday, May 21, 2019
11:00 a.m. New York / 4:00 p.m London
The MDU market continues to face fierce competition among service providers due to tech-savvy residents (i.e., millennials), demand from building owners and management companies, plus the favorable economics of bulk contracts. However, no MDUs are the same, so service providers must use multiple technologies and inconsistent deployment models, increasing operational complexity and rollout costs.
The MDU market itself is evolving as residents adopt smart-home technologies, generating rising demand for smart apartments with built-in connected thermostats, keyless entryways and doors, and video doorbells. This evolution presents both new challenges and opportunities. In other words, service providers must consider innovative service-delivery strategies to compete and win.
In this Broadband World News and ADTRAN webinar, Kurt Raaflaub, Head of Strategic Solutions Marketing, will highlight emerging MDU broadband Internet trends and challenges. In addition, Kurt will outline the next-generation service creation and delivery platform, built on open standards, that allows service providers to connect millions of underserved MDUs, enables creation of user-driven services, and reduces operational complexity and costs.
Plus, special guest, Alice Lawson, Broadband and Cable Program Manager for the City of Seattle, will discuss Seattle's B4B-Build For Broadband initiative that addresses best practices in planning for MDU telecommunication infrastructure.